Results: Academic Health Science System (AHSS) Grant 2021-2022
On behlaf of the review panel, CHAS is delighted to announce the awardees of the
UCD Health Affairs
Academic Health Science System (AHSS) Grant 2021-2022.
The AHSS Grant Review Panel had great pleasure in learning about many of the innovative projects that our researchers and c linicians, across all aspects of healthcare, are partaking in to link academia to the clinical services. Clinical care and patient outcomes improve in an academic setting. Among all the 33 excellent applications we received, we would like to congratulate the following two successful projects:
The Labour Hopscotch Framework: Promoting Active Physiological Childbirth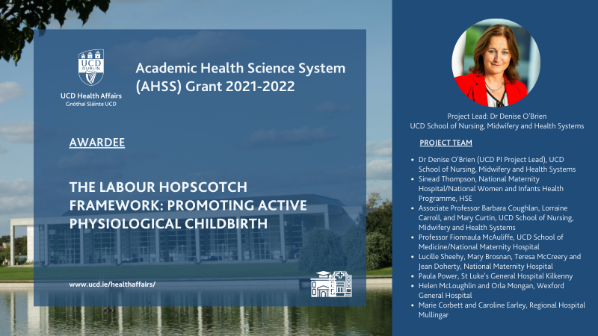 This project is led by Dr Denise O'Brien, UCD School of Nursing, Midwifery and Health Systems with a project team from National Maternity Hospital, National Women and Infants Health Programme, HSE, UCD School of Medicine, St Luke's General Hospital Kilkenny, Wexford General Hospital and Regional Hospital Mullingar.
The purpose of this study is to further evaluate and examine how to digitalise the Labour Hopscotch Framework (LHF) to enhance its accessibility, feasibility and acceptability within the Ireland East Hospital Group: National Maternity Hospital, Regional Hospital Mullingar, Wexford General Hospital and St Luke's General Hospital Kilkenny.
Clinical Simulation to Support Training & Credentialing in Clinical Handover in an AHSS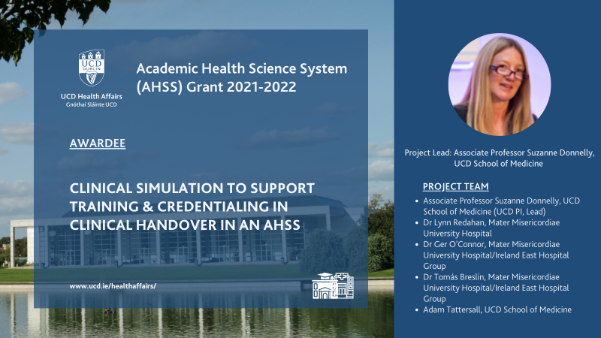 This project is led Associate Professor Suzanne Donnelly, UCD School of Medicine, and brings together an education leadership team from UCD Medicine and IEHG with expertise and extensive experience in resource design, delivery and evaluation, including clinical simulation.
This project is to develop and deliver an educational resource for training in the critical professional competence of clinical handover. The overarching aim of this project is to credential all students in the 2023 UCD Medicine graduating class and incoming interns to the UCD Intern training network in clinical handover.
For more information check out the Health Affairs Website story here
UCD College of Health and Agricultural Sciences
University College Dublin, Belfield, Dublin 4, Ireland. T:
+353 1 716 7777
| E:
chas@ucd.ie