Project Team
Dr Denise O'Brien, UCD School of Nursing, Midwifery and Health Systems (UCD PI; Lead)
Sinead Thompson, National Maternity Hospital
Associate Professor Barbara Coughlan, UCD School of Nursing, Midwifery and Health Systems
Lucille Sheehy, National Maternity Hospital
Mary Brosnan, National Maternity Hospital
Teresa McCreery, National Maternity Hospital
Paula Power, St Luke's General Hospital Kilkenny
Jean Doherty, National Maternity Hospital
Professor Fionnaula McAuliffe, UCD School of Medicine/National Maternity Hospital
Lorraine Carroll, UCD School of Nursing, Midwifery and Health Systems
Mary Curtin, UCD School of Nursing, Midwifery and Health Systems
Helen McLoughlin, Wexford General Hospital
Orla Mongan, Wexford General Hospital
Marie Corbett, Regional Hospital Mullingar
Caroline Earley, Regional Hospital Mullingar
Project Summary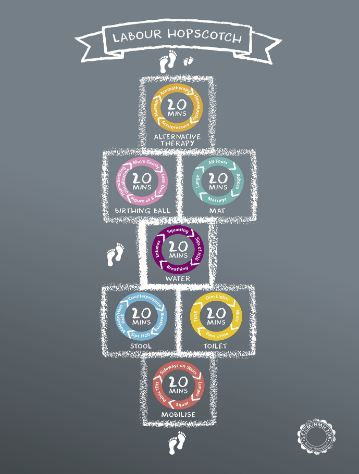 Evidence shows that "physiological" births, benefit the mother and baby, reducing psychological and physical ramifications posed by medical interventions such as epidurals and caesarean sections. Despite this, rising trends in intervention rates continue in Ireland while rates of physiological birth decline. In 2020 the national rate of caesarean section in Ireland was 35.5%, and the national rate of epidural was 41.6% from a total of 55, 799 births [1]. There are considerable variations in rates reported across maternity units' caesarean section range 28.4%-42.7%, epidural range 18.4%- 50.3%(HSE), 2020). In response to this, a community midwife from the IEHG hospital group designed and produced (Patented) a visual framework 'Labour Hopscotch'(LHF) in 2019.
Researchers at UCD SNMHS and the National Maternity Hospital completed an evaluation of the Labour Hopscotch Framework. From a total of 809 women, 38.5% reported having epidural analgesia while using the LHF, this was lower than the hospital epidural rate of 52%. Furthermore 77% had a physiological birth, 9% had a caesarean birth which was lower than the hospital rate of 29%. In addition, all key stakeholders have reported that implementing the LHF has resulted in positive change: women are more initiative-taking during childbirth, using steps of the LHF with coaching from their birth partner or midwives, enhancing confidence and nurturing their relationships. In 2020, the Department of Health, supported a national rollout of the LHF through the National Women's Infant Programme.
The current project led by Dr Denise O'Brien SNMHS will now build on this initial collaboration and develop greater networks within UCD, the IEHG, and community care services. The purpose of this study is to further evaluate and examine how to digitalise the LHF to enhance its accessibility, feasibility and acceptability within the Ireland East Hospital Group: National Maternity Hospital (NMH), Regional Hospital Mullingar (RHM), Wexford General Hospital (WGH) and St Luke's General Hospital Kilkenny (SLGHK). As we move towards a new model of integrated care within maternity services, the goal for 'living well' requires behavioural change in many lifestyle choices. Collaborative partnerships between academics, clinicians, and community care, affords us the opportunity to work together with women/ families to support self-management to improve public health. The project, based on an imaginative idea from midwifery practise, is solution focused and influences change. Since its inception, the LHF has been integrated as a complementary approach in the National Maternity Hospital, supporting active management of Labour, maternal confidence around decision-making, contribution to cultural shifts in approaches to childbirth. The project supports translation of evidence into practice across the IEHG maternity services.