AHSS Proposal | Future of Irish Healthcare: Developing an Academic Health Science System to underpin Sláintecare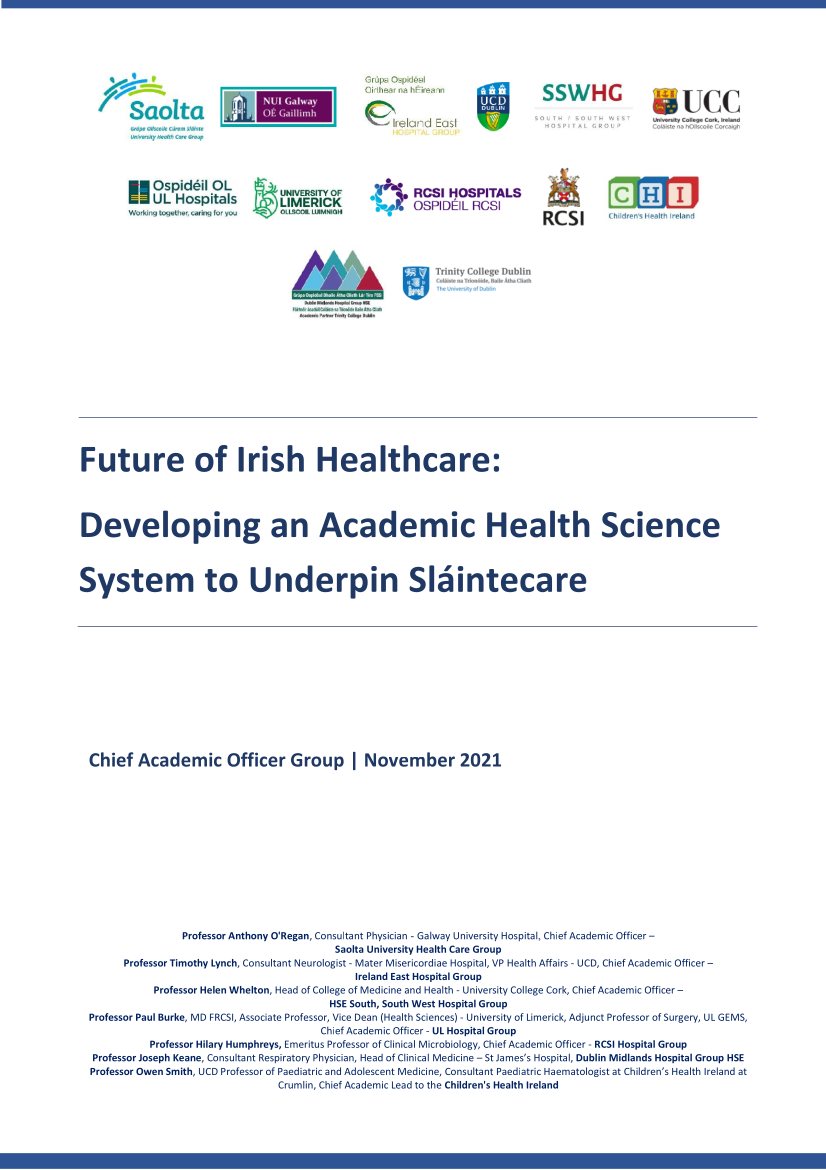 (Download link: Future of Irish Healthcare | Developing an Academic Health Science System to underpin Sláintecare)
During the year, the Chief Academic Officers (CAOs) met with key policy makers including the Minister for Health, Mr. Stephen Donnelly TD, the Secretary General of the Department of Further Higher Education Research Innovation and Science (DFHERIS), Mr. Jim Breslin, Health Service Executive (HSE) Chief Executive Officer Mr. Paul Reid, the CEOs of the Hospital Groups, the Chief Officers of the CHOs and the Deans of the Medical Schools. The purpose of these meetings was to outline the AHSS construct and the need to reform existing relationships to enable the closer academic clinical integration required to allow academic health science systems to develop in Ireland. The CAOs report 'Future of Irish Healthcare: Developing an Academic Health Science System to underpin Sláintecare', which is a visionary document published in November 2021 that outlines an ambitious future for academic Irish healthcare in Ireland as an essential foundation to implement Sláintecare. We described the best international AHSS practice that is integral to excellent patient care and to the recruitment and retention of first-rate clinical, and other staff.
This report also announces the need for a national policy required to underpin the academic model and include the organisational structure of university and hospital and community to implement Sláintecare over the next 5 to 10 years.
This report was shared with all the individuals mentioned above and also with the Secretary General of the Department of Health (DoH), Mr. Robert Watt whom the CAOs met more recently. The report and its recommendations have been broadly welcomed and we anticipate further progress in 2022
For further information on the Chief Academic Officer Group, please visit https://www.ucd.ie/healthaffairs/chiefacademicofficergroup/.