'The Vitruvian: Uncovering the Layers of Cancer'
This project centres on an exhibition of a body of work by leading Irish artist, Vincent Devine, co-created with cancer researchers and patient partners at the UCD Conway Institute, which will take place in two community venues during Science Week 2023 with an accompanying public engagement event at each location.
Inspired by the iconic drawing of 'The Vitruvian Man' by artist and scientist Leonardo da Vinci, Vincent Devine has created a striking image of an androgynous human to visually map the different perspectives and approaches that researchers use to understand cancer at molecular, cellular, tissue and human levels.

Exhibition & Public Engagement Events
Date: 04-15 November 2023
Venue: Esker Arts Centre, Tullamore, Co. Offaly
Meet the Artist, Researchers & Patient Partners:
Wednesday, 15 November
For Schools - 2.30pm-3.30pm
For Public - 5.30pm-7pm
Date: 16-19 November 2023
Venue: Dundrum Shopping Centre, Dundrum, Co. Dublin
Location: Mall Level 1, opposite Next
Meet the Artist, Researchers & Patient Partners:
1pm, 3pm and 5pm each day
About the Exhibition
Vincent Devine met with 15 cancer researchers, 1 technical staff member and a patient voice partner involved with these researchers. Together, they explored how cancer affects patients and their families, how research undertaken in the Institute may ultimately help patients, and how technology platforms within the Institute support this research.
The exhibition will include derivative and interactive components that sit alongside the main work to delve deeper and explore specific cancer research areas. The derivative components are the artist's interpretation of the research while the interactive components are scientific objects relating to ongoing research. Together, the work depicts the journey of cancer cells through the body alongside the human experience of cancer.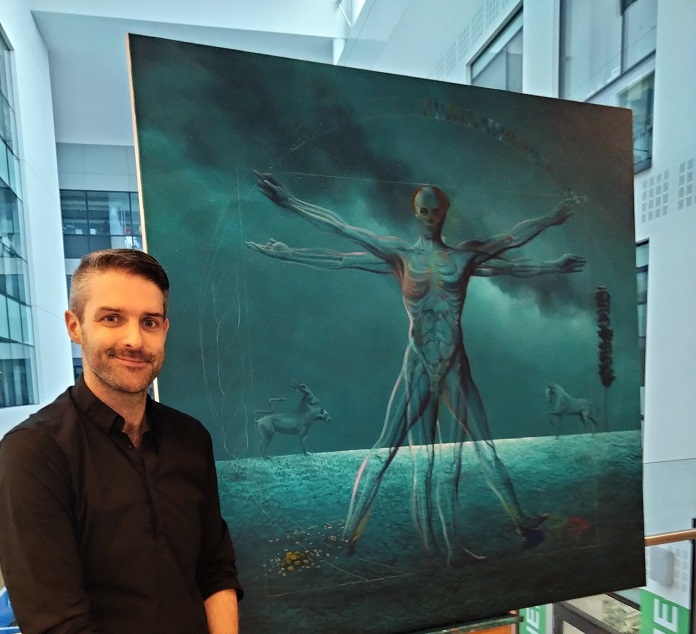 This exhibition is funded by Science Foundation Ireland for Science Week 2023.
Show/hide content Open Close All
In support of cancer research, UCD Foundation is accepting donations to support public and patient engagement projects such as 'The Vitruvian' exhibition as part of the All-Island Cancer Research Institute (AICRI; www.aicri.org) at UCD.
AICRI is guided by the ethos: "With the patient; around the patient; for the patient".
Donations can be made via UCD Foundation using the link in the QR code.
100% funding received goes to support cancer research and engagement activities.