Monitoring breathing using smartphones
Monitoring breathing using smartphones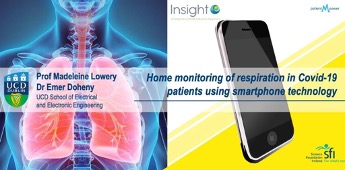 If you would like to volunteer for this study, click here
Links to media coverage:
https://www.irishtimes.com/news/science/do-you-have-10-minutes-to-breathe-for-covid-19-research-1.4463048
Research Summary:
COVID-19 has accelerated the need for remote respiration monitoring to support clinical management of patients in the home. In this study, we developed methods to accurately monitor respiration remotely using smartphone technology. These methods could facilitate low-cost and accurate respiration monitoring, suitable for monitoring large patient groups remotely. Audio respiration data were collected remotely using smartphone microphones by 210 volunteers, including 53 volunteers with a previous diagnosis of COVID-19. These data were used to develop a respiration monitoring method, and to automatically classify signal quality. Twenty-seven healthy volunteers also participated in a laboratory study to validate the audio methods against gold standard respiratory monitoring equipment. The results of this study have been published (see publications). The researchers would like to thank everyone who volunteered for this study.
Publications
Emer P. Doheny, Ben P.F. O'Callaghan, Vitória S. Fahed, Jérémy Liegey, Cathy Goulding, Silke Ryan, Madeleine M. Lowery, Estimation of respiratory rate and exhale duration using audio signals recorded by smartphone microphones, Biomedical Signal Processing and Control, Volume 80, Part 1, 2023, https://doi.org/10.1016/j.bspc.2022.104318.
https://www.sciencedirect.com/science/article/pii/S1746809422007728
Investigators:
Prof. Madeleine Lowery, School of Electrical and Electronic Engineering, University College Dublin.
Dr. Emer Doheny, School of Electrical and Electronic Engineering, University College Dublin.
Dr. Silke Ryan, Department of Respiratory Medicine, St. Vincent's University Hospital, Dublin 4
Contact us:
If you have any questions about this study, please contact Dr Emer Doheny (Email: emer.doheny@ucd.ie).