Posted 28 June 2010
10 of 23 Fulbright Awards for UCD graduates and staff
In recognition of their academic merit and their leadership potential, ten UCD scholars (staff and students) have been awarded prestigious Irish 2010-2011 Fulbright Awards to research, teach or study at leading US universities.
"To have received such a high number of 2010-2011 Fulbright Awards – ten out of twenty-three – is a great reflection on the depth and relevance of UCD scholarship. These young scholars are at an early stage in their careers and are part of the new generation of research-active, teaching academics," said Dr Brady, President of UCD, congratulating the UCD recipients.
"From teaching Irish at Haskell Indian Nations University in Kansas, to researching historical and policy determinants of Irish health and well-being at Princeton University, to studying mechanical engineering at MIT, our academics and students are making a valuable contribution to knowledge exchange between Ireland and the US."
The awards are part of the Fulbright Programme established in 1946 under legislation sponsored by US Senator J William Fulbright to build an alternative to armed conflict by providing a structured network for dialogue and cultural exchange.
In Ireland, the Fulbright Programme is administered by the Fulbright Commission in Ireland. The Commission is supported by the US Department of State and the Department of Foreign Affairs to operate this educational exchange program between Ireland and the United States. The Commission derives its income from the Irish and US Governments, higher education institutions, public agencies and organisations and donations from the corporate sector.
"The mission of the Fulbright Commission in Ireland is to build on the deep historic, cultural and economic ties between Ireland and the United States and to create mutually beneficial and sustainable educational exchange programmes which are responsive to national and global challenges and opportunities," explained Colleen Dube, Executive Director of the Fulbright Commission in Ireland.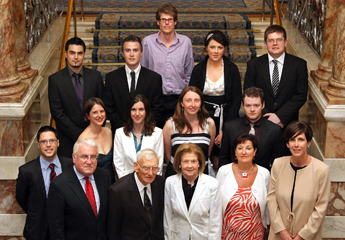 UCD Fulbright awardees pictured with front row (l-r): Minister Dick Roche, Minister for European Affairs; Dan Rooney (US Ambassador to Ireland) and Patricia Rooney; Una Halligan, Government and Public Affairs Director, Hewlett Packard Ireland; and Colleen Dube, Executive Director, the Fulbright Commission in Ireland
The 10 UCD 2010-2011 Fulbright Award recipients are:
(Produced by UCD University Relations)