Posted: 04 Sep 2012
50 new jobs as ResMed announces expansion of facility at UCD
Minister of State, Department of Jobs, Enterprise and Innovation, John Perry TD, has announced that ResMed Inc., a global leader in the development, manufacturing and marketing of medical products to combat sleep and respiratory disorders, is expanding its Research Development and Innovation (RD&I) facility in Dublin over the next three years, with the creation of up to 50 new RD&I positions.
The investment is supported by the Irish Government through IDA Ireland. The new investment will allow ResMed to expand its RD&I facility at its existing operation in NexusUCD, the Innovation Partnerships Centre at University College Dublin.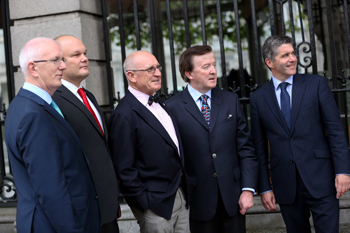 Picturd at the launch: (L-R) Barry O'Leary, Chief Executive, IDA Ireland; Professor Peter Clinch, UCD Vice-President for Innovation; Dr Peter Farrell, founder, chairman and CEO, ResMed; Minister John Perry TD and Dr Conor Hanley, Managing Director, ResMed Ireland.
"[Today's] announcement from ResMed, a leading global Medical Technology company, to expand and invest in their Dublin facility, with the creation of additional 50 high-value Research Development and Innovation jobs, is a key example of the Governments Action Plan for Jobs. By developing and deepening the impact of multinational companies in Ireland there is increased potential for job creation and today's announcement demonstrates this," said Minister Perry.
The new jobs created will facilitate the development of a unique technology platform based on non-contact sensors designed to manage patients with chronic diseases in their home and will be carried through all stages; product standardisation, development of software algorithms, clinical trials and engineering for commercialisation. It will therefore rank among the most comprehensive medical device development projects ever undertaken by a multinational company in Ireland.
"Building relationships with industry is a key element of University College Dublin's innovation strategy. Through the establishment of NexusUCD, companies such as ResMed, can now locate in close proximity to UCD's world-class research base in order to increase collaboration and partnership between the University and industry partners," said Professor Peter Clinch, Vice-President for Innovation at University College Dublin.
ResMed founder, Chairman and Chief Executive Officer Dr Peter Farrell said, "We believe there are great opportunities in growing our presence in Ireland. One of the factors that played a part in our 2011 acquisition of BiancaMed, a UCD spin-out company, was the tremendous advantage of being based in a country that strongly supports research and development."
Dr Conor Hanley, Managing Director of ResMed Ireland, said, "This investment will allow us to expand our world class team in Ireland and to continue to drive innovation and develop our technology for better monitoring and care of patients with sleep-disordered breathing and other respiratory disorders."
Barry O'Leary, Chief Executive of IDA Ireland said: "I am delighted that ResMed has joined Ireland's strong growing cluster of leading Global and Indigenous Medical Device Companies. This expansion by ResMed Inc. is a further endorsement of Ireland's long established reputation in supporting Research, Development and Innovation. Expansions such as this are critical as they embed existing operations and facilitate future investment and job creation. I wish ResMed every success with its continued growth in Ireland and offer the ongoing support of IDA Ireland".
ResMed is a global leader in the development, manufacturing and marketing of medical products for the diagnosis, treatment and management of respiratory disorders with a focus on sleep-disordered breathing. The Company is dedicated to developing innovative products to improve the lives of those who suffer from these conditions and to increasing awareness among patients and healthcare professionals of the potentially serious health consequences of untreated sleep-disordered breathing.
To assist University College Dublin's mission to increase levels of collaboration and partnership with Irish and international industry the University has established NexusUCD, The Innovation Partnerships Centre, to enable companies to locate in close proximity to the UCD's world-class research base.
(Produced by UCD University Relations)