Posted 01 October 2013
UCD spin-out, Logentries raises $10m in funding round
Logentries, a new cloud-based service provider for collecting and analysing huge quantities of machine-generated log data has raised $10 million in Series A financing, and has named Andrew Burton, as President and CEO.
The financing round was led by Polaris Partners, along with Floodgate, Frontline Ventures and RRE Ventures. Floodgate is a new investor joining the other firms that provided $1 million seed money in 2012. Logentries will use the funds to accelerate product development and aggressively drive a go-to-market strategy.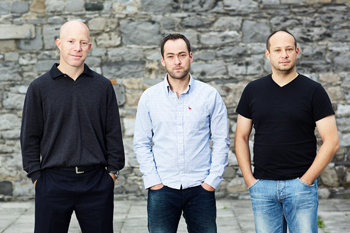 Pictured members of the Logentries team (l-r): Andrew Burton, President & CEO; Dr Trevor Parsons, Chief Research Officer & Co-founder; and Dr Viliam Holub, CTO & Co-founder
The company currently actively services over 10,000 users, across more than 100 countries, processing more the 20 billion log events per day.
Logentries was co-founded in 2010 by Dr Trevor Parsons and Dr Viliam Holub as a spin-out company from University College Dublin's Performance Engineering Laboratory in the UCD School of Computer Science and Informatics, after a decade of joint research with IBM.
Logentries, a graduate company of NovaUCD, the Centre for New Ventures and Entrepreneurs at University College Dublin, was the overall winner of the NovaUCD 2010 Start-Up Company of the Year Award.
Unlike costly log management alternatives that require advanced technical skills to use, Logentries utilises a unique collective intelligence model to transform otherwise difficult-to-consume log data into actionable business and operational insights.
"With big data transforming businesses of all kinds, Logentries lets customers focus on the data that matter most, he less than 1% of log entries that contain the game-changing information that's hidden among the other 99%," said Andrew Burton, president & CEO, Logentries.
"I'm excited to join the Logentries team where our goal is to harness the power of log data and make it accessible to anyone."
According to IDC, the volume of digital data is expected to reach 7.9 trillion gigabytes in 2015, with 90% of digital data generated by machines. With the vast majority of this data unstructured and velocity expected to increase 30% per year through 2015, creating a $16.9 billion market, traditional approaches that require users to setup complex systems, learn advanced query languages and manually attempt to find important information are quickly becoming antiquated strategies.
"Machine-generated log data is an important and fast-growing part of the move to harness big data to help improve business and IT operations," said Dave Barrett, general partner of Polaris. "Rather than attempting to manage the ever-increasing amounts of logs and raw log data, Logentries focuses on finding and extracting the individual events that matter most, allowing anyone at any level to 'mine for log data gold.'"
Logentries, built on decades of advanced academic research and in collaboration with IBM and leading European innovation centres, is powered by a simple premise that the business and operational value of log data is found in specific, individual entries hidden within logs. These log entries represent tremendous value to developers, IT operations personnel, and business analysts, but remain largely buried, among the millions or billions of other log events contained in a log file.
"Until now, log management and machine data analysis has been complicated and costly – requiring a data expert," said Logentries co-founder and chief research officer, Dr Trevor Parsons. "Logentries not only focuses on making log data simply accessible to anyone, from marketing managers to software developers, but also creating actionable insights from system data to increase operational performance and user productivity."
Professor Peter Clinch, UCD Vice-President for Innovation said, "Logentries is an excellent example of a UCD spin-out company, which while only established 3-years ago, has already obtained global reach and global customers. With this significant investment, the largest single investment round in a UCD spin-out company to date, Logentries is set for further international growth and success in the years to come." He added, "Logentries has emerged from UCD's research focus on 'big data' and the fostering of partnerships by UCD with industry." He concluded, "I would like to congratulate Trevor, Viliam and the Logentries team for all their dedication over the last number of years which has led to this significant milestones being achieved by the company."
With the funding round comes Andrew Burton, a SaaS industry veteran who has been named Logentries President and CEO.
Burton, a University College Dublin graduate, joins from LogMeIn, Inc. where he led all of LogMeIn's cloud-based access, collaboration and customer care product offerings, and helped lead LogMeIn from early stage, privately held start-up to a publicly traded company with offices around the world.
Prior to LogMeIn, he was responsible for product management at IMlogic through its acquisition by Symantec, as well as Groove Networks (subsequently acquired by Microsoft) and USinternetworking, a pioneering company in delivering software applications over the Internet (later acquired by AT&T). Burton began his career as an analyst and software engineer at Accenture, the world's largest technology consulting firm.
He holds a Bachelors of Science degree from Oregon State University, Masters in Information Systems with honours from UCD, and Masters in Business Administration from Boston College.
"Andrew brings 16-plus years' experience at both small and large technology companies through rapid growth and periods of change," said Doug McNary, chairman of the board, Logentries. "In addition, his extensive background building disruptive businesses and delivering applications over distributed networks applies perfectly at Logentries."
(Produced by UCD University Relations)