UCD alumni Ruairí Quinn and Dr Rhona Mahony awarded NUI honorary degrees
UCD alumni Ruairí Quinn and Dr Rhona Mahony have been awarded honorary degrees by the National University of Ireland (NUI).
Ruairí Quinn, the former Labour Party leader whose political career spanned almost 40 years received his honorary degree for his "contribution to Irish public life and public service."
Dr Rhona Mahony was honoured "for her contribution to public health and specifically to healthcare for women and infants as Master of the National Maternity Hospital."
Ruairí Quinn – Honorary Degree of Doctor of Laws
Ruairí Quinn served as leader of the Labour Party from 1997 - 2002. He has held six ministerial posts in government, most recently as Minister for Education (2011 – 2014). Quinn is the longest serving public representative in the history of the Labour Party.
Quinn demonstrated his ability for campaigning as a student in the UCD School of Architecture, advocating for reform of the structures of the university and how architecture was taught. He also worked on the successful election campaign of former Táinaiste, Michael O'Leary.
Just three years after graduating, at the age of 26, he put himself forward for his first general election, losing by the razor-thin margin of just 39 votes.
In her citation, Dr Caroline Hussey, former UCD Registrar, described how Quinn responded to this loss by spending the next four years working "relentlessly to establish a Labour seat in Dublin South East."
When the 1977 election came around, "it was difficult to convince that he would win a seat." His misgivings were misplaced and Quinn entered the Dáil as a TD on July 5th.
He became leader of the Labour Party in 1997 after a general election that left the party "in devastation" and led to the resignation of then-leader Dick Spring. His leadership "did much to heal the wounds and restore equilibrium" and helped to "unite the parliamentary left."
"From such a long and successful political career it is inevitably difficult to single out particular achievements, but three things which must stand out are the CAB (a model adopted by several EU states), the Social Employment Scheme and, as Minister for Education in the last Dáil, serious attempts to put third level funding on a strong and coherent base."
Dr Rhona Mahony – Honorary Degree of Doctor of Medicine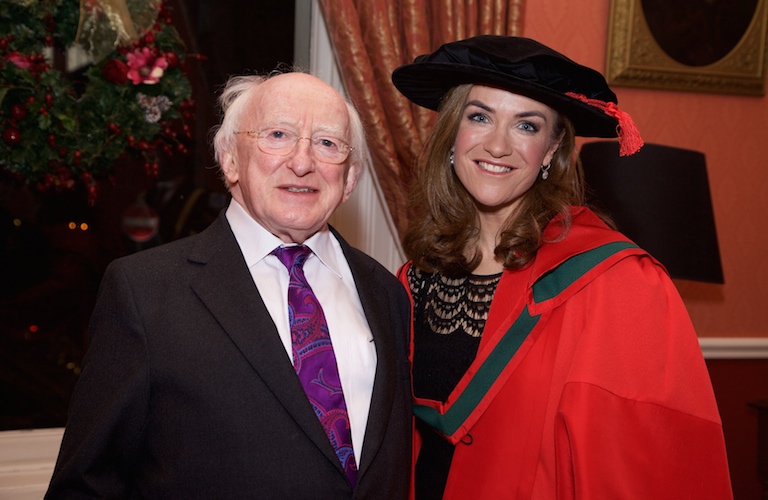 Dr Rhona Mahony is Master of the National Maternity Hospital, Holles Street. It is one of the largest maternity hospitals in Europe, delivering almost 10,000 babies each year. She was the first woman to hold the post at any of Ireland's maternity hospitals.
In 2014, she was chosen as an Eisenhower Fellow and studied the philanthropic experience in the American health sector.
In his citation, President of Maynooth University, Professor Philip Nolan described how Dr Mahony chose her path in medicine before she had even graduated.
Her time as a student on rotation at Holles Street "proved to be a pivot point in her career, and from the time she delivered her first baby she knew she would be an obstetrician."
Dr Mahony graduated from UCD School of Medicine in 1994, spending her first year as a doctor on the wards of St Vincent's Hospital before becoming Senior House Officer (SHO) at the Coombe in 1995.
She went on to specialise in obstetrics and underwent postgraduate training in Galway and Birmingham "before being appointed to a consultant position in her clinical home, the National Maternity Hospital."
Dr Mahony is also "an accomplished researcher, was awarded the MD degree in 2005 and has over 70 publications of international importance."
Professor Nolan concluded his citation by commending Dr Mahony for being a strong advocate for women.
"We have to face a reality that we do not yet live in a society where women are equal," he said. In this context, Dr Mahony is "a clear, expert and courageous voice, vindicating the rights of women and advocating to give every child a chance to flourish."
"It is a voice we are fortunate to have, a voice that remains honest and steadfast in the face of criticism or distortion, and a voice, if listened to, that will make our country a better and safer place for women and children."
"When it comes to her professional life there are two things that matter: in her own words "what is good for women, and what is good for the hospital"."