Affluent areas of Dublin city have more trees and green spaces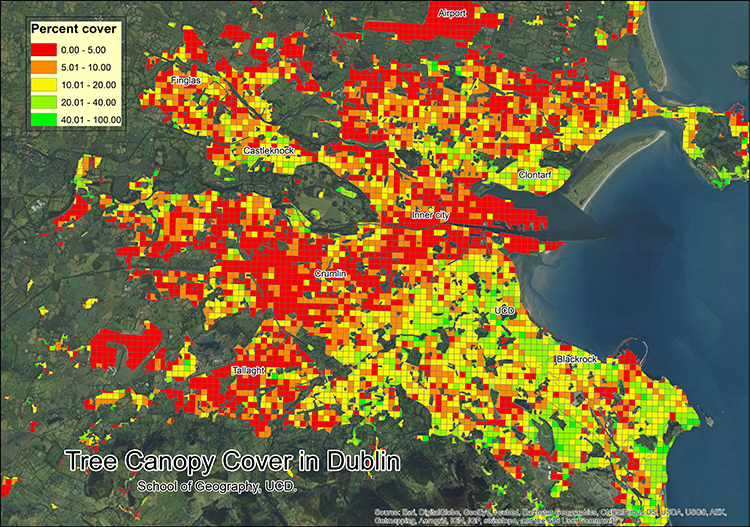 Posted February 29th, 2016
Eight to ten residents for every tree in Dublin 4
Thirty residents for every tree in Dublin 1
Presence of trees can have calming effect and reduce stress levels
Residents of Ballsbridge, Dublin 4, are up to 20 times more likely to have a tree on their street than those living in Dublin's north inner city, according to a new study.
Researchers from the UCD School of Geography, as part of a project with the four Dublin local authorities and the Office of Public Works have mapped the trees across Dublin city.
"The map shows an overall pattern that corresponds to well established patterns of affluence and deprivation in Dublin," explains Dr Gerald Mills from the UCD School of Geography, University College Dublin.
"The tree 'divide' between the south-east of the city and the west and south-west of Dublin is stark and, although these areas are well served by green spaces, the difference is that a greater portion of the green space in Dublin south-east is planted with trees."
"The inner city has a low canopy cover overall, which most will recognise from walking the streets in the city centre; apart from a few streets that have large healthy trees (e.g. Baggott St.) many streets have few trees or very small trees," he adds.
The study shows that there are few trees in the newly developed areas on the north and south-side of the quays, even though these areas have been transformed from traditional shipping/transport functions to office functions and apartment living.
Speaking to The Irish Times, Dr Mills said: "Trees perform an environmental function of absorbing pollution from cars, but all the evidence points to people feeling better when they live in a greener environment. Stress levels are reduced – the presence of trees has a calming effect."
"In Dublin 2, from Dublin Castle to Ftizwilliam Square and from Iveagh Gardens to Trinity, there is about 30 hecatres of green open space and practically no vacant or derelict land."
"In the greater Liberties are of Dublin 8, there is three times more derelict or vacant land than green space, and about 30 hectares of derelict or vacant land."
Paul Kearns and Motti Ruimy are the authors of Redrawing Dublin.
By: Dominic Martella, UCD University Relations