€2.3 million dairy research facility opens at UCD Lyons Research Farm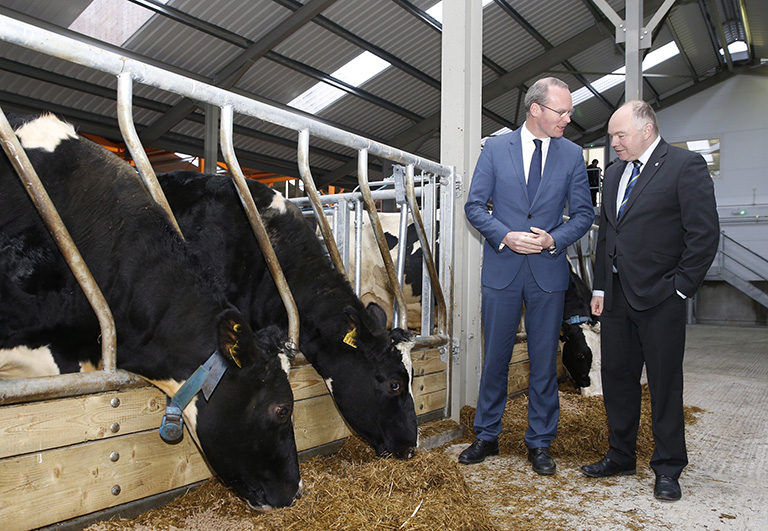 ‌
Posted January 20, 2015
Partnership between academia and industry
Facility will create new opportunities, jobs and increase the value of Irish dairy exports
Planned research includes genetics, nutrition, reproduction of dairy cows and herd health management
The Minister for Agriculture, Food and the Marine, Simon Coveney TD has officially opened a new €2.3 million Dairy Research and Education facility at UCD Lyons Research Farm.
Minister Coveney welcomed the partnership between academia and industry. He said it would create new opportunities, jobs and increase the value of Irish dairy exports.
"UCD plays a critical role in the Irish agri-food sector and this project builds on a range of innovative programmes already in place."
The project is spearheaded by UCD and industry leaders including Dairymaster, Devenish Nutrition, FBD, Glanbia, Munster Cattle Breeding Group, Progressive Genetics and the Irish Holstein Friesian Association.
Pictured top (l-r): Minister for Agriculture, Food and the Marine, Simon Coveney TD
and UCD President, Professor Andrew Deeks at UCD Lyons Research Farm.
The partnership will enhance UCD's capacity to investigate innovative models of milk production and provide an excellent environment for teaching and research connected with dairy sciences.
Planned research includes genetics, nutrition, reproduction of dairy cows and herd health management. The capabilities and resources of UCD Lyons Research Farm are vital in maintaining Ireland's position as one of the world leaders in the dairy industry.
UCD President Professor Andrew Deeks paid tribute to the generous contributions received from leading Irish agribusiness and agri-food organisations that helped fund the facility and acknowledged their vision and commitment to growing Ireland's dairy exports.
In 2015, Ireland's dairy exports were valued at €3.24 billion. Milk production output is expected to rise by 50% to 7.6 billion litres by 2020.
"UCD has always been at the forefront of supporting Ireland's vital agri-food sector. This development is designed to continue this role as we train the future leaders of the sector," he said.
"Without the support of our industry partners, this cutting edge development in dairy sciences would not be possible."
As a result of the investment at UCD, the dairy enterprise will have an increased capacity for 200 cows. The herd will be comprised of spring calving and autumn calving groups.
The UCD Lyons Research Farm is located near Celbridge, County Kildare and operates under the auspices of the UCD College of Health and Agricultural Sciences.
The farm operates mixed enterprises, supporting teaching and research in the areas of beef, crops, dairy, equine, sheep and pigs and is used by the UCD School of Agriculture and Food Science and UCD School of Veterinary Medicine.
By: Jonny Baxter, digital journalist, UCD University Relations