Knowledge Transfer Ireland 2016 Mature Spin-out Impact Award for UCD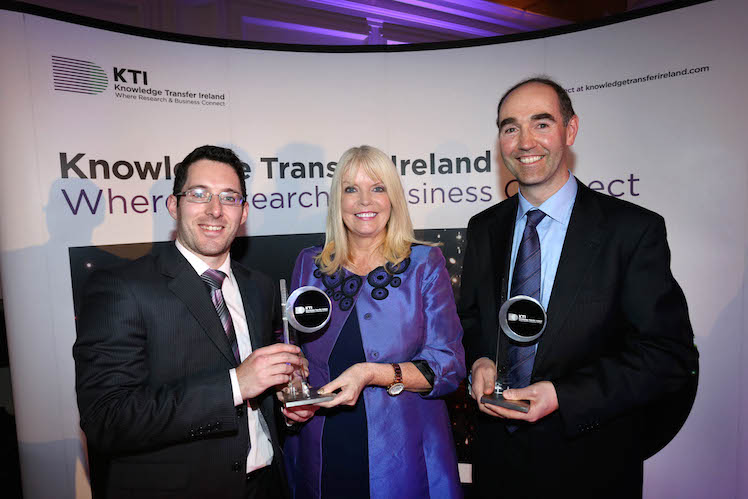 Posted June 29, 2016
UCD spin-out Logentries was acquired by US firm Rapid7 for $68m
Award recognises successful knowledge transfer for wider benefit of economy and society
University College Dublin (UCD) has won the Mature Spin-out Company Impact Award at the 2016 Knowledge Transfer Ireland (KTI) Impact Awards due to the success of its data analytics spin-out firm Logentries.
UCD won the award for Logentries as a result of the UCD-based spin-out company's acquisition by leading security data and analytics US firm Rapid7 in October 2015 for $68 million.
Knowledge Transfer Ireland established the awards, across seven categories, to recognise and showcase successful knowledge transfer carried out in publicly funded research organisations for the wider benefit of the economy and society.
The Mature Spin-Out Company Impact Award was established by KTI to recognise a spin-out company from an Irish publicly-funded Research Performing Organisation (RPO) that has achieved a successful and significant event in the previous calendar year.
Pictured top: Mark Lacomber, senior software engineer, Rapid7 and Logentries' very first employee with Mary Mitchell O'Connor TD, Minister for Jobs, Enterprise and Innovation and Dr Ciaran O'Beirne, Manager, Technology Transfer, UCD
At the time of acquisition, Logentries provided a cloud-based software service for searching, visualising and analysing computer data and logs. The firm had 70 employees, was headquartered in Boston, with a research and development team in Dublin. The company served more than 3,000 customers in more than 65 countries and analysed billions of discrete computer log events per day.
"Winning this award…reflects the strength of support provided to researchers by our technology transfer and enterprise development teams at NovaUCD in commercialising research outputs, with global impact potential, through the establishment and development of spin-out companies such as Logentries," said Brendan Cremen, UCD Director of Enterprise and Commercialisation.
"Tonight's winners combine industry support and the hard work of technology transfer offices to produce some ground-breaking results of real commercial value," said Dr Alison Campbell, Director, Knowledge Transfer Ireland, who was speaking at the awards ceremony.
Logentries emerged from UCD's Performance Engineering Lab (PEL) in the UCD School of Computer Science, specifically from a collaboration between PEL and IBM which led to the creation of the 'Real Time Correlation Engine' (RTCE).
RTCE had traditionally been applied for security and compliance purposes, but Dr Trevor Parsons and Dr Viliam Holub, having worked on the project with IBM, recognised potential applications for RTCE in other areas, ranging from IT operations to web marketing. They developed the original version of a cloud-based solution for analysing machine data, and this led to the establishment of Logentries.
Logentries, winner of the NovaUCD 'Start-up of the Year Award' in 2010, and initially based at NovaUCD – the hub for new ventures and entrepreneurs at UCD – went on to raise of over $11m in funding and open offices in Boston and Prague.
By: Jamie Deasy, digital journalist, UCD University Relations