NHS trial programme uses UCD Medtech firm's insulin pen accessory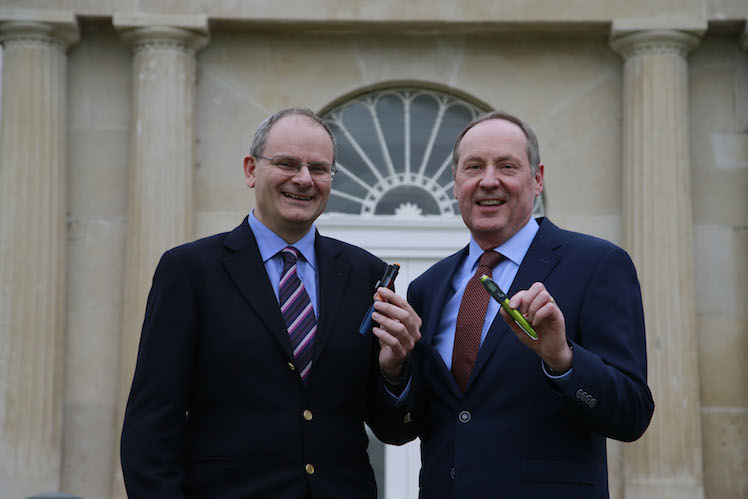 ‌
Posted August 28, 2017
An insulin pen accessory made by Innovation Zed, a University College Dublin Medtech spin-in company, will be used by patients in a NHS-run trial in England.
The collaboration will involve a group of hospital patients in the South Yorkshire and Bassetlaw areas of England using the accessory, known as InsulCheck Connect.
InsulCheck Connect is a snap-on accessory for disposable insulin pen users, which records pen usage and behaviour data "on the go".
Pictured:

William Cirillo and

John Hughes
, co-founders, Innovation Zed at NovaUCD
Insulin pens are used to inject insulin for the treatment of diabetes and typically make measuring and delivering insulin easier than using the traditional syringe and vial method of injection.
The data collected by InsulCheck Connection, when merged with other data such as sugar level readings, will enable patients and their medical professionals to improve the management of the condition.
The South Yorkshire and Bassetlaw Perfect Patient Pathway Test Bed is one of seven national Test Bed programmes in England, funded by NHS England, to explore new ways of delivering care for patients by working with technology partners.
Innovation Zed, headquartered at NovaUCD, the centre for new ventures and entrepreneurs, was co-founded in 2009 by John Hughes and William Cirillo.
John Hughes, CEO, Innovation Zed, himself an insulin user, said his company's research with insulin pen users highlights that, as with other conditions, injection compliance is significantly below what is prescribed.
"We firmly believe that this work will demonstrate that our insulin pen accessory can greatly improve injection compliance and generate better health outcomes for people with diabetes," he said.
Innovation Zed has been dedicated to pro-actively championing the cause of insulin pen users through academic research, scientific studies, clinical trials and developing innovative products.
InsulCheck Connect is the second in a family of connected products from Innovation Zed. It builds on the company's popular InsulCheck Classic accessory and is the direct result of an intensive four-year research and development project in University College Dublin, Sweden and Taiwan.
By: Jamie Deasy, digital journalist, UCD University Relations, with material from NovaUCD