Prolego Scientific scoops top €20,000 prize at UCD 2017 Start-up of the Year Awards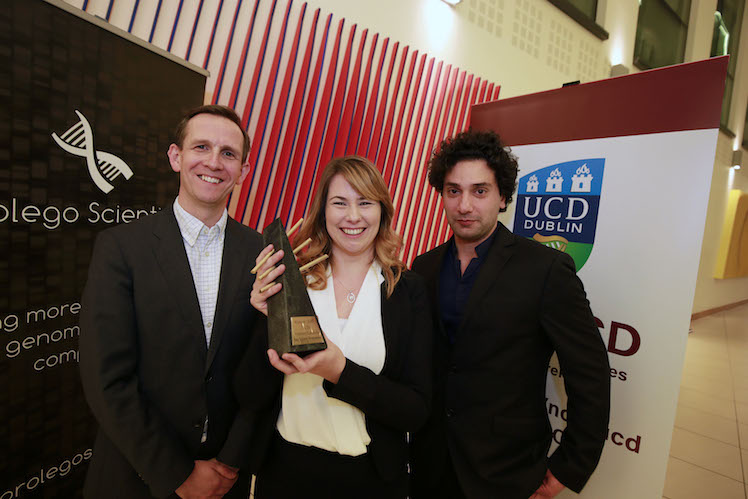 Posted: December 04, 2017
Company offers genetic tests in areas such as animal health and performance metrics
Data can predict inherited physical traits of commerical value within agri food and biotech sectors
Prolego Scientific, an early-stage enterprise has won University College Dublin's (UCD) 2017 Start-Up of the Year Award.
The start-up won the Award, and a €20,000 prize, after being declared overall winner of the 2017 UCD VentureLaunch Accelerator Programme.
Prolego Scientific offers proprietary artificial intelligence solutions that are used to improve the accuracy of genetic tests in many areas such as improving animal health and performance metrics.
These tests in turn improve the quality of the food chain and breeding values. The global animal genetic testing market has seen rapid growth in recent years and is currently estimated to be worth in excess of €3 billion.
Picture above: F
ounders of Prolego Scientific, Associate Professor Andrew Parnell, Dr Belinda Hernández and Dr Mahdi Amina with the UCD 2017 Start-Up of the Year Award
Prolego Scientific's proprietary algorithms make use of genetic data and pedigree information to predict inherited physical traits of commercial value within the agri-food and biotech sectors.
This information can be used in the poultry and aquaculture markets, for example, where it can predict metrics such as meat tenderness, resistance to antibiotics and protein yields.
The founders of Prolego Scientific are Dr Belinda Hernández, Associate Professor Andrew Parnell and Dr Mahdi Amina. The company originated in the UCD School of Mathematics and Statistics.
Dr Belinda Hernández said the company is currently seeking to raise €500,000 in seed funding to "enable the expansion of its services into high volume, high turnover industries, such as poultry and aquaculture".
The UCD VentureLaunch Accelerator Programme supports the creation and acceleration of the launch of sustainable and profitable new ventures based on intellectual property emerging from UCD.
"At University College Dublin we are strongly committed to delivering impact from our research and innovation activities which are essential drivers of a dynamic economy, an informed society and a vibrant culture," said Professor Orla Feely, UCD Vice-President for Research, Innovation and Impact.
"Through the VentureLaunch Accelerator Programme we are supporting our research community to deliver such impact by assisting them to accelerate the establishment of new spin-out companies which have global market potential."
In addition to the 2017 UCD Start-up of the Year Award, Prolego Scientific was presented with a cheque for €10,000 sponsored by AIB. It also received a professional services package to the value of €10,000 sponsored by Bryan Maguire Business Consulting and Deloitte.
The 2017 UCD VentureLaunch Accelerator Programme evaluation panel, which selected the overall winner, was chaired by Dr Helen McBreen, Investment Director, Atlantic Bridge.
The other members of the panel were Dr Sharon O'Kane NovaUCD, Entrepreneur in Residence in Life Sciences, Eddie Buckley, Head of AIB Dublin South and Dr Edward McDonnell, Centre Director, CeADAR.

By: Jamie Deasy, digital journalist, UCD University Relations with materials provided by NovaUCD