UCD and PwC join forces to promote education and talent development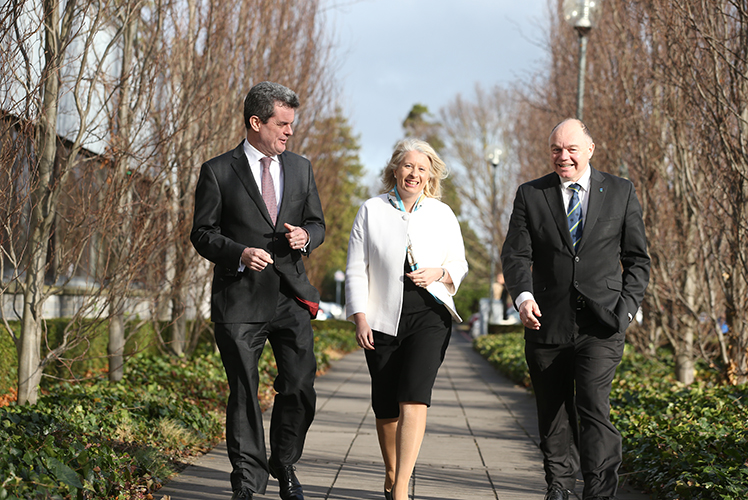 Posted February 22, 2017
University College Dublin (UCD) and PwC Ireland have announced a new strategic partnership.
Representing a substantial financial commitment over seven years, the agreement includes three key areas where the organisations will work together: education and talent development, thought leadership and innovation and corporate social responsibility.
The arrangement involves collaboration on the support of leadership development of high performance, high potential talent; development of internship programmes, mentoring and academic programmes as well as joint research and promoting equality in education and wellness.
"We are proud to have PwC as a strategic partner. This develops on our longstanding relationship over many years," said UCD President, Professor Andrew J Deeks.
Pictured: Feargal O'Rourke, managing partner, PwC; Susan Kilty, people partner, PwC; and UCD President Professor Andrew J Deeks
"Working together, UCD, Ireland's largest university and PwC, Ireland's largest professional services firm, can make great strides in the areas of education and talent development, thought leadership and innovation and corporate social responsibility."
Speaking at the announcement, Feargal O'Rourke, Managing Partner, PwC, said: "Excellence in everything we do is central to both our brands. As one of Ireland's largest employers of graduates, PwC has a huge focus on developing key talent to ensure that our clients get the best advice and our people can be the best they can be.
This partnership will play a key role in the furtherance of talent and skills development for our business.
"UCD is at the forefront of worldwide education. We are delighted to be partnering with the University and look forward to collaborating together even more in the years to come."
UCD seeks to contribute to society through the excellence and impact of its research and scholarship programmes, the quality of its graduates and through its engagement nationally and internationally.
At UCD, research and innovation are seen as essential drivers of a dynamic economy, an informed society and a vibrant culture.
UCD scholars work on tackling diverse national and global challenges and the university community comprises individual scholars, research groups, start-up companies and large-scale collaborations with Government, industry and other partners.
By: Dominic Martella, UCD University Relations