Pioneering researcher Professor Stephen Pennington wins 2018 NovaUCD Innovation Award
Posted 14 December, 2018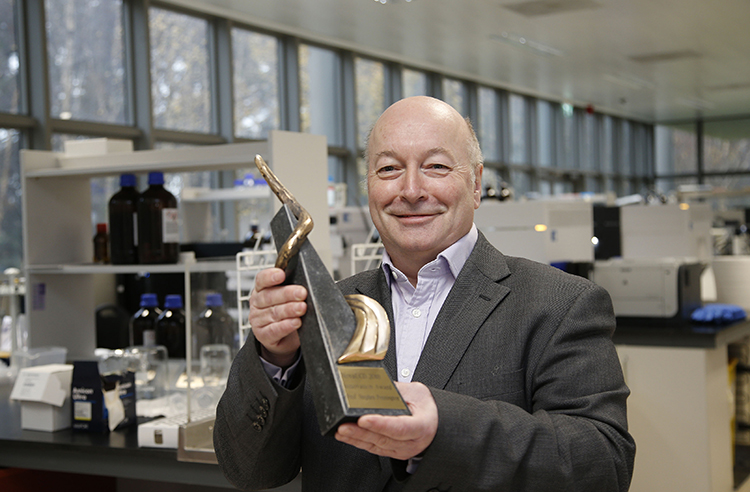 A researcher who pioneered a prostate cancer test to help men avoid unnecessary treatment has won the 2018 NovaUCD Innovation Award.
Professor Stephen Pennington, a leading figure in the study of proteins, was presented with the award by UCD President Professor Andrew J. Deeks for his positive impact on the lives of patients worldwide.
The NovaUCD Innovation Award, established in 2004, is presented annually in recognition of excellence in innovation or of success achieved in the commercialisation of UCD research or other intellectual activity.
In presenting the award, President Deeks said it recognised Professor Pennington's commitment to convert the outputs of his protein biomarker research into diagnostic tests for clinical use.
"Steve is an innovation and entrepreneurial leader who combines excellence in teaching and research with a proven commitment to translating his research outcomes into commercial applications to impact the lives of people," he added.
Congratulations to Prof Stephen Pennington of @UCD_Conway, @UCDMedicine and @atturos, winner of the 2018 @NovaUCD Innovation Award. pic.twitter.com/2irtHlgdcB

— Orla Feely (@OrlaFeely) December 7, 2018
The researcher at the UCD School of Medicine is the founder and Chief Scientific Officer of Atturos, a UCD spin-out company, which is developing a portfolio of multi-marker blood diagnostic tools.
The company's first test, OCProDx, will help some men with prostate cancer to avoid unnecessary over treatment of their cancer.

Every year over 1.2 million men globally receive a diagnosis of prostate cancer and the aim of Atturos' test is to determine whether or not the cancer remains in the prostate or has spread beyond it.
With this information, patients can make a more informed decision about their treatment.
The company is planning to launch OCProDx onto the market in 2020.
On receiving the NovaUCD 2018 Innovation Award, Professor Pennington said: "This Award reflects the valued guidance and input of many colleagues and collaborators over many years and the 'can do' attitude instilled in me by two remarkable ladies, my mother and grandmother.

"It also reflects the recent invaluable mentorship of Mike Feeney, formerly of the IDA and Enterprise Ireland."

He added, "I would like to take this opportunity to acknowledge the huge support of Enterprise Ireland, NovaUCD, Agilent Technologies and MSC, amongst others, who have supported me and the Atturos team on our journey to date."
A named inventor on four priority patent filings, Professor Pennington is the incoming President of the Human Proteome Organisation (HUPO), an international scientific organisation of over 1000 members representing and promoting proteomics.
He is the first researcher from an Irish University to be elected to this prestigious position.
By: David Kearns, Digital Journalist / Media Officer, UCD University Relations