Horizon 2020 programme to help build resilient communities in Ethiopia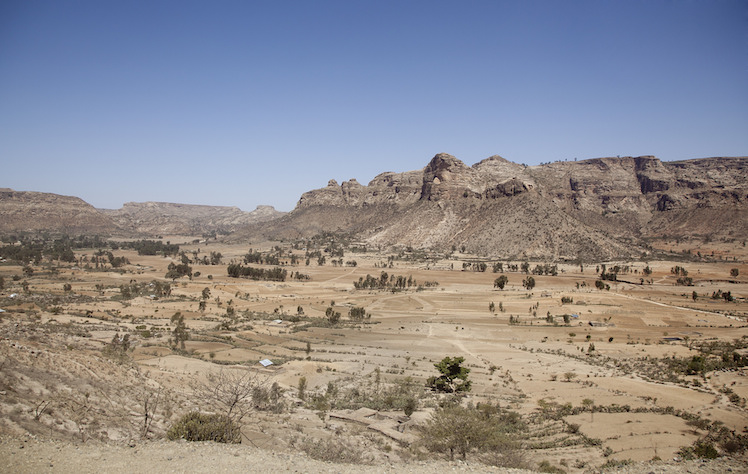 Posted: February 14, 2018
Over several decades investment in development has had limited impact on the quality of life of people in resource-poor countries.
University College Dublin (UCD) and Wolaita Sodo University in Ethiopia have entered into a new partnership programme that has education and research as the critical ingredients to build resilient communities in Ethiopia.
In partnership with NGOs Concern Worldwide and the Network on Humanitarian Action, and Dublin-based socio-economic research firm Future Analytics Ltd, the universities have secured €2.1 million in Horizon 2020 funding, for the four-year programme.
The funding is provided through the Marie Skłodowska-Curie Actions, Research and Innovation Staff Exchange (RISE) scheme.
Pictured above and on homepage:
The typical landscape of Tigray, north Ethiopia, showing dry soil and the effects of climate change. Credit: Jeannie O'Brien
The partners of the Building Resilience Through Education (BRTE) programme will promote the importance of education in bringing about change in the lives of Ethiopians affected by recurring disasters, particularly those related to climate.
The programme will progress research and education across a range of disciplines, including agriculture, education, engineering and healthcare, to build resilient communities in Wolaita Zone, Ethiopia.
Dr Pat Gibbons is Director, UCD Centre for Humanitarian Action at the UCD School of Agriculture and Food Science, and the co-ordinator of the BRTE project.
"Due to the protracted and recurring nature of climatic shocks and stresses in this area of Ethiopia, there is a need for a paradigm shift in the way aid is delivered to meet immediate life-saving assistance while working towards the UN's Sustainable Development Goals," he said.
Professor Orla Feely is UCD Vice-President for Research, Innovation and Impact. "At UCD we are focused on building strong partnerships on the continent of Africa to regionalise our agri-food knowledge and expertise, in areas such as the bioeconomy, smart and sustainable agriculture, to help create a vibrant African agri-economy," she said.
Dr Berhanu Kuma is co-ordinator of the BRTE Programme at Wolaita Sodo University. "The BRTE programme is a tremendous opportunity for our staff to explore research and innovation that will help to improve the livelihoods of the people of Wolaita," he said.
Ethiopia was devastated by a deadly famine in 1984-85 that killed an estimated one million people. The East African nation also regularly suffers from drought, leaving millions of people in need of aid.
BRTE has its origins in an evaluation of the impact of Concern Worldwide's 25-year engagement in the Wolaita zone. The evaluation was conducted by UCD's Centre for Humanitarian Action in collaboration with Wolaita Sodo University.
The report found communities remain vulnerable to recurring climatic stresses
despite significant improvements in their capacities to absorb recurring disasters and adapt their livelihoods based on experience of recent disasters.
Over the next four years, the partnership will build critical infrastructure to enable the sharing of education and research between its partners.
Wolaita Zone is one of the 13 zones of Southern Nations, Nationalities, and Peoples' Region (SNNPR) of Ethiopia. It has a population of around two million people. Agriculture is the livelihood for more than 90% of the population in the region's rural areas.
By: Jamie Deasy, digital journalist, UCD University Relations