Minister Zappone launches UCD's Gender Identity and Expression Policy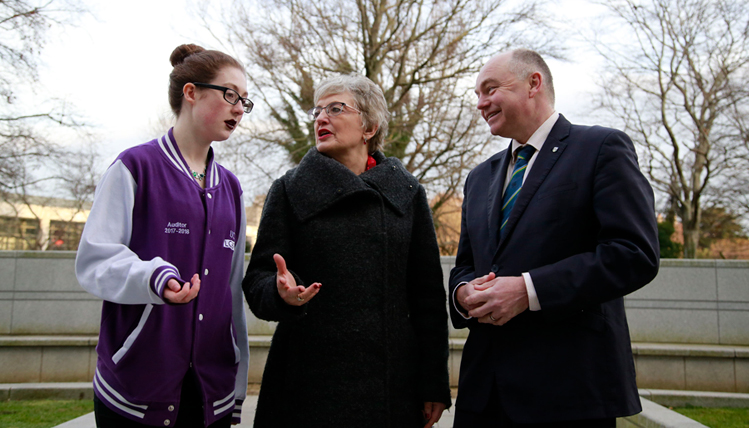 Pictured at University College Dublin (l-r): Ari Shiel, Auditor, UCD LGBTQ+ Society; Katherine Zappone TD, Minister for Children and Youth Affairs; Prof Andrew Deeks, President, UCD
Posted February 23, 2018
The Minister for Children and Youth Affairs, Katherine Zappone TD has launched University College Dublin's Gender Identity and Expression Policy.
The new policy allows for trans and gender non-binary students and employees at the university to change their names on official university award documents and across the university systems without the need for gender recognition certificates.
In addition, the university is re-designating over 170 single stall facilities (bathrooms and changing rooms) across the university as gender neutral. Multi-stall facilities in the UCD Sports Centre will be signed to facilitate transgender patrons to choose the facility of the gender that they identify with.
"Our universities are drivers of change, promoters of equality and champions of justice," said Minister Zappone.
"UCD is continuing that proud tradition by providing a welcoming campus for trans and gender non-binary students and employees."
"As long as members of our community feel alone, discriminated against or even fearful then our journey to equality is not over. As a campaigner, an academic and as an Independent Minister I salute the leadership of UCD in bringing us another step to closer to the goal of full equality for all," added the Minister.

Pictured at University College Dublin (l-r): Ari Shiel, Auditor, UCD LGBTQ+ Society; Prof Colin Scott, UCD Vice-President for Equality, Diversity and Inclusion, and Dean of Social Sciences; Tonie Walsh, LGBTQ+ rights actvisit and curator of Irish Queer Archive; Katherine Zappone TD, Minister for Children and Youth Affairs; Paula McGarry, UCD staff and member of EDI policy working group; Prof Andrew Deeks, President, UCD; Dr Lydia Foy, LGBTQ+ rights activist.
‌
According to UCD President, Professor Andrew Deeks, "the policy affirms and celebrates diverse genders and gender expressions that is reflected in our large multicultural staff and student population."
At the official launch event, LGBTQ rights activists, Tonie Walsh was presented with the UCD LGBTQ+ Student Society Foy-Zappone Award by Ari Shiels, auditor of the UCD LGBTQ+ Society.

Minister Katherine Zappone TD congratulates Tonie Walsh on receiving the UCD LGBTQ+ Society Foy-Zappone Award
Tonie's activism spans from the first pride march after the Fairview Park murder in the early 1980s, raising awareness during the AIDS epidemic, fighting for the decriminalisation of homosexuality in the early 1990s and on through the great advancements made recently for marriage equality and gender recognition.
The award was established in 2013. It is bestowed upon a person, or persons, who have contributed significantly to the fight for LGBTQ equality and inclusion in Ireland and around the world.
It is named after its first two recipients; Dr Lydia Foy and Minister Katherine Zappone, both distinguished activists in furthering equality. Other previous recipients included Maria Walsh, Una Mullally, and Senator David Norris.
The UCD Gender Identity and Expression Policy was developed by an employee and student working group in consultation with TENI -Transgender Equality Network Ireland. Over 80 frontline staff at the university have been trained for the implementation of the policy.
By: Dominic Martella, UCD University Relations