UCD awarded University of Sanctuary status for refugee fee and work supports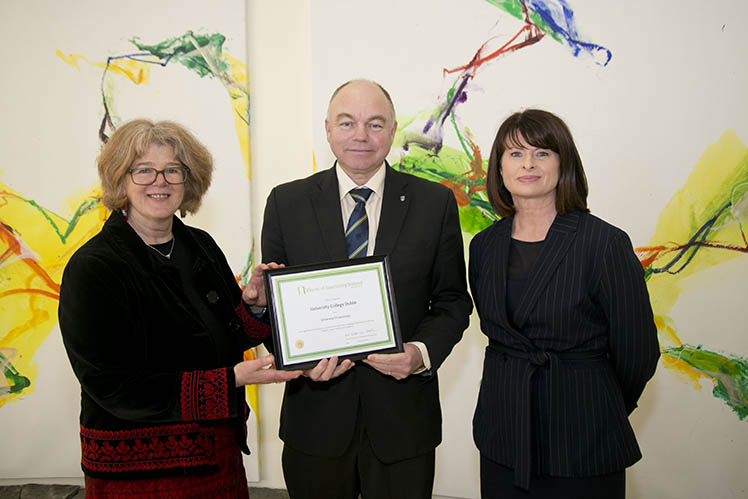 Pictured: Dr Veronica Crosbie, Places of Sanctuary Ireland, UCD President Professor Andrew J Deeks and Emily Logan, Chief Commissioner, Irish Human Rights and Equality Commission
Posted March 06, 2018
Refugees and asylum seekers offered free fees under new policy
University has set up a national student-led campaign to welcome refugees into communities
University of Sanctuary status has been awarded to UCD in recognition of a range of initiatives welcoming refugees and asylum seekers into the university community.
The designation recognises a number of projects undertaken by staff and students that will result in the provision of free and funded access to education, employment and work experience to refugees and asylum seekers.
One of the most important initiatives the university has taken is to offer free fees to all refugees and asylum seekers resident in Ireland who qualify to study at UCD but cannot afford the fees. The proposal was put forward by the UCD Refugee Working Group and it was accepted last year by University management.
The UCD Refugee Working Group is chaired by Professor Colin Scott, Vice President for Equality, Diversity and Inclusion and Principal of UCD Colleges of Social Sciences and Law, and Professor Grace Mulcahy, UCD School of Veterinary Medicine and UCD Conway Institute.
Pictured: Emily Logan, Chief Commissioner of the Irish Human Rights and Equality Commission
Dr Veronica Crosbie, member of refugee and asylum seeker advocacy group, Places of Sanctuary Ireland, presented the University of Sanctuary certificate to UCD President Professor Andrew J Deeks at a ceremony in the UCD Sutherland School of Law.
"Our University recognises the very important contribution that we can make by harnessing the human resources, skills and energy of displaced staff and students and deliver benefit to both home and host nations by improving their access to work and study within higher education," said President Deeks.
Speaking at the ceremony, Chief Commissioner of the Irish Human Rights and Equality Commission, Emily Logan, said the rights to access education and to choose opportunities for employment were "at the core of enabling each person to flourish".
She said the IHREC had spoken directly to asylum seekers living in direct provision centres in Ireland.
"There has been a consistent message coming across, in terms of their own desire to independently build their lives, to realise their hopes and their aspirations and to fulfil their desire to play a significant part in society here in Ireland," she said.
UCD is very proud to be presented with the designation of University of Sanctuary for asylum seekers and refugees. Huge congrats to everyone involved! pic.twitter.com/dhGxfkGffB

— UCDInternational (@UCDInternat) March 5, 2018
Ola, who is a Stage 1 Computer Science Student at UCD is one of the first beneficiaries of the new UCD policy of offering free fees to refugees and asylum seekers, also spoke at the event.
He said that when he completed a FETAC level 5 course in Software Design and Development at Crumlin College it still seemed like third-level education was out of his reach.
"When I got the text from the CAO saying I got a place at UCD to study Computer Science that was an incredible experience," he said.
"It's been an incredible opportunity for asylum seekers knowing that you can actually access third-level education. It will transform the lives of so many asylum seekers in Ireland.
"From the beginning, I have always wanted to give back to Irish society and now with my Computer Science degree I help out with CoderDojo, a computer coding club for kids – this is my own little way of saying thank you to the Irish state."
Some of the other initiatives taken by staff and students at UCD that have contributed to the University of Sanctuary award include:
UCD has also set up 'Fáilte Refugees' (failterefugees.ie), a national student led campaign, empowering the people of Ireland to welcome refugees into local communities.
The University has also teamed up with the National Youth Council of Ireland to deliver training to students working with refugees and asylum seekers.
There is a UCD staff representative on the Dublin City of Sanctuary Board.
Members of several student societies at UCD and a member of Failte Refugees organised a 'Refugee Awareness Week' in March/April 2017 which will be repeated annually, with a number of events aimed at increasing staff and student knowledge of this area.
UCD now joins University College Cork, University of Limerick and Dublin City University as one of the four universities in Ireland that have been awarded University of Sanctuary status.
Places of Sanctuary Ireland is a network of groups in towns, cities and local communities that share the objectives of promoting the integration, inclusion and welfare of refugees, asylum seekers and vulnerable migrants.
By: Jamie Deasy, digital journalist, UCD University Relations