UCD rowers make a big splash at University Championships
Posted 26 June, 2019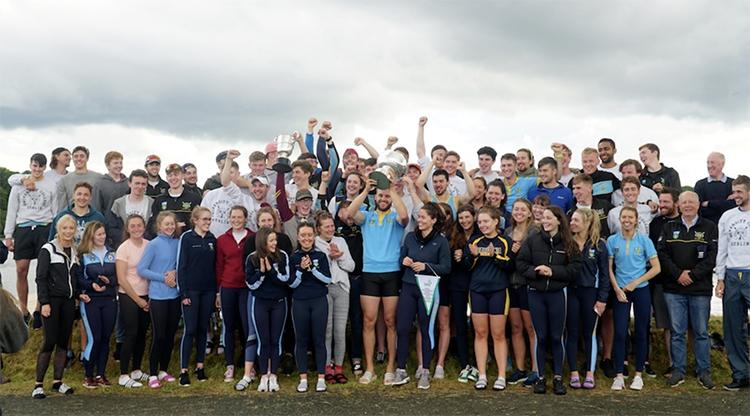 University College Dublin was the overall winner at the 2019 University Championships after its rowers delivered success at all levels.
The UCD Mens and Ladies Boat Clubs rowed to glory at the competition in Lough Rynn, Co Leitrim, with the men claiming the Wylie Cup for the 20th time.
The trophy is the longest contested and most prestigious prize in Irish Universities rowing.
It was first presented in 1922.
UCD showed their strength winning the Men's Senior 8+ and Senior 4-, as well as both the Men's and Women's novice 8+.
The total 1st place tally for the University's rowers also included:
Men's Senior 2-
Men's Intermediate 4+
Men's Club 4+
The University was declared the regatta's overall winner based on points are awarded for 1st, 2nd and 3rd place finishes in all events.
At the end of the competition UCD and NUI Galway were level on points with the tie being broken on which university had more wins - UCD on seven, and NUIG with six.
In the Men's Senior 8+, UCD came out on top during a close finish to win ahead of Trinity College.
The winning UCD crew were Cameron Murphy, Shane O'Connell, Thomas Earley, Andrew Kelly, Andrew Goff, Max Murphy, Shane Mulvaney, David O'Malley, coxswain Orlagh Reid.
Teammates Shane Mulvaney and David O'Malley were named 'Sportspersons of the Year' at the 2019 UCD Sport Awards.
The oarsmen, who study chemistry and medicine respectively, made history in July when they won gold in the men's 2000m lightweight pair at the World U23 Rowing Championships.
UCD Ladies Boat Club claimed the Women's Novice Eight race with a comfortable victory ahead of Queen's University Belfast.
"[This] result was due to a tremendous effort from the entirety of both squads with UCD's athletes finding success in races at all levels from Novice to Senior," said a spokesperson for the UCD's rowing clubs.
By: David Kearns, Digital Journalist / Media Officer, UCD University Relations