UCD runners win double bronze for Ireland at European Athletic Championships
Posted 4 March, 2019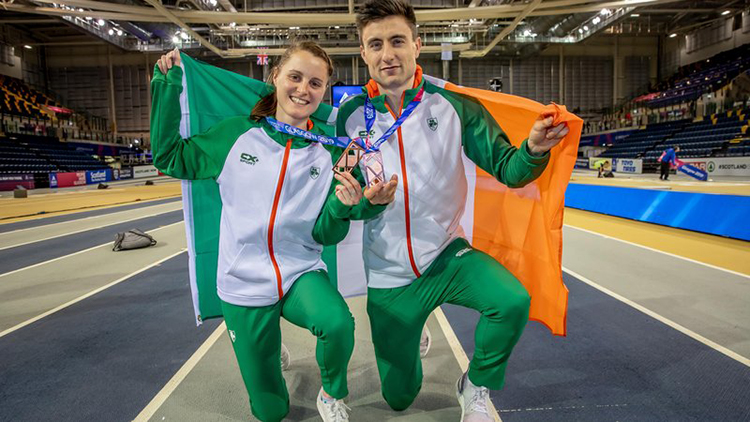 UCD Ad Astra alumni Mark English and Ciara Mageean have each claimed a bronze medal at the European Indoor Athletic Championships.
Completing for Team Ireland in Glasgow at the weekend, the University College Dublin athletes' impressive displays in the 800m and 1500m respectively ensured their place on the winner's podium.
County Down native Ciara Mageean clocked a time of 4:09.43 as she was pipped on the line by Poland's Sofia Ennaoui as she came home third in the 1,500m.
A recent graduate of the UCD School of Public Health, Physiotherapy and Sports Science, it is the 26-year-old's first indoor medal to go alongside the bronze she won outdoors at the 2016 European Championships.
"I live to run for the green, white and gold," the Portaferry woman told RTE Sport.

"People talk about different things but you don't do athletics for the money and you don't do athletics for the amazing good times because they are very few and far between.
"I run to race in this vest and it means the world to me."
Delighted with last night's result. The culmination of winter miles and gym toil resulted in a Euro bronze! Thanks to all for the support pic.twitter.com/xwHJG2X80x

— Mark English (@markenglish_) March 4, 2019
With a time of 1:47.39, Mark English finished behind winner Alvaro de Arriba of Spain (on 1:46.83) and Britain's Jamie Webb (at 1:47.13) in the 800m final.
The Letterkenny athlete won a silver in the same event four years ago.
Qualifying for this final after an appeal for being tripped in the semi-final, Mark, a student at the UCD School of Medicine, savoured his return to form.
"It gives me a lot of confidence that the training I've been doing has actually been working," he told RTE Sport after winning his bronze medal.
"I don't think anything has really changed mentally, I've just put the right training in and I've got the right mechanical support to go with it."
He added: I kind of gave it everything, I basically ran to the line as if it was down the far end because I knew if he [Mariano Garcia of Spain] got in ahead of me there was no getting by him again, but I felt really good and I'm delighted with the result."
By: David Kearns, Digital Journalist / Media Officer, UCD University Relations