UCD researchers recognised at IRC's Annual Research Awards
Posted 9 December, 2020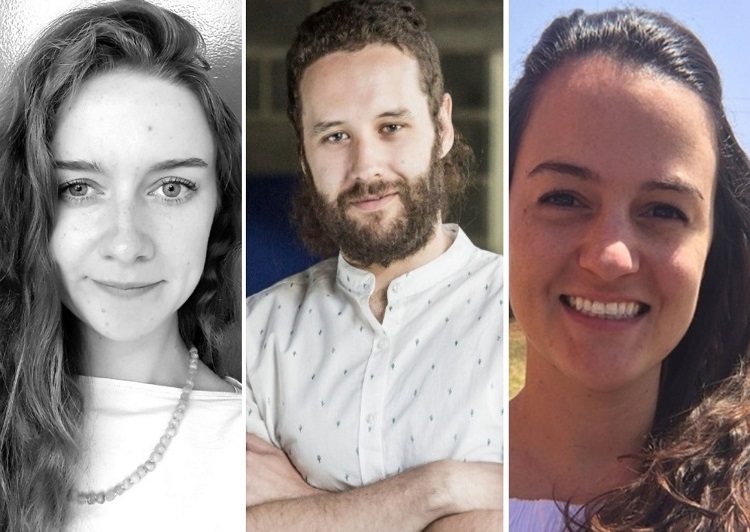 Dr Tara Dirilgen, Dr Colin Keogh, and Dr Brynne Gilmore
Researchers from University College Dublin were recognised at this year's IRC Researcher of the Year Awards for their stellar work in academia, industry, civic society and the public sector.
Dr Colin Keogh, who completed his PhD earlier this year under the supervision of Professor Lizbeth Goodman, Chair of Creative Technology Innovation in the UCD School of Mechanical and Materials Engineering, was awarded this year's IRC Impact Award.
Dr Tara Dirilgen, UCD School of Agriculture and Food Science, has received the 'Thomas Mitchell Medal of Excellence' for being the top-ranked postdoctoral researcher in the awards' STEM category.
In addition, Dr Brynne Gilmore, UCD School of Nursing, Midwifery and Health Systems, was highly commended in the Early Career Researcher of the Year Award category.
The Irish Research Council's Impact Award is given to a current or former IRC awardee who has made a highly significant impact outside of academia.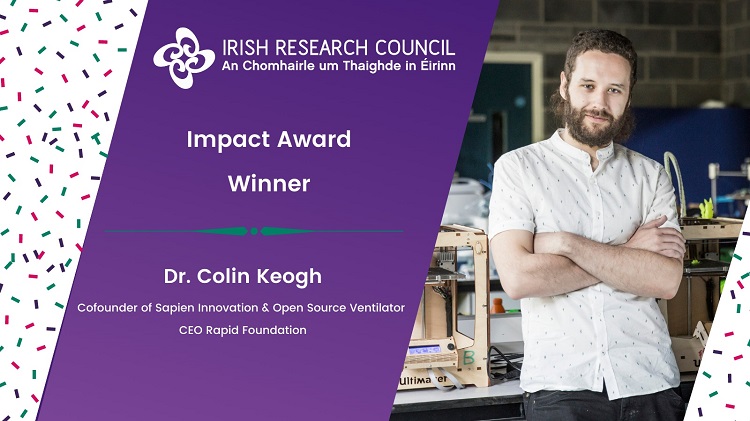 This year Dr Keogh built out a team to design and develop open-source ventilators to assist with the fight against COVID-19.
He is also the co-founder of Sapien Innovation, an innovation consultancy specialising in applied innovation, creativity and design thinking services and co-founder of The Rapid Foundation, a social enterprise which aims to disperse 3D printing technology
His work has included the design of 3D printed prosthetics for children with missing or 'non-standard' limbs.
Dr Keogh has also previously been named as one of Forbes 30 Under 30 in Science.
"I am honoured to receive this award from the IRC. I hadn't expected to be able to apply my Doctoral work towards real-world issues, at such scale, so soon," he said.
"My work and support from the IRC left me uniquely placed to apply new innovative approaches and techniques to the global Covid-19 response. I hope to be able to continue this research, and associated impact, at UCD."
Professor Orla Feely, UCD Vice-President for Research, Innovation and Impact said that Dr Keogh was "a great researcher" who was always looking for how his research could "make a difference be it in the developing world".
Professor Lizbeth Goodman added: "His work does not fit easily into the standard boxes for metric evaluation within a single discipline or methodology, it reaches well beyond in a post-disciplinary model of 'impact' enacted on a local, national and global scale."
"He does not need to be guided to 'think out of the box' because he does not see a box to begin with, he sees potential and possibility, and he conducts ethical research with a determination to transform the academy from within."
In addition to the Researcher of the Year Awards, the IRC presents 'Medals of Excellence' to four early-career researchers.
Each of the 'Medals of Excellence' have been named after previous IRC Chairs and recognise excellence in the 2020 postgraduate and postdoctoral funding calls run by the Council in STEM and the arts, humanities and social sciences (AHSS).
The research carried out by Dr Dirilgen, who won the 'Thomas Mitchell Medal of Excellence', sets out to explore how biodiversity below ground influences plants and pollinators above ground.
Her research investigates how below ground interactions, soil biodiversity and plant roots, effect plant-pollinator interactions and how the use of pesticides in crop protection might alter this.
The findings will inform management of agricultural systems to promote both biodiversity conservation and food production.
"The diversity of life that surrounds us, be it plants, insects, birds and so on, fascinates me to no end. With this comes the desire to understand biodiversity, the threats causing its loss and the subsequent impact on services the environment provides, such as pollination," Dr Dirilgen said.

"In particular I am keen to explore biodiversity in soil and how this may have effects above ground. I am driven by curiosity and wanting to add to the existing pool of knowledge that feeds into developing solutions to current threats to biodiversity."
She added: "My proposal would not have been what it is only for the support and encouragement I received from a number of people, especially the enthusiasm I received from my research mentors, Dr Dara Stanley and Dr Saoirse Tracy."
In the Early Career Researcher of the Year category, Dr Gilmore was highly commended for her focus on strengthening and advancing the understanding of health systems and programmes primarily in low- and middle-income countries.
Within her work she partners with communities, non-governmental organisations, UN agencies such as the World Health Organization and academic institutions around the world to understand and improve community health and community engagement approaches, using theory driven evaluation.
"Global health is a multi-disciplinary field that aims to improve health equity worldwide by focusing on populations and health systems that are underserved. I am driven to this field to support the strengthening of health systems and interventions by bridging the gap between theory and practice, in order to reach health equity for all populations worldwide," she said.
Commenting on the 2020 Awards, IRC Director Peter Brown said: "Our annual Researcher of the Year awards are about recognising the very best and brightest of the Council's current and former awardees. The standard this year was exceedingly high, and the judging panel found it difficult in many cases to choose a winner, which is a testament to the high calibre of researchers we have here in Ireland.
"We launched our five-year strategic plan this year and supporting excellent ideas and talent across all disciplines is at the heart of the Council's mandate. Having a vibrant research community, and fostering public support for research is vital, as we continue to see the positive impact it has on society, the environment, and the economy."
By: Staff Writers, UCD University Relations (with materials from Micéal Whelan, UCD Research and Innovation)