UCD embeds UN SDGs across education, research, governance and engagement
Posted 30 November, 2020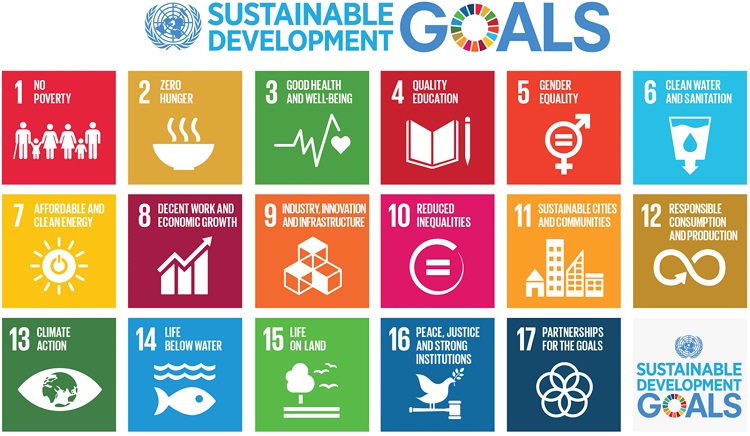 University College Dublin has published its first Sustainability Report outlining a structured programme designed to embed the United Nations Sustainable Development Goals (UN SDGs) across the University's education, research, governance and engagement activities.
Under the education heading, UCD has committed that all degree programmes meet the criteria under SDG Goal 4 Quality Education as well as mapping to Goals 3, 9 and 17. (see diagram)
This year, UCD launched a dedicated interdisciplinary BSc in Sustainability (DN240) admitted its first fifty students in September 2020.
Under research, over 20% of UCD's total publication output (over 12,000 publications) in the past decade has directly contributed to the SDGs and two-thirds of faculty already undertake research to advance knowledge related to SDGs.
Under governance, the University has an extensive range of actions and policies in respect of nine of the Goals. Key activities and policies address health on campus, equality diversity and inclusion, workplace practices, innovation, sustainability in energy consumption, procurement and commuting, transparency of governance and arrangements for partnering externally.
Professor Colin Scott, chair of the project steering group said: "The Sustainability Report provides a platform for bringing together employees, students, alumni and a wide range of partners to underpin an ambitious agenda to build on existing activity, documented in this report, over coming years."
The 2030 Agenda for Sustainable Development was adopted by all 193 members of the UN in September 2015. The 2030 Agenda builds on the Millennium Development Goals (MDGs) to identify 17 Sustainable Development Goals (SDGs) addressing the social, economic and environmental requirements for a sustainable, prosperous and peaceful future.
UCD had a direct role in the development of the SDGs through the advocacy of Professor Patrick Paul Walsh, UCD School of Politics and International Relations, who represented universities as a member of the UN Major Group for Science and Technology in the intergovernmental negotiations on the SDGs.
Through the work of this group the role of academia, science, research and innovation are firmly embedded within the SDGs and UCD has special consultative status with the UN Economic and Social Council as a Non-Governmental Actor, creating a pathway for ongoing global influence in global public policy.
Times Higher published its first Social Impact Rankings of universities in April 2019, comprising an assessment of universities' achievements against the Goals, with more than 500 universities participating. UCD ranked 34th in the world in 2020 Social Impact Ranking.
"It is very significant that the UN SDGs constitute a normative framework for action which commands international consensus and thus provides a basis for developing and articulating the actions not only of governments, but also of public bodies more generally, industry and NGOs. UCD has a strong tradition of education, research, governance and engagement linked to human development and sustainability across the whole university." Professor Scott added.
In November 2019, UCD adopted a new strategy for the period 2020-24, 'Rising to the Future' within which the first of four strategic themes, is 'Creating a Global Sustainable Society'. As with all four strategic themes, this theme will operate and challenge the University community across all university activities, including research, education, operations and engagement.
By: Staff Writers