Latest edition of UCD Today published, Spring 2021
Posted 19 April, 2021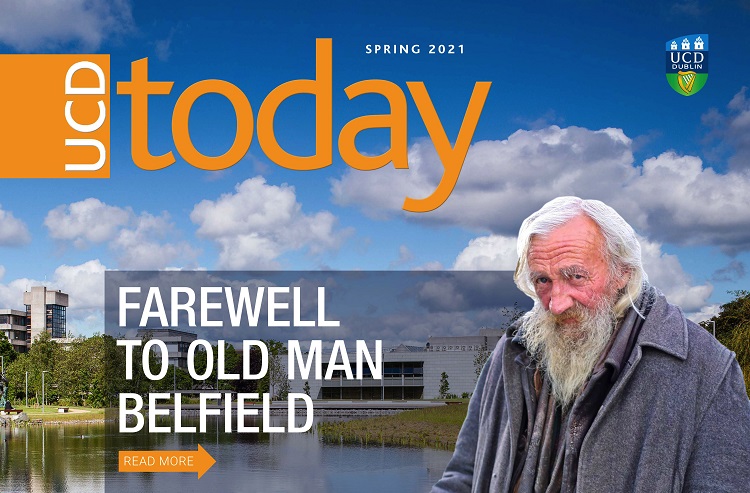 University College Dublin's campus magazine UCD Today's Spring 2021 issue is now available online, following its move to digital during the ongoing COVID-19 pandemic.
In this, the first issue of 2021, the magazine has all its usual contents with a round-up of a small portion of the University's COVID-19 response, a report on the Belfield 50 project, news items, features, book reviews, sport and student updates.
It also introduce a new feature – 'In Profile', a one-to-one interview with a member of the UCD Community.
Patrick Kelleher speaks to Professor Nasrine Seraji, recently appointed to UCD School of Architecture, Planning and Environmental Policy, who has a distinguished career in both academia and architectural practice.
Also featured is Professor Patricia Maguire, Director of the UCD Institute for Discovery and Co-Director of the Interdisciplinary Research Group Sphere at UCD Conway Institute, in conversation with Marie Boran about 'Predicting Patient Outcomes in Preeclampsia'.
Assistant Professor Gabriela Martinez Sainz, from the UCD School of Education, talks to Olive Keogh about how new UCD research raising concerns about anxiety levels in primary school children.
The study is led by Professor Dympna Devine, Associate Professor Jennifer Symonds, Assistant Professor Seaneen Sloan and Assistant Professor Gabriela Martinez Sainz.
In 'Pushing the Frontiers of our Knowledge', Professor Lorraine Hanlon, UCD School of Physics, speaks with Peter McGuire about her plans for C-Space, the first Irish centre dedicated to collaborative space research and industry.
UCD Today is always on the lookout for stories from around campus for the next issue – if you have an item for consideration, please contact: ucdtoday@ucd.ie
By: Staff Writers