'Poetry as Commemoration' - New partnership for Decade of Centenaries with Irish Poetry Reading Archive
Posted 26 August, 2021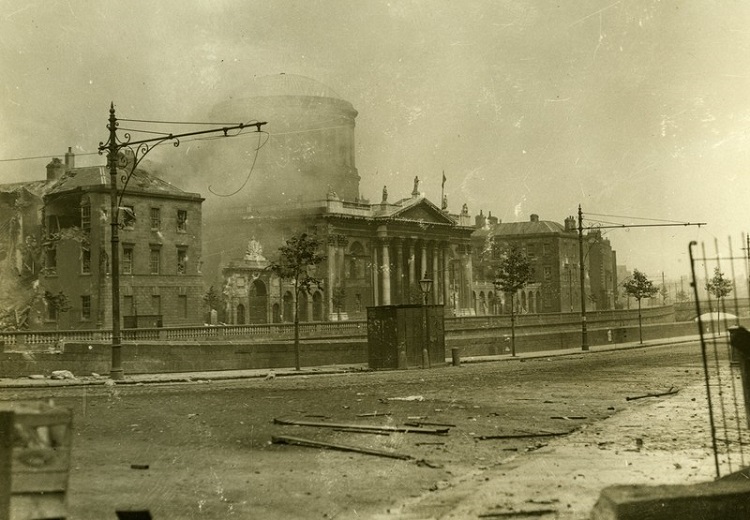 The UCD Library's Irish Poetry Reading Archive is leading a new project which will use poetry as a means to explore how Ireland's struggle for independence and the Civil War shaped the emergence of the Irish State.
Ten new poems will be commissioned, documented by primary sources, in English and Irish, on topics, themes and events relating to this challenging period of Irish history.
These works will be then recorded and preserved in the Irish Poetry Reading Archive at UCD Library, and be made freely available to everyone, as well as be published as a collection.
The project, which is supported by the Department of Tourism, Culture, Arts, Gaeltacht, Sport and Media, is a partnership with Poetry Ireland, and will collaborate with a diverse range of poets, institutions, groups, and individuals across the island of Ireland.
Collaborators will include the Arts Council of Northern Ireland, the Local Government Management Agency, county archivists, arts officers, heritage officers, public libraries, schools, universities, museums, and arts organisations, such as the Museum of Literature Ireland.
Over €370,000 in funding will be made available to the project over the remainder of the Decade of Centenaries Programme.
"This is an exciting new partnership between UCD Library's Poetry Reading Archive and my Department," said Minister for Tourism, Culture, Arts, Gaeltacht, Sport and Media, Catherine Martin TD.
"'Poetry as Commemoration' is a really important opportunity for us all to consider and explore, in a creative way, some of the significant themes and events associated with the emerging Irish State, grounded in engagement with the collections from national and local archives, relating to the War of Independence and the Civil War."
Evelyn Flanagan, one of the founders of UCD Library's Irish Poetry Reading Archive, together with Dr Lucy Collins, at the UCD School of English, Drama and Film, and Ursula Byrne added: "We are delighted with the Government's support for this two-year creative project. This is a great opportunity for the Irish Poetry Reading Archive, working in collaboration with Poetry Ireland, to facilitate a journey of discovery that will engage writers of all ages and levels of experience, encouraging them to draw inspiration from archival material relating to the War of Independence and Civil War.
"Poetry plays an important role in our collective understanding of Ireland's past and will help us to explore this challenging period of our history in new and inclusive ways.
"This project has a very exciting community engagement element at its heart. Events and installations - such as the Poetry Jukebox and Rain Poetry - will make the written word come to life in our public spaces, bringing poetry to new audiences and opening up unique perspectives on the past. All of these events and materials will, in turn, be archived, and accessible to future generations. It is a great honour for UCD Library's Irish Poetry Reading Archive to lead this project".
As a part of the project, an extensive, complementary public engagement programme will also be delivered, with online and in-person events to be held across the island of Ireland over the next two years, including an extensive programme of creative writing workshops for adults and young people.
Each activity will draw inspiration from primary source material from national and local archives.
Poetry readings, online exhibitions, a symposium, a 'poetry in public spaces' initiative, and a dedicated website hosting a virtual poetry wall are among a range of anticipated opportunities for engagement with poetry as a form of commemoration, created by this initiative.
In June, Irish President Michael D Higgins became the latest poet to record a selection of his work for the Irish Poetry Reading Archive. The recordings are freely available, as are over 150 poets from writers born in Ireland, and those who resident elsewhere or who have newly arrived here.
By: David Kearns, Digital Journalist / Media Officer, UCD University Relations