Royal Irish Academy invites six UCD academics to sign members' book
Posted 21 May, 2021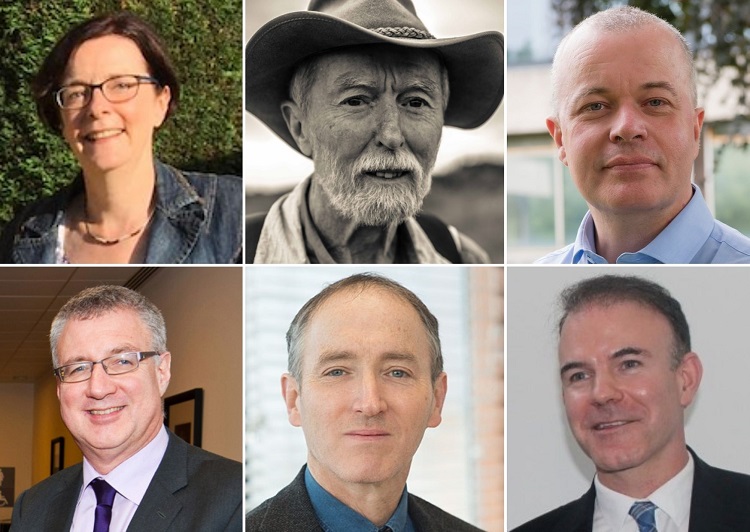 Six professors from University College Dublin have been elected to the Royal Irish Academy, the highest academic honour in Ireland.
The cohort were among 27 new RIA members invited to sign the Academy's members book in recognition of their world-class contributions to the sciences, humanities and social sciences.
Due to ongoing COVID-19 restrictions, the RIA admitted the group of academics in a video call rather than with the traditional ceremony.
Admittance to the Academy is the highest academic distinction in Ireland, and those elected by their peers are entitled to use the designation 'MRIA' after their name.
The UCD professors newly elected to the RIA on Friday, 21st May 2021 are:
Welcoming this year's the newest entries, RIA President Dr Mary Canning said: 'These 27 new Members are recognised for their scholarly achievements, typically reflecting many years of research, or for significant contributions to Irish society.
"They bring international academic distinction to our country and we should be immensely proud of these remarkable women and men. As Members of the Academy, they will strengthen our capacity to provide expert advice on Higher Education and Research policy."
Associate Professor Meidhbhín Ní Úrdail is head of Modern Irish at University College Dublin. Her extensive dossier of learned publications in three languages (Irish, English and German) consistently exhibits high excellence in the depth and originality of its research, the range and versatility of its subject matter, and the meticulous quality of its presentation. She is an outstanding scholar of Modern Irish with an international profile.
Professor John Crown is professor of Translational Cancer Research at Dublin City University and clinical research professor at University College Dublin. He has published widely on clinical and translational research in breast cancer therapy.
He was the founding chair of the Irish Cooperative Oncology Research Group. His pioneering research is renowned internationally for advancing pathways to overcome resistance to cancer treatment and to improve outcomes through molecular understanding of exceptional cancer responses.
Professor John Feehan is an environmental scientist who has made an outstanding contribution to the raising of public awareness of the environment through several books and in his outreach through television and YouTube. The television series 'Exploring the landscape' won the prestigious Jacobs Award in 1987.
His work is especially well known in rural Ireland and in farming circles, most notably in the Burren, on Clare Island and in the Midlands.
Professor John Brannigan is professor of English and head of the UCD School of English, Drama and Film at University College Dublin.
He is the author of seven monographs and many articles and book chapters on authors from Brendan Behan to Virginia Woolf, and has led innovative research projects on literature and the sea.
His most recent book is a critically acclaimed account of the 'Archipelagic Modernism' of these islands.
Professor Brian O'Connor is full professor in Philosophy at University College Dublin. He holds a DLitt from the National University of Ireland and is a fellow of the Royal Historical Society.
He has gained international renown for his distinctive contributions in critical social theory and the history of German philosophy. He is the author of three monographs and over 30 articles, and editor of three volumes.
His books are cited by the most prominent scholars and researchers and feature on university teaching curricula world-wide. His 2018 book Idleness: a philosophical essay (Princeton University Press) was greeted enthusiastically by the international scholarly community and also was widely discussed in journals, print media and podcast interviews.
Professor Desmond John Tobin, an internationally recognised skin and hair follicle biomedicine researcher, is professor of Dermatological Science at University College Dublin.
He is immediate past president of the British Society for Investigative Dermatology and a member of a UK REF2021 sub-panel. Having returned to Ireland in late 2018, he was recently awarded a Science Foundation Ireland Frontiers-to-the-Future award to explore how healthy melanocytes transform into melanoma cells.
The Academy has been honouring Ireland's leading contributors to the world of learning since its establishment in 1785.
Among the 27 new members elected in 2021 include Mr Justice Gerard Hogan, Advocate General at the European Court of Justice; Professor Philip Nolan, President of Maynooth University and chair of the NPHET Irish Epidemiological Modelling Advisory Group; and pharmacologist Professor Lorraine O'Driscoll who is a leading figure in cancer research.
There are now 637 RIA members, of whom over 90 are Honorary or overseas members, and past members include Nobel laureates WB Yeats and Seamus Heaney.
Earlier this year UCD Emeritus Professor and former RIA President Mary E. Daly received the society's Gold Medal, considered the highest scholarly accolade in Ireland.
The celebrated academic, who served for seven years as Principal of UCD College of Arts and Celtic Studies, received the prestigious prize for her ground-breaking historical work.
She is the eighth UCD academic to receive the honour since its inception in 2005.
By: David Kearns, Digital Journalist / Media Officer, UCD University Relations