UniCoV: Volunteers needed for pilot campus testing programme that could limit COVID-19 outbreaks
Posted 2 September, 2021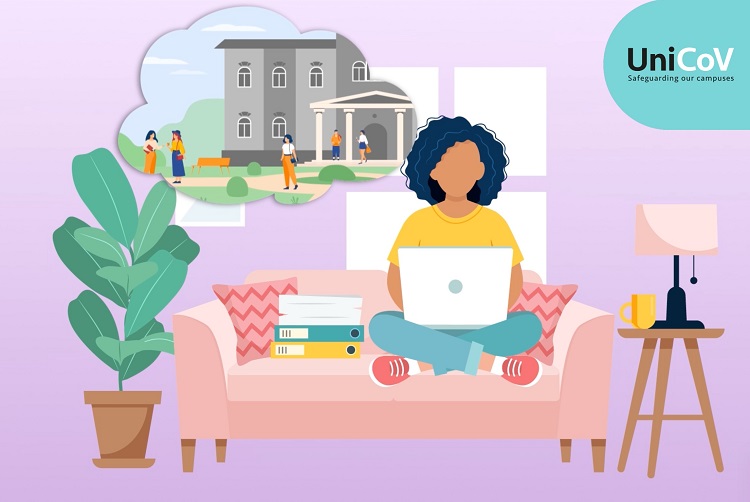 Volunteer registration is now open for a new rapid COVID-19 testing project at University College Dublin aimed at supporting a return to campus for students and staff.
UniCoV – a pilot scheme designed to assist the safe and sustainable re-opening of Higher Education Institute campuses across Ireland in September – is using rapid antigen and saliva-based nucleic acid testing to explore if an 'early warning system' can be developed to prevent and limit future outbreaks at third level institutions.
The multi-site study hopes to recruit 2,000 volunteers from amongst faculty, staff and students at each of its four participating universities, National University of Ireland Galway (NUIG), Trinity College Dublin, University College Cork, and University College Dublin.
"UniCoV is a culmination of many weeks of planning to develop a usable system to enable a safer return to in-person attendance at Universities in Ireland," said UCD Principal Investigator Professor Patrick Mallon, Professor of Microbial Diseases/Consultant Microbiologist/Infectious Diseases at UCD School of Medicine.
"Even with the successful vaccination programme, ongoing testing will play a vital role in maintaining safe environments for all students and staff in the near future. UniCoV provides a platform for us to determine what works best and we really value the participation of as many staff and students as possible to make this a success."
At UCD, volunteers will be divided into two cohorts of testers – a small one group who will continuously self-test twice weekly for eight weeks, and another that will undertake random testing for a period of two weeks.
When selected, volunteers will be asked to collect testing kits each week at the start of their testing period, undergo a swab, and drop off submit saliva samples twice weekly before returning them to a collection point on campus.
Those volunteers involved with the project will also submit a self-administered rapid antigen (nasal swab) test by taking a photo of the results and uploading it with their phone. Alongside volunteer testing, and as part of UniCoV, campus wastewater from NUIG, TCD, UCC and UCD will be analysed at the UCD wastewater surveillance laboratory for traces of COVID-19.
Lead by Professor Wim Meijer, UCD School of Biomolecular and Biomedical Science, this waste-water testing follows on from a successful pilot scheme earlier this year that showed a very close correlation between the presence of SARS-CoV-2 material in sewage and the daily number of new COVID-19 cases in south Dublin and Wicklow.
While the opening of universities is not contingent on the success of the UniCoV scheme, it is hoped if the feasibility and benefits of rapid testing can be proven, the research could be a significant tool in halting limiting the spread of COVID-19 by allowing experts to make informed decisions about the use of rapid tests.
Minister for Further and Higher Education, Research, Innovation and Science Simon Harris TD said that Uni CoV testing could "potentially be an important element" of the Government's plan for a safe return to on-site teaching, research and study.
"If proven through piloting and feasibility, rapid antigen testing, saliva testing and wastewater testing could provide additional elements to the control strategy set out in national guidance.
"None of these replace the public health advice but could be significant additional weapons in our fight against COVID-19. Over 8,000 will participate in the study, and it is of course optional but I really would encourage staff and students to participate and help us with our plans for a safe and sustainable re-opening of campuses and society.
"You can sign up at www.unicov.org, it's easy, it's secure and you'll be playing a vital role in our recovery from this pandemic," he added.
The UniCoV project is led by NUIG Professor Breda Smyth, Director of Public Health for HSE West, who said students in Ireland had shown "significant resilience in adapting to the challenges that COVID-19 has created".
The UniCoV project follows on from a number of smaller scaled pilot testing schemes carried out during the pandemic at NUIG, TCD, UCC, and UCD.
Along with Professors Mallon, Meyer and Prof Grace Mulcahy, the team at UCD includes Prof Peter Doran, Dr Cathal O'Brion, Dr Anna Malara, Dr Sinead Holden, Ms Terri Martin and Mr Alejandro Gabner Garcia Leon.
Other Principal Investigators on the project include Professor Charles Spillane, Ryan Institute NUIG; Professors Aideen Long, Kingston Mills and Orla Sheils, TCD; and UCC Professor Mary Horgan and Dr John MacSharry.
By: David Kearns, Digital Journalist / Media Officer, UCD University Relations