Near 5,000 cycle parking space now available across Belfield and Blackrock campuses
Posted 15 September, 2021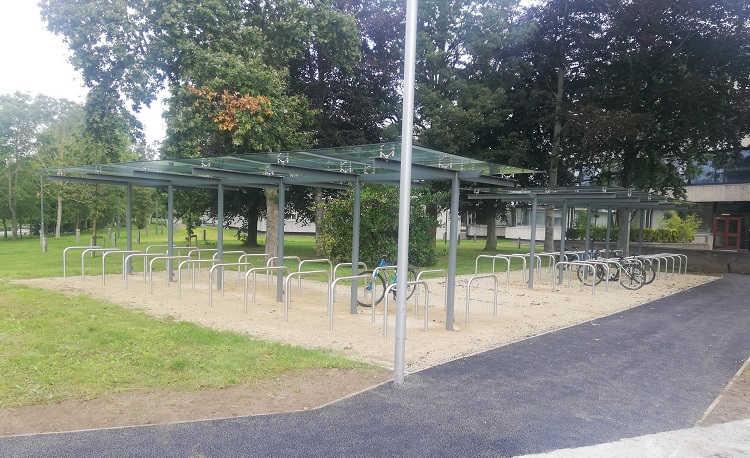 Almost 5,000 cycle parking spaces are now available to those commuting to University College Dublin on bike.
New parking areas have been opened across the Belfield and Blackrock campuses, with 88 sheltered spaces for staff and students just added outside the Newman Building near the Stillorgan entrance.
Alongside this, a new secure biking area too has been made available next to the main lake to help support the existing cycling community at UCD, and encourage others to take up cycling to campus.
If you're just back to campus 80 new bicycle parking spaces between the Gerald Manley Hopkins Centre and the Newman Building recently opened. These parking spaces enhance cycle parking and building accessibility within the core of campus. pic.twitter.com/Th8ioczeBm

— UCD Estate Services (@UCDEstates) September 14, 2021
"We recognise that there is a large cycling community among the staff and students of the Newman Building, with potential to further grow the cycling community both within the building and in the wider campus through providing high quality parking areas," said John Fahey, UCD Facilities Manager.
"Requests for covered bike parking areas which are located close to buildings is a common request stemming from our commuting surveys, and with the construction of these spaces, next to the 24 hour staff swipe access door for the building, we hope to have helped answer those requests in this area and enable cycling as a primary commuting choice."
He added: "In partnership with the National Transport Authority, we have an ongoing programme of cycle parking on the Belfield and Blackrock campus, both providing new parking areas and upgrading existing ones throughout the campuses.
"Remember to keep an eye on our website and social media channels for more update."
As part of National Bike Week sign up here https://t.co/UUNO12lclN for our secure bike parking area next to the main lake. Then drop down to Campus Services to activate your staff/student card and collect a free set of bike lights and gloves with every sign up! pic.twitter.com/JOGp6oaEi2

— UCD Estate Services (@UCDEstates) September 15, 2021
In total, some 750 new cycle spaces have been added to UCD over the last 12 months. Alongside these new parking spaces, UCD Estate Services have also increased the number of pump repair stations around campus.
First introduced in 2018 at the Student Centre, the James Joyce Library and Glenomena Residences, these popular self-fix bicycle repair units have now been installed at three additional locations, namely at the Lochlann Quinn School of Business and Richvie.
A further unit has also been added to the Avoca Avenue entrance to the Blackrock campus. All the units are co-located with bike parking areas.
Each kiosk features an air pump to reflate flat types and is equipped with a range of tools to keep bikes in working shape.
By: David Kearns, Digital Journalist / Media Officer, UCD University Relations