One-in-five Long COVID patients suffer anxiety, depression, and PTSD, Oireachtas Committee hears
Posted 14 July, 2022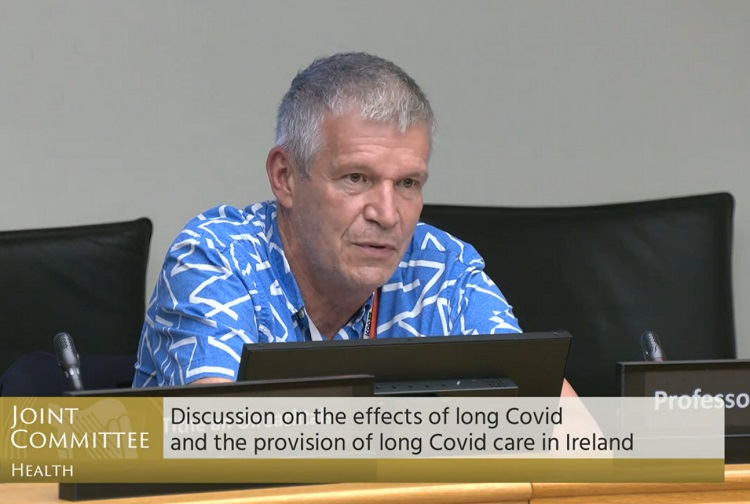 As many as one-in-five patients with Long COVID are suffering from anxiety, depression, and post-traumatic stress disorder, the Oireachtas Health Committee has heard.
Professor Jack Lambert, from the UCD School of Medicine and an adjunct Clinical Professor and Consultant in Infectious Diseases and Genitourinary Medicine at Mater Misericordiae University Hospital, said the lack of a coherent national approach to Long COVID was causing considerable harm to the well-being of those with the condition.
Often presenting as a persistent 'brain fog', Long COVID has been linked to a number of symptoms including cognitive issues, exhaustion, sleep disturbances and psychological issues that were not present prior to testing positive for COVID-19.
Summarising his research and experience with Long COVID patients at the Mater to the Committee, Professor Lambert said about a third still have significant 'neurocognitive defects' one year later, and that based on "GP supported publications" some 15-20% of people with Long Covid have been left with unexplained anxiety, depression, PTSD, and that some misusing alcohol cope with the challenge.
"We have known for 18 months, based on accumulating scientific data that brain damage is the issue with Long COVID . We need a new plan and new resources and staffing to support these patients to recover and return to being contributing members of society," he said.
"While in the first wave of COVID-19 with the original virus, it appeared that lung and heart would be the targets of damage, following the establishment of the Long COVID clinic at the Mater in June of 2020, we became aware that the heart and the lungs repaired themselves, and that COVID also affected the brain, and this is where residual damage persisted, and that some people, even a year after infection, had residual symptoms that were all referrably to this brain inflammation."
Professor Lambert said more needed to be done to listen to patients, and that guidelines and structured support for GPs were lacking – noting that there were no clear pathways for referring patients with Long COVID.
He said about a third of patients have significant symptoms after one year of recovering from COVID-19, and that there was a cohort of "about 1 to 5% of [these] people" still disabled to the point that they cannot function as they did prior to contracting the infection.
He added: "I think we have to move around the resources... my ideal programme would be having a centre that has neuro-rehabilitation specialists and neurologists working in a multidisciplinary clinic with infectious disease doctors, a range of psychologists because that's been a significant problem, and that's been under resourced in terms of the current plan."
Professor Lambert told the Oireachtas Health Committee that some patients presenting with chronic fatigue syndrome had been told there was "nothing wrong with them", and that in some communities, both in the general public and in the medical community, there was the belief that these patients were making up their symptoms.
"The reality is most of the patients I took care of are health care workers who never missed a day of work in their life.. [and] here they are coming down with COVID from an infection they caught in the hospital.
"Two years later they've done everything they possibly can, including private care to get help and they're basically told there's nothing wrong with you. PET scans, brain scans of Long COVID patients from research studies have shown there's brain inflammation there, these patients are not making this up.
"It's real. It's all in their head, there's damage to the brain, and that's really what the focus should be on. There should be an educational campaign for employers, occupational health doctors, businesses, to support these patients because they are not making up the problem."
By: David Kearns, Digital Journalist / Media Officer, UCD University Relations