2022 UCD Alumni Awards honours UCD graduate for rowing into Irish sporting history
Posted 21 November 2022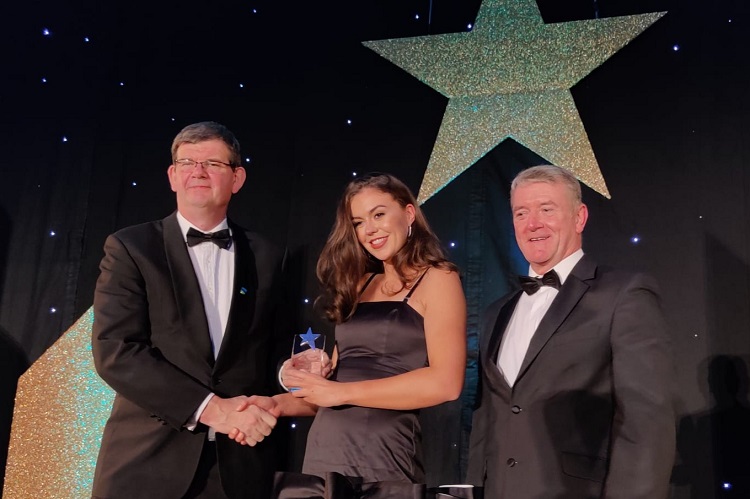 UCD graduate Eimear Lambe has been recognised at the 2022 UCD Alumni Awards for her historic podium finish at the 2020 Olympic Games, becoming one of the first ever Irish female rowers to secure an Olympic medal.
Alongside teammates Aifric Keogh, Fiona Murtagh and Emily Hegarty, the Dublin native claimed Ireland's first medal of the Games, and the team are only the second ever female Irish crew to reach an Olympic final.
"We knew we could win a medal, it was just about whether we could pull it off," said Eimear following the win.
"We also knew that every crew was also capable of winning a medal so it was just about who got down the course as well as they could in these conditions."
Having studied BComm International while at University College Dublin, during which she was an Elite Sports Scholar at UCD Ad Astra Academy, the 25-year-old went on to win Silver at the 2021 European Rowing Championships.
At this year's Alumni Awards, the rower was awarded the 'UCD Alumni Award in Sport', and was one of nine high achievers from UCD whose outstanding accomplishments were recognised at the event.
The other worthy recipients of the 2022 Alumni Awards were:
UCD Alumni Award in Arts and Humanities: Consolata Boyle, BA 1972.
UCD Alumni Award in Business: Mary Quaney, Bcomm 1999 & Macc 2000.
UCD Alumni Award in Health and Agricultural Sciences: Michael Burke, MBV 1970.
UCD Alumni Award in Law: Bill Shipsey SC, BCL 1079.
UCD Alumni Award in Research, Innovation and Impact: Dr Martin J Tobin, MB Bch BAO 1975.
UCD Alumni Award in Science: Conrad Burke, Bsc 1989.
UCD Alumni Award in Social Sciences: Niall Breslin, BA 2003 & Msc 2019.
UCD Alumni Award in Engineering and Architecture: Ciaran Connell, BE 1982; and Michael Mc Laughlin, BE 1982, MEng 1992.
The UCD Alumni Awards were introduced in 2014 to acknowledge the achievements of notable graduates from among the over 300,000 UCD alumni across 189 countries around the world.
For the 2022 ceremony, some of those awardees from 2020 and 2021 were present to celebrate their achievements in person following the decision to hold the awards virtually during the COVID-19 pandemic.
Niall Breslin, BA 2003 & Msc 2019 - UCD Alumni Award in Social Sciences
Niall holds an MSc in mindfulness-based intervention, bachelor's degrees in economics and sociology, a higher certificate in performance psychology and is an honorary fellow of the Royal College of Surgeons and IADT. He is also a former professional athlete and an Ironman triathlete.
Niall has worked with global leaders, professional athletes and world-class entertainers. His ability to communicate with vital authenticity and expert knowledge has further contributed to his standing as a key figure in the evolving conversation around mental health.
On his critically acclaimed "Where Is My Mind" podcast Niall engages in investigative and generative conversations with philosophers, thought leaders, academics, scientists and musicians including Deepak Chopra, Moby, Edith Eger, Adam Clayton (U2) and many others. Niall's additional podcast "Wake Up Wind Down" is a twice daily guided meditation to start and end your day.
Niall also co-founded the award winning youth mental health charity "A Lust for Life' and he has authored a best-selling children's book series "Magic Moments" both of which further promote and educate children on mindfulness, emotions and mental health.Niall is also a multi-platinum award-winning musician, producer and lead singer songwriter for "The Blizzards".
Niall Breslin is a lot of things: a speaker, a writer, a thought-leader, a podcast host, a philanthropist, a musician, an athlete, a polymath and a seeker and speaker of universal truths.
Consolata Boyle, BA 1972 - UCD Alumni Award in Arts and Humanities
Consolata Boyle trained as a designer (for both set and costumes) at the Abbey Theatre, after graduating from UCD, where she studied Archaeology, History, and English. Her work was seen at all major theatres in Ireland as well as in London, at the Edinburgh International Festival, and on Broadway, before she began to concentrate on designing costumes for film and television.
She has received Oscar nominations for Victoria & Abdul, Florence Foster Jenkins and The Queen, and two Primetime Emmy nominations, winning for The Lion in Winter. Consolata has won a Costume Designers Guild Award (plus three nominations), two BAFTA Film nominations, and multiple IFTAs.
She has been conferred with an honorary postgraduate degree by the University for the Creative Arts, an Honorary Fellowship by the Institute of Art, Design & Technology, Dún Laoghaire, home of The National Film School, a Volta Award for career achievement from the Dublin International Film Festival, and the Craft Award by Women in Film and Television UK. Consolata was invited to become a member of the Academy of Motion Pictures Arts and Sciences in 2007.
Conrad Burke, BSc 1989 - UCD Alumni Award in Science
Conrad Burke grew up in Bray Co. Wicklow. He graduated with a BSc Hons (Physics) from UCD in 1989. Conrad resides in Silicon Valley, California as co-founder and managing partner of MetaVC Partners – a VC firm, backed by Bill Gates.
Conrad is known as an entrepreneur and investor who has worked and lived in the U.S., Japan, Germany, and the U.K building successful new businesses in renewable energy, optical communications, nanomaterials, and biosciences.
He was founder and CEO of Silicon Valley based, Innovalight, a specialty nanomaterials startup which was acquired by DuPont Corporation. Conrad has served on the boards of a number of technology companies, including the European Solar Energy Industry Association in Brussels. He was a Technology Pioneer awardee at the World Economic Forum in Davos and a recipient of an Ernst & Young Entrepreneur of the Year™ award. Conrad also has a MSc (Physics) from Trinity College, Dublin.
Ciaran Connell, BE 1982; & Michael McLaughlin, BE 1982, MEng 1992 - UCD Alumni Award in Engineering and Architecture
Ciaran Connell graduated from University College Dublin in 1982 with a degree in Electronic Engineering and in 1990 with a Masters Degree in Business Administration from the University of Texas at Austin, U.S.A. He worked for Cornel Electronics in Dublin on Baseband Modems, and in Austin, Texas for Motorola Semiconductor focusing on Wireline and Wireless semiconductors for ISDN, xDSL and Cellular communications. He then moved to Toulouse, France where he continued to work for Motorola / Freescale again in the field of semiconductors for wireline and wireless communications, specialising in Business development and Strategy.
In 2007 he started to build DecaWave with Michael McLaughlin, with Ciaran being based in Toulouse, France until 2015 when he relocated to Silicon Valley, California. As CEO of DecaWave his key roles included Corporate and Business Strategy including building the company and its Board and investors.
In 2020 he led the sale of DecaWave to Qorvo for $400M, which resulted in every one of its 250+ Angels making money as well as its VC investors (Atlantic Bridge, ACT and Enterprise Ireland). This was selected as the Irish Times "Deal of the Year" for 2020.
Qorvo continues in this field in Dublin and in Toulouse building on DecaWave's pioneering work in IR UWB. Ciaran is currently GM of the UWB Bu at Qorvo and is the Chairman of the Board of Irish start up Danalto and Director of French start up Nestwave, both also pioneers in semiconductor communications.
Michael McLaughlin
Jobs were scarce in Ireland when Michael McLaughlin graduated from UCD in 1982 so he spent two years dividing his time between painting and decorating with his uncle "Dimmie" and writing code for a BBC Micro to do stock tracking and prescription labelling for pharmacies.
He went on to work for Lake Datacomms (formerly Cornel Electronics) for 18 years. Then, after two years at Parthus Semiconductor, he decided to start his own venture, co-founding the microchip company Decawave in 2004. Decawave chips enable things and people to be located to centimetre level accuracy. It was the ideal application for Michael's Ultra-Wideband (UWB) inventions and has led to UWB being incorporated in every new smartphone design.
Michael's work was recognised by the Irish Academy of Engineering and he was awarded the 2019 Parsons Medal for outstanding achievement in Engineering Sciences. When Decawave was acquired by Qorvo in 2020, in Europe's largest tech exit of the year, Michael became a Senior Fellow and Head of Algorithm Development in the Qorvo UWB division. Michael has been at the forefront in defining international telecoms standards with the ITU and the IEEE since 1989 and is the inventor of 89 international patents.
Mary Quaney, BComm Int 1999, MAcc 2000 - UCD Alumni Award in Business 2022
Mary Quaney was appointed Group Chief Executive Officer in August 2020. She joined Mainstream in 2009 and she held the role of Group Chief Financial Officer since 2017. She was appointed to Mainstream's Board of Directors in 2019 and is a member of the Chief Executive Safety Committee, the Risk and Investment Committee and the Corporate Social Responsibility Committee.
Mary has graduate and post-graduate qualifications from UCD and is a Fellow Chartered Accountant (FCA) and Chartered Tax Adviser (CTA). She is an advocate and spokesperson on gender diversity and participated as a mentor for the Global Wind Energy Council's (GWEC) Women in Wind programme in 2019.
Prior to joining Mainstream, Mary held senior level positions in finance and corporate tax in PricewaterhouseCoopers and Trinity Biotech Plc.
Michael Burke, MVB 1970 - UCD Alumni Award in Health and Agricultural Sciences
Michael H. Burke is the Founder and Executive Chairman of Chanelle Pharma, Ireland's largest indigenous manufacturer of generic pharmaceutical products. Headquartered in Loughrea Co. Galway, Chanelle Pharma is a trusted partner to 10 of the top 12 global human generic and animal health multinationals.
The company exports to over 90 countries with key markets in Europe, Australia, New Zealand, Japan, South Africa, Canada, the Middle East and the USA.
Chanelle Pharma employs over 600 people on a 350,000 square foot site which includes, three manufacturing plants and four research and development centres. The company has a fifth research and development centre in Amman Jordan, along with sales offices in the UK and India.
2020 marked a gamechanger for Chanelle Pharma as the company secured FDA approval for Europe's first dedicated Spot On Manufacturing Facility. The company has grown organically every year since it was formed in 1985 and today has sales worth over €150 million.
Eimear Lambe, BComm Int 2019 - UCD Alumni Award in Sport
Eimear Lambe made history when she won a Bronze Medal in rowing at the 2020 Tokyo Olympics in the Women's Four (W4) alongside Aifric Keogh, Fiona Murtagh and Emily Hegarty. They were the first Irish female rowers to secure Olympic medals and they were only the second ever Irish female crew to compete in an Olympic final.
Eimear started rowing in 2012 at Commercial Rowing Club in Dublin. She first competed internationally at the Coupe de la Jeunesse in 2013 and raced at the Youth Olympics in the same year.
In 2019, alongside her W4- teammates, Eimear won a silver medal in the World U23 Rowing Championships in Sarasota, Florida. Eimear won Bronze at the 2020 European Rowing Championships in the W4- and went on to win Silver at the 2021 European Rowing Championships in Varese. She was part of the crew that qualified the W4- at the Olympic Qualification Regatta in Lucerne. The team took a clear win, knowing only the top two boats would secure the last two available places for Tokyo.
Her older sister, Claire Lambe, competed for Ireland in rowing at international level, and finished sixth in lightweight double sculls final at the 2016 Olympic Games in Rio de Janeiro.
Eimear studied International Commerce and German at UCD and is currently working in a graduate program in Business Consultancy with Ernst and Young.
She likes to keep up to speed with current affairs, enjoys hiking and is a supporter of Sanctuary runners (enables Irish residents to run alongside, and in solidarity with, asylum seekers and refugees in Direct Provision). This aligns with her view on the power of sport, to bring people together as well as build character and support positive mental wellness.
Bill Shipsey SC, BCL 1979 - UCD Alumni Award in Law
Bill Shipsey, graduated from UCD with a B.C.L. in 1979. He was called to the Irish Bar in 1980. After working in a Death Penalty Defence Law Firm in California he commenced practice at the Irish Bar in January 1982. He was called to the Inner Bar in 1994. He retired from the Bar in July 2018.
Bill is a human rights activist, artist event promoter, producer and consultant.
He is a former Chair of FLAC, Amnesty International Ireland and The Irish Hospice Foundation and a present and former member of the board of numerous other Irish and International NGO's and Cultural Organisations including The Estate of Seamus Heaney, Narrative 4 Ireland and the Vaclav Havel Library Foundation.
He has four adult children and since 2018 he has lived in Paris.
By: David Kearns, Digital Journalist / Media Officer, UCD University Relations