SFI Awards recognise UCD awardees as 'key leaders' in Ireland's research community
Posted 22 November 2022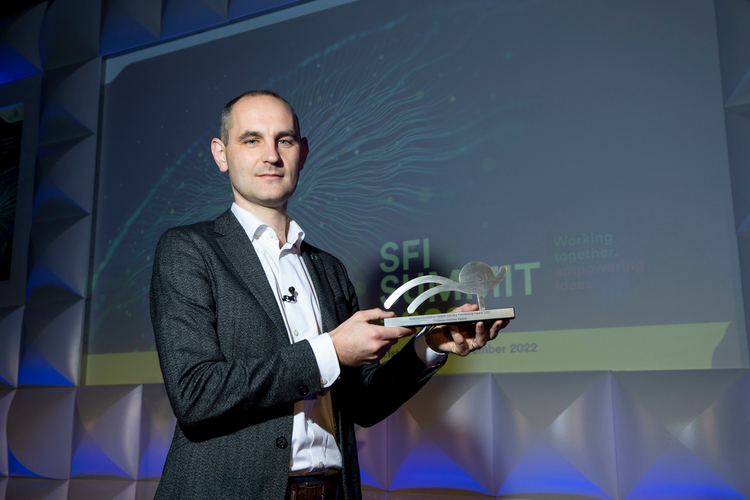 Professor Andrew Keane, recipient of the 2022 SFI Industry Partnership Award. Credit: Alan Place Photography
Science Foundation Ireland (SFI) has honoured two UCD researchers for their contributions to Irish society and the economy, naming them as leading figures in Ireland's research community.

Among the 2022 SFI Award winners was Professor Andrew Keane, UCD School of Electrical and Electronic Engineering and Director of NexSys (Next Generation Energy Systems), who received the 2022 SFI Industry Partnership Award, and Professor Walter Kolch, Director at Systems Biology Ireland (SBI), UCD School of Medicine, who was awarded the 2022 SFI Mentorship Award.
"It is a great honour to receive this prestigious award from Science Foundation Ireland," said Professor Keane.

"It is a testament to the hard work and dedication of my colleagues in industry and academia who have pursued collaborative research excellence over several years.

"Our work with ESB and EirGrid has yielded research outputs of global relevance alongside helping to progress the decarbonisation of our energy system. I would like to thank SFI, UCD and all our industry partners for their continued support and commitment to collaborative multidisciplinary research."

EirGrid and ESB have partnered with NexSys with a commitment to research and innovation over several years.
Through the development of a first-of-its-kind suite of integrated energy system models, NexSys is helping to deliver the infrastructure needed for a safe and secure grid with increasing levels of renewable generation.
The core mission of NexSys is to decarbonise Ireland's energy system, and to achieve this it brings together researchers from across the island of Ireland, with key industry partners, policy-makers and communities to resolve the challenges of a just transition to a decarbonised energy system.
"I would like to congratulate Professor Andrew Keane and the NexSys team on winning this year's SFI Industry Partnership Award," said Professor Orla Feely, UCD Vice-President for Research, Innovation and Impact.

"This collaboration between industry and academia is addressing the vital challenge of transitioning the energy system to net zero carbon emissions, developing new technologies and solutions for equitable, sustainable energy supply for all society.

Professor Keane is also the Director of the UCD Energy Institute and a co-founder of NovoGrid, a UCD software spin-out company supported by NovaUCD, which optimises energy delivery.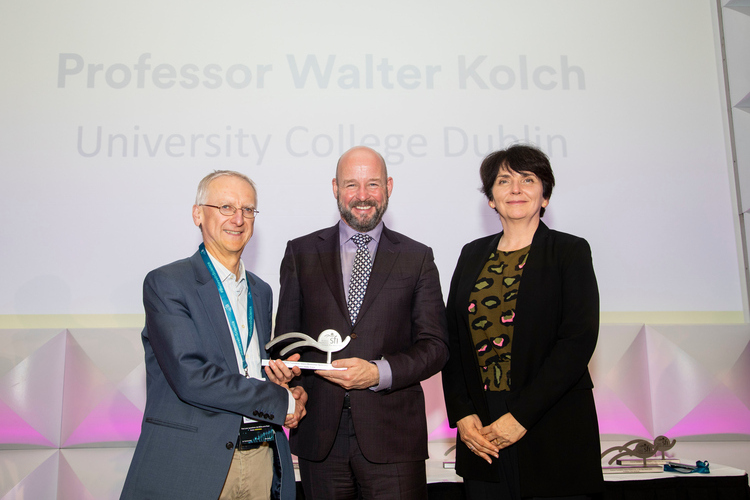 Professor Walter Kolch, Professor Philip Nolan, Director General, Science Foundation Ireland, and Professor Orla Feely, UCD Vice-President for Research, Innovation and Impact. Credit: Alan Price Photography
As the 2022 SFI Mentorship Awardee, Professor Kolch was acknowledged as having built a highly interdisciplinary and multinational research environment.
Since its inception in 2009, SBI has hosted over 260 team members including 105 researchers, 63 postgraduate students, 12 clinician scientists, 36 management and admin staff, and 46 research support staff from over 35 countries.
Professor Kolch has supervised over 50 postdocs and over 40 doctoral students providing each with the tools and infrastructure to develop their independence early in their careers - several of whom have secured various positions in academia and industry, some even starting their own companies.
"Professor Kolch has built a highly interdisciplinary and multinational research environment where academics can thrive and develop their careers," said Professor Feely.

"He has demonstrated a strong commitment to nurturing the intellectual and professional growth of his mentees, as well as their broader personal development and the equality and diversity of his teams."
"I am delighted about this award. It reflects the open and interdisciplinary research culture at SBI, which is an ideal environment for training young scientists," added Professor Kolch.

Acknowledging all the award winners Professor Philip Nolan, SFI Director General, said each recipient had been recognised for their exceptional achievements "within our research community, and the ways in which research contributes to our wellbeing and our environmental, social and economic development and sustainability."

"These awards reflect the dedication and determination of our researchers as they work to discover new knowledge, to innovate, and to make the world a better place. The awardees are truly inspiring."
By: David Kearns, Digital Journalist / Media Officer, UCD University Relations (with materials from Micéal Whelan, UCD Research and Innovation)