AI_PREMie named among the top innovators at AI Awards
Posted 24 November 2022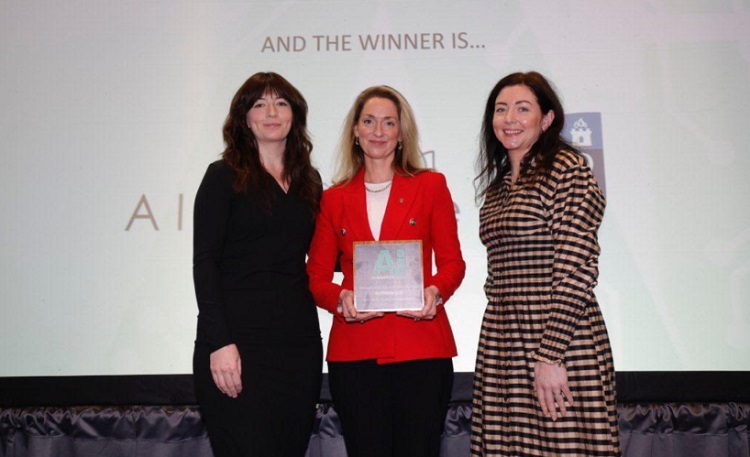 A UCD project using AI to address the significant challenge of diagnosing preeclamptic, one of the world's deadliest pregnancy complications, was named among the top innovators at the fourth AI Awards.
AI_PREMie uses cutting-edge biomedical, clinical and machine learning techniques to analyse a combination of biomarker signals and maternal data to provide a straightforward assessment of pregnancies at risk of preeclamptic complications, thereby helping to prevent unnecessary adverse outcomes for mothers and babies.
The AI research project, hosted at the UCD School of Biomolecular and Biomedical Science, won Best Application of AI to Achieve Social Good and Best Application of AI in an Academic Research Body.
The AI_PREMie team is led by Professor Patricia Maguire, UCD School of Biomolecular and Biomedical Science, and includes consultant haematologist and Full Clinical Professor Fionnuala Ní Áinle, from UCD School of Medicine, and consultant obstetrician and gynaecologist Professor Mary Higgins from National Maternity Hospital.
Also involved are Clinical Associate Professor Jennifer Donnelly and Clinical Assistant Professor Neil O'Gorman, UCD School of Medicine, Associate Professor Brian MacNamee, UCD School of Computer Science and Professor Gerardine Doyle, Director, UCD Michael Smurfit Graduate Business School.
"I was privileged to accept two Awards today on behalf of the wider AI_PREMie team," said Professor Maguire. "It's a true honour to receive this wonderful national recognition as we continue on our collective mission to get our AI_PREMie to everyone who needs it across the world."
Preeclamptic is a serious complication affecting one in every 10 pregnancies, and annually kills 50,000 mothers and 500,000 babies worldwide.
AI_PREMie is currently being piloted in the three main maternity hospitals in Ireland, capturing 50% of all Irish births. Last year the project was awarded a SFI Future Innovator Prize.
Also receiving recognition for their work at the AI Award was Eoin Delaney, a 3rd year PhD student at the Insight Centre for Data Analytics & VistaMilk SFI Research Centre in UCD, for his research on Explainable AI (XAI), and how black-box AI models can be explained to developers and end-users using counterfactual explanations.

""I would like to especially thank my supervisors Dr Derek Greene and Professor Mark Keane for their help and guidance with the project, and also my friends and colleagues at UCD, Insight and VistaMilk for their support along the way," he said.
seamlessCARE, a UCD digital health spin-out, was named winner of the Best Application of AI in a Start-up Award. Its products are focused on enhancing communication and support the care of people with autism, acquired brain injury, dementia, intellectual disability and a wide range of other conditions.
seamlessCARE was co-founded in 2021 by Dr Aviva Cohen, Ian Kennedy and Dr Çağrı Çubukçu as a spin-out from the UCD School Mechanical and Materials Engineering.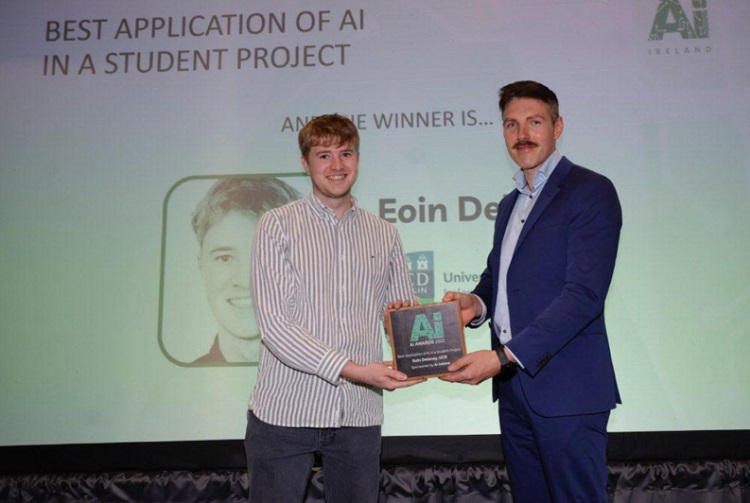 Eoin Delaney, 3rd year PhD student at the Insight Centre for Data Analytics & VistaMilk SFI Research Centre in UCD
"We are thrilled to win the AI Ireland Award for Best Application of AI in a Start-up. We hope that the Empathic app and API will enhance the quality of life for non-verbal people as they independently communicate their emotions," said Dr Aviva Cohen, seamlessCARE CEO.
"An Open Beta version of the Empathic app is now live and is available to download through our website. It was wonderful to see so many fantastic innovations in AI at the Awards event and a huge thank you to Mark Kelly and the team."
The AI Awards seek to recognise how AI can be used to help solve some of the biggest, business, academic, environmental and health challenges facing society.
Mark Kelly, founder of AI Ireland and AI Awards, said: "It's been fantastic to witness the breadth and depth of the AI Award's winners today. The applications have shown how AI can have a positive impact across Irish society."
This year's event, organised by the non-profit AI Ireland, was supported by Microsoft along with other sponsors Alldus International, the ADAPT Centre, CCT College Dublin, Mazars and IDA Ireland.
Microsoft Ireland General Manager Anne Sheehan said that innovation through AI technology can make such a positive impact across many different sectors, from education and research to finance and health, as well as addressing some of the bigger challenges we are facing as a society.
"The AI Awards are key to harnessing this and recognising Irish talent and we want to congratulate all their winners for their exciting innovation in AI," she added.
By: David Kearns, Digital Journalist / Media Officer, UCD University Relations