€3 million anonymous donation sees opening of new athletics track at Belfield
Posted 29 September, 2022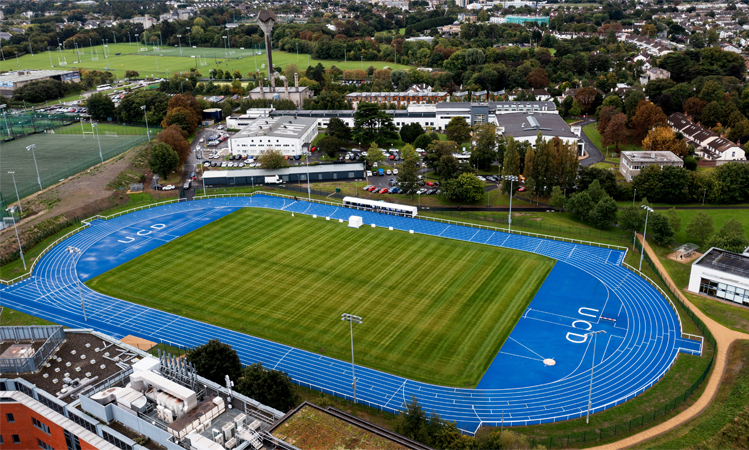 A new IAAF standard 400m 8-lane athletics track has been officially opened at University College Dublin.
The university and its students have been without such a facility for the past 10 years following the decommissioning of the former athletics track at Belfield in 2011.
But that gap in sports facilities is now a distant memory thanks to a €3 million anonymous donation.

UCD Acting President Professor Mark Rogers pictured with UCD Athletics Club student athletes Bori Akinola and Lucy Barrett
"A graduate of UCD, our donor has given the University the largest single donation in sport – this donation has covered the cost of this 8-lane 400m IAAF synthetic track and its maintenance for 20 years," said Professor Mark Rogers, Acting UCD President.

"I thank our donor for this extraordinary gift and for placing your trust in our vision to transform lives and strengthen communities. We draw tremendous inspiration and motivation from your encouragement and support," he added.

The new IAAF standard 400m 8-lane athletics track with field facilities is a boon to students and staff at the university.
Speaking to RTE at the opening of the new athletics track, Israel Olatunde, the UCD computer science student who became Ireland's fastest man over 100m at the European Athletics Championships in Munich in August, said the new athletics track is an "amazing facility".
"…it's really great to be here to see all the planning come to fruition, and it's going to be a great addition to the club, the college and the community. So, I'm really excited to get training.
"As athletes we don't have to travel around Dublin to get to the track, we've got one right here on our doorstep. In between classes, we can get out here, get our training done and it's really great to have," he added.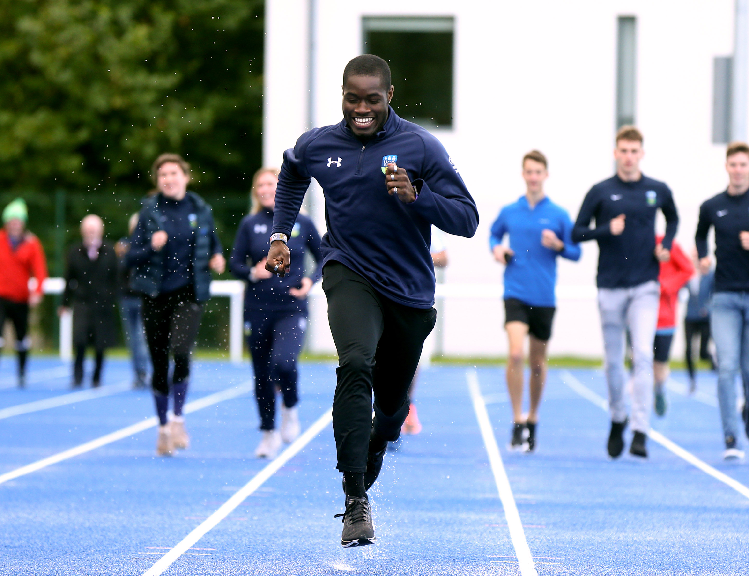 Bori Akinola, UCD Computer Science student and UCD Athletics Club Sprints Captain
Sport and athletics play a central role at University College Dublin. The land at Belfield House was purchased in 1933 for athletics facilities and playing pitches for the university – then located in Dublin city centre. 2021 marked the 100th anniversary of the UCD Athletics Club.
High quality on-campus sports facilities is a key attraction for students and staff. They are also crucial for retaining and promoting associations with national-level sporting bodies such as Athletics Ireland and for fostering engagement with the local community and wider environs.
In the western section of the Belfield campus, there is a Sports and Student Amenities Precinct, dedicated to sports and recreational participation and social engagement.
The original sports centre was constructed in 1980. The Student Centre with the Astra Hall, a 540-seater venue, was completed in 2001.
In 2013, a new Student Centre complete with an Olympic-size swimming pool, a 240-seat debating chamber which is home to UCD's debating societies, a state-of-the-art theatre which is home to UCD's drama society, and a bespoke cinema opened its doors.
Outside there are pitches for GAA, soccer, and rugby, as well as synthetic surfaces for hockey and tennis.
Much of these facilities has been made possible through the direct support of UCD students who agreed via referendum to fund new facilities through a student levy.
The overall future vision for the 50-hectare Sports and Student Amenities Precinct at University College Dublin also includes: a multipurpose sports hall that will accommodate basketball; an indoor tennis centre; a UEFA standard soccer dome; the refurbishment of the old sports centre with a focus on an additional gym and fitness studios; the refurbishment of synthetic pitches for field sports; and new rehearsal and performance spaces for student societies in the performing arts.
By: Dominic Martella, UCD University Relations