UCD Spin-out Proveye secures €1m seed funding
Posted 25 January 2023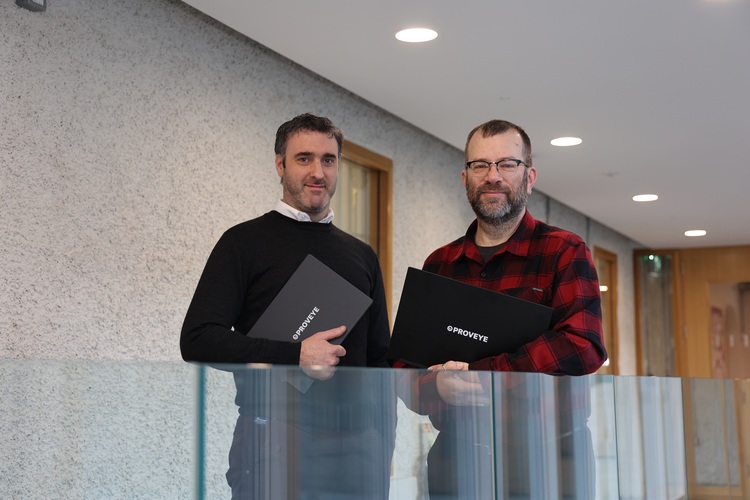 A UCD spin-out that provides cutting edge remote sensing image analysis for agriculture has received €1 million in seed funding to expand its business.
Proveye provides an intelligent enterprise SaaS platform that combines pioneering image processing for multiple remote sensing sources with AI and machine learning to help agricultural advisors, fertiliser and pesticide suppliers, and food processors to provide fast and accurate information about productivity and sustainability on agricultural land.
Its system rapidly enhances and compiles selected image types into a single view, correcting for weather conditions, sunlight, and a range of other factors which usually make it difficult to isolate clear information to inform decisions on the ground.
The solution provides agtech companies with a faster, more frequent and, critically, more accurate understanding of metrics relating to crop growth performance such as health and yield, as well as sustainability including biodiversity, carbon measurement and traceability.
Proveye, an Enterprise Ireland high-potential start-up (HPSU) headquartered at NovaUCD, was founded by Jerome O'Connell and Professor Nick Holden as a spin-out from the UCD School of Biosystems and Food Engineering.
"This investment comes at a time of rapid growth for the company as we demonstrate the value of a new generation of image-based analytics in agriculture," said Jerome O'Connell, Proveye CEO and founder.
"Our talented team is working with some of the leading names in the agriculture industry to solve challenges previously out of reach to substantially increase certainty and accuracy in management decisions at the field, farm and even regional scale."
This funding round was led by Inspire Investments, the private investment arm of Waystone's management team, and Enterprise Ireland, and will enable the company to grow its customer base, and develop further solutions across grassland, arable crops, and into more specialist areas of UAV image processing.
The investment follows on from the company's success in winning a €225,000 contract with the European Space Agency last September.
"Our global food system is at a tipping point and Proveye is setting the standard for image-based precision agriculture," said Derek Delaney, CEO of Waystone.
"We see enormous potential for the company's capabilities at a time where major companies are setting increasingly ambitious sustainability targets. Proveye's technologies enable a leap forward in precision insights in a market that is ripe for innovation. This is the second heavily differentiated, growth sector Irish company we have backed along with IDPal," said Derek Delaney, CEO, Waystone.
Jerome O'Connell added, "We are excited to embark upon this new phase of growth bringing our products to solve ever-more complex problems for our clients, building on the long-term power of our insights' platform.
"Our clients are invested in this potential as they search for new ways to measure sustainability and productivity at multiple scales. Together, we are redefining the basis on which critical decisions are made in agriculture and natural resources. We're thrilled for what's ahead."
By: David Kearns, Digital Journalist / Media Officer, UCD University Relations (with materials from Micéal Whelan, UCD Research and Innovation)
To contact the UCD news team, email: newsdesk@ucd.ie