MyGug and OptaHaul named winners of 2nd annual AgTechUCD Agccelerator Programme
Posted 30 January 2023
The winners of University College Dublin's second annual Accelerator Programme dedicated to early-stage AgTech and Agri-food start-ups with global potential have been announced.
Following successful final pitches held at UCD Lyons Farm, MyGug was named the AIB and Yield Lab AgTech Start-up 2023, and OptaHaul was named the Ornua AgTech One to Watch 2023. The winning firms each received a €10k prize.
The 12-week intensive AgTechUCD Agccelerator Programme at UCD aims to fast track the business development and leadership skills of its participants, as well as provide them with the support and guidance needed to accelerate the launch and scaling of their start-ups in Ireland and internationally.
"I would like to congratulate MyGug and OptaHaul, both with significant global ambitions, as winners of our second AgTechUCD Agccelerator Programme," said Niamh Collins, Director, AgTechUCD Innovation Centre.

"The aim of this programme is to support the commercial development of the participating start-ups by helping them to increase their marketplace visibility, to attract new customers and investors and to forge new partnerships."
AgTechUCD, based at UCD Lyons Farm and part of NovaUCD, is focussed on supporting entrepreneurs as they build their innovative businesses into leading enterprises, though the AgTechUCD Agccelerator Programme, and by providing access to incubation space and to on-farm testing for new products and services at UCD Lyons Farm.
It is funded through the Regional Enterprise Development Fund administered by Enterprise Ireland.
Construction of the AgTechUCD Innovation Centre is currently underway at UCD Lyons Farm and will be completed later this year. Facilities at the Centre will include flexible lab spaces, meeting rooms, offices and an exhibition space.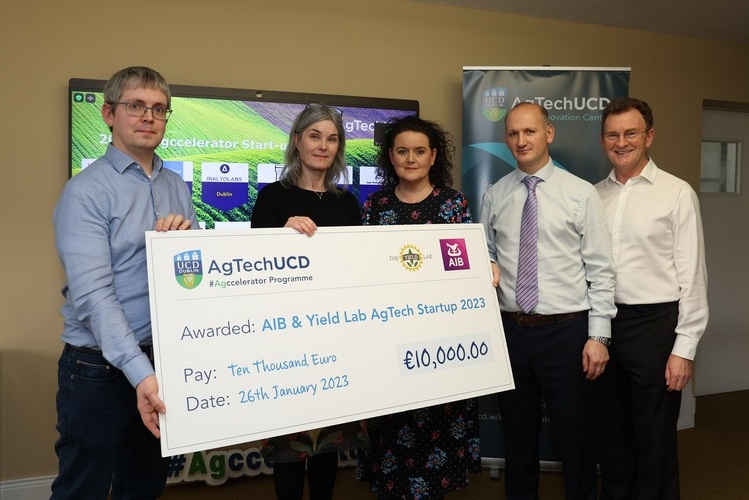 AgTech Start-up 2023 - MyGug
Based in County Cork, the company has developed a micro-scale anaerobic digester that turns food waste into a green renewable energy source, suitable for homes, schools and small food businesses.
The efficient egg-shaped MyGug digester system, which is aesthetically pleasing, converts food waste into a natural gas suitable for cooking and a liquid fertiliser, suitable for use in gardens.
The automated system also produces data via an app and dashboard that is valuable to customers for supporting and learning more about the efficacy of sustainability practices.
The company was founded by Kieran Coffey and Fiona Kelleher who completed the programme.
"Every year a third of food intended for human consumption is lost or wasted. This food waste can be diverted from landfills and harnessed to create renewable energy," said Fiona Kelleher, MyGug co-founder and COO.
"Our ambition at MyGug is to empower our customers to become agents of positive change by using our technology to create renewable energy from their food waste, in the form of natural gas suitable for cooking and a liquid fertiliser suitable for use in their gardens, all year round."
Adding: "We are currently selling MyGug digesters to customers in Ireland as well as exporting to the UK and to mainland Europe. We are planning to raise €1 million in seed funding later this year to expand our manufacturing base in West Cork and to accelerate company growth and sales in Ireland and also internationally."
MyGug has been supported to date with funding from LEO Cork North and West and Enterprise Ireland.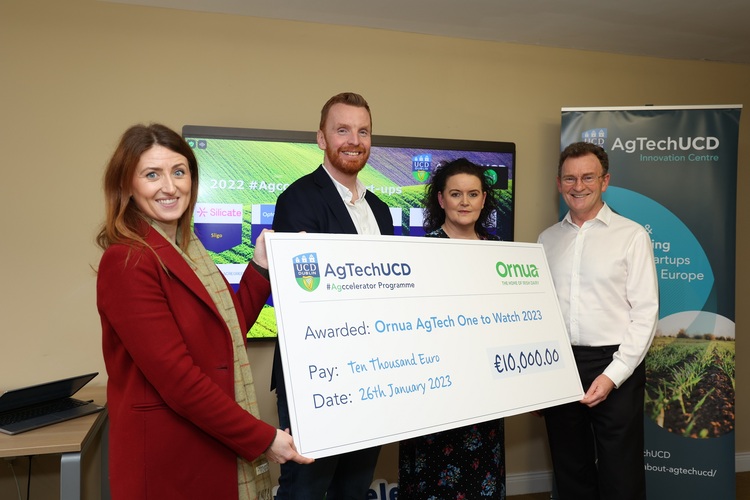 AgTech One to Watch 2023 - OptaHaul
Based in County Westmeath, this firm has developed the first route optimisation software solution designed specifically and exclusively for the dairy milk transportation industry.
OptaHaul's SaaS optimisation platform helps dairy processors, cooperatives and haulers to reduce transport costs, increase efficiency and remove vehicle greenhouse gas emissions (GHGs) from farm to plant milk transport.
Gary Gallagher, CEO and co-founder, who completed the programme, said: "Milk logistics is both complex and costly, involving the collection of a perishable product from hundreds or thousands of farms and delivering it to multiple factories, which change often, 365 days per year. Until now the industry has been largely neglected by the large technology vendors as it is quite unique compared to traditional delivery logistics.

"Our route optimisation platform is designed specifically for farm to plant milk transport and results in reduced mileage thus removing vehicle GHG emissions, reduced costs and less complexity all while ensuring the long-term sustainability of one of nature's most precious gifts, dairy cows and the milk they produce."
Adding: "To date we have secured customers in Central Europe, Ireland and the US and are currently managing some 300,000 unique truck movements per year on the platform. We are currently closing out a seed fundraising round to support our rapid growth in these key markets."
OptaHaul has been supported to date by LEO Westmeath and has recently achieved Enterprise Ireland High Potential Start-Up (HPSU) status.
Tom Flanagan, Director of Enterprise and Commercialisation, NovaUCD, said: "Through AgTechUCD we look forward to continuing to support this latest cohort of start-ups who are based all across Ireland.
"As they launch their products and services into markets in Ireland and further afield internationally, they are disrupting the agtech industry, creating opportunities for a more sustainable agri-future."
The members of AgTechUCD Agccelerator Programme judging panel were Faye Walsh Drouillard, WakeUp Capital; David Bowles, The Yield Lab; Gianni Matera, Growing Capital; Niamh Sterling, HBAN; James Maloney, Enterprise Ireland; Danny O'Brien, Thrive/SVG Ventures; Liam Phelan, AIB and Tom Flanagan, NovaUCD (Chair).
Partners on the AgTechUCD Agccelerator Programme included; AIB, The Yield Lab Europe, Ornua and Herdwatch who provided financial and mentoring support. Additional mentoring support was provided by the Alltech, Virtual Vet, IFAC, HBAN, AWS Activation, Atlantic Bridge University Fund, SOS Ventures, Spark Crowdfunding, Terra Nutritech, Forcefield Active Technology and Enterprise Ireland.
The other start-ups who completed the second AgTechUCD Agccelerator programme in addition to MyGug and OptaHaul were; Acregreen, Agricom, Biotec, Dairy Robotics, Farm Fayre, MILJO, RialtoLabs, Silicate and Well Spent Grain.
By: David Kearns, Digital Journalist / Media Officer, UCD University Relations (with materials from Micéal Whelan, UCD Research and Innovation)
To contact the UCD news team, email: newsdesk@ucd.ie