UCD receives philanthropic support to establish two new Chairs in cancer research
Posted 12 July, 2023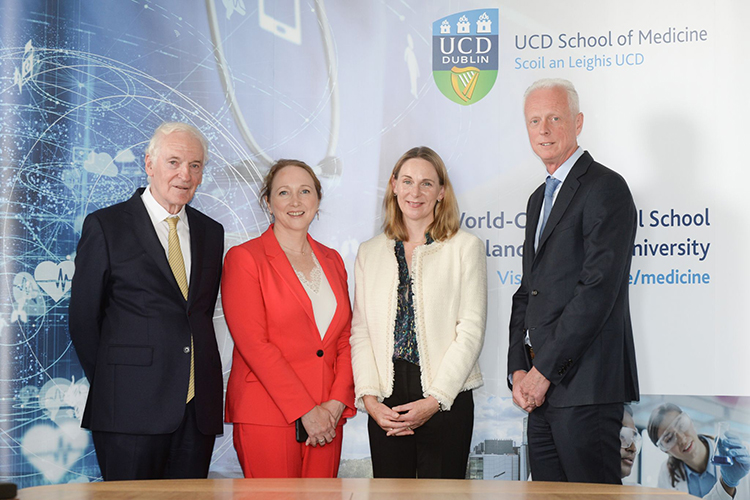 Two new chairs in cancer research have been established at University College Dublin, made possible due to significant philanthropic support.
The Pat Smullen Chair in Pancreatic Cancer aims to create a global centre of excellence for treatment and research at the UCD School of Medicine for this form of cancer, which has one of the poorest outcomes.
The Nancy Boland Chair in Musculoskeletal Oncology, based at St Vincent's University Hospital and at the National Orthopaedic Hospital, Cappagh, will build and lead an internationally competitive research group in musculoskeletal oncology.
The establishment of this chair was philanthropically funded by UCD alumnus, surgeon at Memorial Sloan-Kettering Cancer Center, and Professor of Clinical Orthopaedic Surgery at Weil Cornell Medical School in New York, Dr Patrick J. Boland, and was named in honour of his mother.
"It has been a bonus for me to create this position at my alma mater, UCD and partnering hospitals St Vincent's University Hospital and the National Orthopaedic Hospital, Cappagh," said Dr Patrick J Boland.

"I've seen first-hand, during my time as a student and working with more recent graduates from the University, the quality of teaching at this academic and research centre of excellence. I look forward to seeing the impact of the new Chair when appointed and their role in training the future generation of oncologists."
Adding: "It has been important to me to support the establishment of the Nancy Boland Chair in Musculoskeletal Oncology. Through my own work, I have done extensive clinical research into sacral tumours and in the assessment of quality of life in patients with metastatic bone cancer. It is crucial that we keep advancing our knowledge and treatments to combat this disease and enhance the quality of care for patients."
Announcing the Pat Smullen Chair in Pancreatic Cancer at UCD!! A partnership of @cancertrials_ie @hseNCCP and @UCDMedicine

This new position will anchor expertise in pancreatic research in Ireland with the ambition of making Ireland a global centre of excellence for… pic.twitter.com/TCT0P4IEyU

— CancerTrialsIreland (@cancertrials_ie) July 10, 2023
Cancer Trials Ireland, the organisation dedicated to advancing cancer clinical trials, created the Pat Smullen Chair in memory of Pat Smullen, the nine-time champion Irish jockey who passed away from pancreatic cancer in 2020.
Diagnosed in 2018, the Offaly native was at the centre of a drive a year later by the Irish horse racing and breeding industry which helped raise more than €2.6m for Cancer Trials Ireland's pancreatic cancer trials and awareness.
"It is wonderful to be able to launch this new Chair in pancreatic cancer, and continue our understanding of this, a form of cancer with one of the poorest outcomes," said Eibhlín Mulroe, CEO of Cancer Trials Ireland.

"The position will receive €900,000 in funding over five years from Cancer Trials Ireland's Pat Smullen Pancreatic Cancer Fund with matching funding for the role from the HSE National Cancer Control Programme (NCCP). UCD will then take over Cancer Trials Ireland's funding contribution to continue the partnership with the HSE NCCP."
With this development, we are giving a long-term commitment to investing in people who are expert in pancreatic cancer and its research, right at the centre of expertise in this country in University College Dublin."
The UCD School of Medicine is welcoming applications from experts in pancreatic and orthopaedic oncology for the two new research chairs.
The successful candidates will provide academic leadership at UCD and clinical leadership at the partnering hospitals.
Both positions include academic responsibilities, with the chairs contributing significantly to the academic development of UCD's medical students, providing high-quality training for the next generation of experts in oncology, and ultimately, advancing care for cancer patients.
They will also develop and lead robust and innovative research programmes.
Now recruiting two senior clinical academic oncology posts
Pat Smullen Chair in Pancreatic Cancer (UCD/SVUH) Ref:016171
Nancy Boland Chair in Medical Oncology (UCD/SVUH/CNOH) Ref:016170
Closing date: 18 Aug
Both FT perm academic consultant positions
Info: https://t.co/dldBYoTfzF pic.twitter.com/yGaPJEm9uT

— UCD Medicine (@UCDMedicine) July 10, 2023
"The establishment of these two new chairs in cancer research is consistent with UCD's strategic priority to be a research-intensive university," said Professor Michael Keane, Full Professor of Medicine and Therapeutics, and Head of UCD School of Medicine.
"]These positions are] an excellent opportunity for the successful candidates to drive research and teaching activities in an ambitious academic environment, contributing to UCD's global footprint in healthcare science research.
"The chairs, when appointed, will be joining the School's 100 investigators, generating approximately €15 million in annual research income and boasting grants under management work worth over €85 million."
Adding: "Every three minutes in Ireland, someone receives a cancer diagnosis. This latest response to the need to drive developments in cancer research would not be possible without the generous support of our philanthropic donors.
"I want to take this opportunity to share UCD School of Medicine's gratitude with Cancer Trials Ireland, the Smullen Family and Dr Patrick Boland for their philanthropic support for the establishment of the two new positions.
"It is thanks to support like theirs that cancer research and teaching continues to advance, improving our knowledge of the disease, its diagnosis, therapeutic manipulation, and ultimately patient outcomes."
By: David Kearns, Digital Journalist / Media Officer, UCD University Relations
To contact the UCD News & Content Team, email: newsdesk@ucd.ie