UCD 'bike library' scheme expanded to 20 Dublin schools to encourage sustainable travel
Posted 23 March, 2023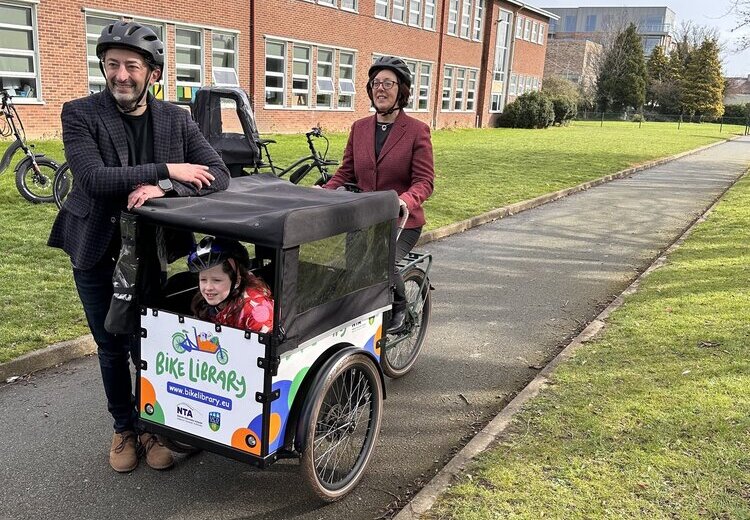 A UCD-led 'bike library' scheme to encourage more sustainable transport is to be rolled out to 20 further primary schools across Dublin.
A partnership between the National Transport Authority and University College Dublin, the programme gives families the opportunity to loan an e-bike, cargo bike or foldable bike for the duration of the school year at no charge.
The aim of the project is to encourage families to make a permanent shift to sustainable, active travel for their daily commutes by allowing them to see the benefits without having to purchase their own bikes immediately.
Since its initial rollout several months ago, founder of the Bike Library project Professor Francesco Pilla, UCD School of Architecture, Planning and Environmental Policy and Chair of Smart and Sustainable Cities at UCD, said the pilot school is "almost car-free" now.
"The parents embraced the initiative and realised it was good for the kids not to be brought to school by car and to do active travel," he told the Irish Times.

"The bike library kick-started the active travel theme in the school. The parents are now pushing it forward."
#WATCH The National Transport Authority and UCD have launched a new bike library scheme to give families a chance to borrow an e-bike, cargo bike or foldable bike during the school term free of charge@Hanelizaa reports #VMNews | @TFIupdates | @ucddublin pic.twitter.com/1khQBw3FsY

— Virgin Media News (@VirginMediaNews) March 22, 2023
The bikes are provided and managed by UCD, and the project is funded by the Department of Transport through the National Transport Authority's Active Travel Programme.
The expansion of the scheme will see an initial ten schools take part in the Spring/Summer term of this year.
This will be followed by the second tranche of schools in the new academic year in September.
"The bike library is all about climate action and gives the opportunity to families to have an active role in reducing traffic emissions and in accelerating the transition towards climate neutrality in Ireland," added Professor Pilla.
Today my #BikeLibrary was launched in 20 schools in @DubCityCouncil with the amazing support of @TFIupdates and @BleeperActive . It's about giving families an alternative to their own private cars, in the hope they would cycle to school rather than drive.https://t.co/doTTd5jAn7 pic.twitter.com/dEki3z7tZY

— Francesco Pilla (@f_pilla) March 22, 2023
Launching the next phase Minister for Transport Eamon Ryan, TD said cycling to and from school would help "to instil, from an early age, the benefits of active travel, how it can lead to healthier lives and how it can help our climate".
"However, one of the barriers to getting some children on their bikes can sometimes be the fact that the parents don't have a bike themselves.

"This Bike Library project will change that and, hopefully, will lead to a permanent modal shift for the school run for many families."
CEO of the National Transport Authority, Anne Graham added: "The National Transport Authority supports active travel, including cycling, at hundreds of schools nationwide through the Safe Routes to School programme which is delivering safer cycling and walking environments at the front of schools. The Bike Library is another excellent tool that will help."
By: David Kearns, Digital Journalist / Media Officer, UCD University Relations
To contact the UCD News & Content Team, email: newsdesk@ucd.ie