New €4.8m AgTech research and business facility opens at UCD Lyons Farm
Posted 26 October, 2023
Pictured at UCD Lyons Farm at the official opening of the AgTechUCD Innovation Centre and the UCD Bimeda Herd Health Hub; Tom Flanagan, UCD Director of Enterprise and Commercialisation; Donal Tierney, Chairman, Bimeda Group; Professor Helen Roche, interim UCD Vice-President for Research, Innovation and Impact; Simon Coveney TD, Minister for Enterprise, Trade and Employment; Dan Tierney, Founder, Bimeda Group and Carol Gibbons, Manager, Regions and Local Enterprise, Enterprise Ireland Credit: Paul Sherwood
A new €4.8 million facility that aims to boost education, entrepreneurship and innovation in the agritech sector has opened at UCD Lyons Farm.
Incorporating the AgTechUCD Innovation Centre and the UCD Bimeda Herd Health Hub, the complex aims to give students access to 'cutting-edge' technology and be a hub to support start-ups and SMEs.
Based at UCD Lyons Farm in Kildare, which contains 250 hectares of farmland used for research, teaching, and commercial purposes, construction of the new facility began last year, with funding provided by Enterprise Ireland, UCD and a philanthropic donation from veterinary pharma company Bimeda.
"The remarkable facilities we are opening today will ensure that thousands of graduate and postgraduate students will be able to access cutting-edge research and technology," said Minister for Enterprise, Trade and Employment Simon Coveney TD.
"[These] facilities will host and nurture the next generation of Irish agtech start-ups, ensuring our global reputation in this sector goes from strength-to-strength.
"I would like to congratulate all partners involved in bringing these two ambitious projects to fruition. UCD shares my vision of a thriving Irish agtech sector providing global solutions driven by Irish-based innovation and talent."
Adding: "This Government is committed to supporting our vital rural economy and is proud to have invested almost €3.5 million funding in the AgTechUCD Innovation Centre through the Regional Enterprise Development Fund. We look forward to working with UCD and other partners to ensure that the tremendous potential of both facilities pays dividends for Ireland and our rural communities."
The first and only on-farm workspace hub in Ireland, the focus of the AgTechUCD Innovation Centre is to promote and accelerate early-stage start-ups and SMEs with disruptive innovations in the agri, agtech, agrifood and veterinary sectors, as they build their business.
It will provide clients with preferred access to on-farm experimental facilities, allowing testing and trialing of products and services in the real-world environment at UCD Lyons Farm.
Carol Gibbons, Manager, Regions and Local Enterprise, Enterprise Ireland said the AgTechUCD Innovation Centre would become "a focal point for Irish agtech, providing new entrepreneurs with the support, guidance and collaboration they require to bring their ideas to the next level and start ambitious agtech companies."
"It has been a pleasure to work with UCD and other partners on this project and we are excited about its potential in the years ahead," she added.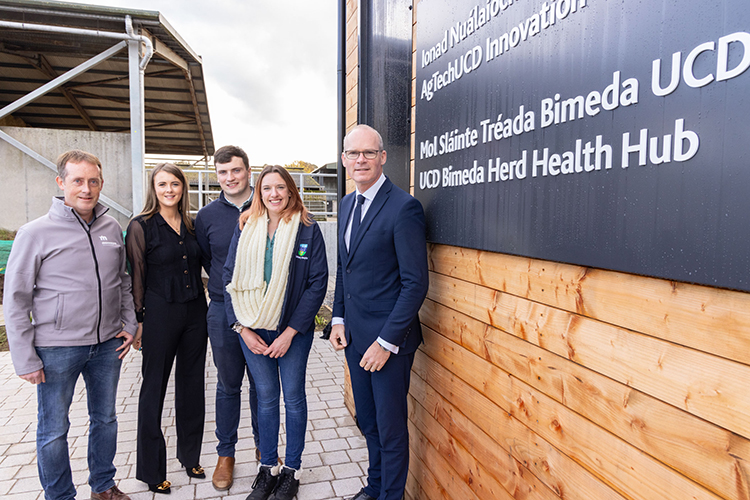 At the official opening of the AgTechUCD Innovation Centre and the UCD Bimeda Herd Health Hub, Desmond Savage, co-founder, Moonsyst; Marion Cantillon, founder, Pitseal; Derry McCarthy, undergraduate student, UCD School of Veterinary Medicine; Eilidh Thomson, postgraduate student, UCD School of Veterinary Medicine and Simon Coveney TD, Minister for Enterprise, Trade and Employment. Moonsyst and Pitseal are among the start-ups participating on the 3rd AgTechUCD Agccelerator Programme Credit: Paul Sherwood
The UCD Bimeda Herd Health Hub aims to provide a national facility for dairy herd health education, research and consultancy, and will support the delivery of state-of-the art training to undergraduate and postgraduate students in the UCD School of Veterinary Medicine.
It will also support the provision of UCD's flagship distance-learning graduate programme, the Graduate Certificate in Dairy Herd Health.
This programme equips practising veterinarians with the latest tools for analysis of herd data, as well as practical herd evaluation skills, which they can apply in developing holistic herd-level solutions to ensure healthy and profitable dairy herds.
"One of UCD's distinctive advantages, on the national and international stage, is UCD Lyons Farm, our research and teaching farm which currently supports over €40 million of ongoing research activities and over 2,000 undergraduate and 40 postgraduate students," said Professor Helen Roche, interim UCD Vice-President for Research, Innovation and Impact.
"The AgTechUCD Innovation Centre and the UCD Bimeda Herd Health Hub represent a new phase in the University's commitment to education, research, innovation, entrepreneurship and outreach in agriculture, agrifood and veterinary medicine, strategic areas both in Ireland and globally. This new facility will enable researchers, entrepreneurs and educators to co-locate in a single on-farm facility allowing them to collaborate more closely to further enhance Ireland's capabilities and sustainable impact in agricultural, agri-food and veterinary sciences.
Adding: "I would especially like to thank Enterprise Ireland and Bimeda for their very generous financial support to develop this strategically important facility at UCD Lyons Farm."
Moonsyst was in attendance this afternoon at the official opening of the @AgTechUCD Innovation Centre & UCD Bimeda Herd Health Hub at UCD Lyons Farm

It was unveiled by Minister for Enterprise, Trade and Employment @simoncoveney #irishfarming @NovaUCD @MoonsystD pic.twitter.com/Xywp1FTzhw

— Moonsyst (@moonsyst) October 25, 2023
Donal Tierney, Chairman, Bimeda Group said the company has always been "committed to investing in Irish innovation and supporting the wider agri-tech sector to do the same".
"Bimeda's philanthropic donation to UCD to establish the UCD Bimeda Herd Health Hub and the AgTechUCD Innovation Centre marks the next exciting chapter in our story of driving innovation.
"Ireland has a competitive advantage in the global agri-tech sector and we are proud, through the UCD Bimeda Herd Health Hub and AgTechUCD Innovation Centre, to be playing a role in facilitating further development and innovation within the country."
Founded in Ireland in 1960, Bimeda is a global manufacturer and distributor of veterinary pharmaceuticals and animal health products, with a decades-long history of investing in Irish agri-tech innovation.
AgTechUCD, which is part of NovaUCD and builds upon NovaUCD's 20-year track record of supporting high-tech start-ups with global potential, also runs an annual accelerator programme dedicated to agtech and agri-food start-ups and SMEs.
Nineteen start-ups from across Ireland have completed the two AgTechUCD Agccelerator programmes completed to date and the third programme commenced earlier this month with eight participating start-ups.
By: David Kearns, Digital Journalist / Media Officer, UCD University Relations (with materials from Micéal Whelan, UCD Research and Innovation)
To contact the UCD News & Content Team, email: newsdesk@ucd.ie