Top European teaching prize awarded to "innovative and inclusive" UCD lecturer
Posted 13 September, 2023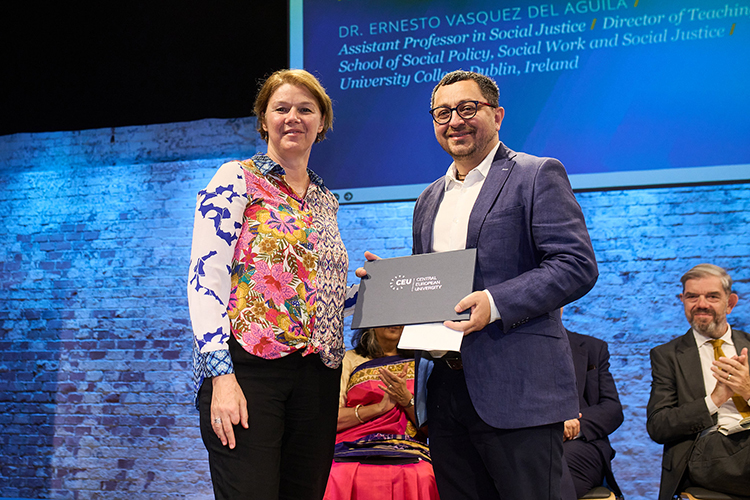 One of Europe's top teaching awards has been presented to a lecturer at University College Dublin for their "innovative and inclusive" approach to education.
The Central European University (CEU) has named Dr Ernesto Vasquez del Aguila as the recipient of the twelfth annual European Award for Excellence in Teaching in the Social Sciences and Humanities.
A recognised expert in making education more inclusive, Dr Vasquez del Aguila, from the UCD School of Social Policy, Social Work and Social Justice, was awarded the coveted Diener Prize for his long-term commitment to identifying and challenging barriers preventing students from participating in higher education.
"The selection committee of the European Teaching Award was deeply impressed by Vasquez del Aguila's multifaceted and often innovative approaches to inclusive education," said Michael Kozakowski, Director of CEU's Yehuda Elkana Center for Teaching, Learning, and Higher Education Research.
"In reviewing the materials he created over more than a decade, and reading the testimonials of students and colleagues, it is clear that Vasquez del Aguila brings not just a long-term commitment to these issues but makes a difference by bringing together research and teaching, students and faculty.
"He creates different types of educational spaces, and in so doing, enables individuals traditionally marginalised from education to participate in it more fully."
A scholar from the Global South, Dr Vasquez del Aguila has more than 20 years of teaching and research experience in Latin America, the United States, the Philippines and Ireland.
His teaching draws on social movement pedagogies – such as feminist/LGBTQ+ movements, liberation pedagogy and decoloniality, that seek to empower students and promote critical and reflective thinking by addressing the lack of diversity, omissions, hidden curriculums and "unconscious bias" of ethnocentric curriculums.
As part of his work on the concept of intersectionality, he created "The Roulette of Identities".
This workshop template addresses the impact of stigma and discrimination and raises awareness of diversity and equality, and it has been used in multiple settings, including for discussing LGBTQ+ issues among police officers.
He also created an interactive online toolkit for student-directed learning, titled 'Ten Destination Roadmap to a Journey of Discovery'.
It provides students with an inclusive platform that fosters individual and group learning activities online, in-person, and in blended environments.
"I am so happy to receive this award that presents an honour and a responsibility," said Dr Vasquez del Aguila.
"I believe that it is fundamental to conceive of our students as partners in the process of teaching and learning and to promote kindness, empathy and compassion as skills embedded in our educational practices.
"I am committed to providing students with an inclusive space to adapt the learning materials to their needs and customise their responses based on their individual backgrounds. In this journey, it is pivotal that students learn and connect as part of a community of researchers."
Emphasising the value of Vasquez del Aguila's work, Professor Colin Scott, College Principal of Social Sciences and Law, added: "His innovations and achievements have been recognised in UCD with both a College Teaching and Learning Award and a University Teaching and Learning Award.
"We place a very high value on innovative and inclusive learning, linked to research at UCD, nurturing and recognising faculty for their contributions to this mission and with very considerable success in supporting student learning.
"Even in this very fruitful environment Dr Vasquez del Aguila has proved himself as someone who is outstanding as a teacher and against the criteria of the Award. He is also an outstanding colleague contributing to university values and life more broadly."
Administered by the CEU's Yehuda Elkana Center for Teaching, Learning, and Higher Education Research, the prestigious Diener Prize is made possible by a generous gift from Steven and Linda Diener, in memory of Ilona Diener.
By: David Kearns, Digital Journalist / Media Officer, UCD University Relations
To contact the UCD News & Content Team, email: newsdesk@ucd.ie