Biodiversity loss not a priority for 'successive governments', Oireachtas committee hears
Posted 20 September, 2023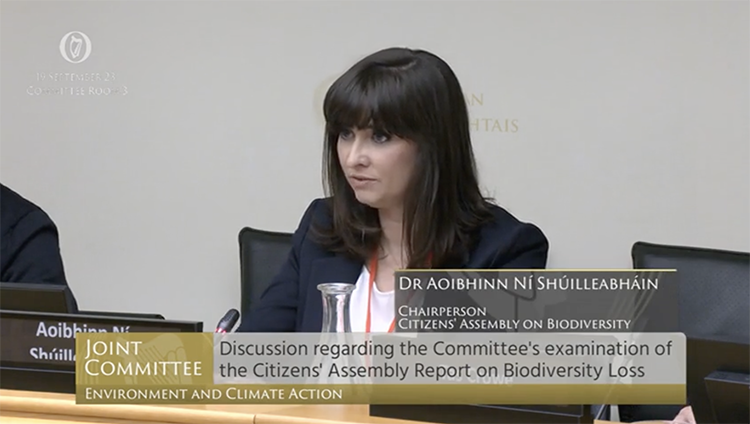 The Irish State has failed to adequately protect biodiversity despite existing legislation and policies that could have prevented environmental degradation.
Appearing before the Oireachtas Joint Committee on Environment and Climate Action,Dr Aoibhinn Ní Shúilleabháin said that a "recurring theme across the work" of the Citizens' Assembly on Biodiversity Loss was "the failure of the State to implement its own laws with regards to Nature".
"[Assembly] members emphatically agreed the State has not done enough to prevent biodiversity loss and needs to do more. Successive governments have not taken this as a priority.
"There is likely a multitude of reasons. It is likely that people did not understand enough and that we have accepted at face value we have this beautiful countryside and will always have it."
Adding: "There is also a lack of understanding. I was one of those people looking outside on my drive home to Mayo saying it is beautiful and green and everything is fine."
The Chair of the Citizens' Assembly on Biodiversity Loss, and an academic at the UCD School of Mathematics and Statistics, Dr Ní Shúilleabháin said Ireland was lucky to have "such a wealth of environment and natural heritage" but that urgent action was needed to protect it.
"Figures outlining our biodiversity loss are stark with many plant, animal and bird species in danger of extinction, almost 30% of our semi-natural grasslands have disappeared, less than half of our marine environment is in a healthy state and almost 50% of our freshwater systems are in unsatisfactory condition – where we once had over 500 pristine rivers, we now have on 32.
"It was both surprising and depressing to learn of the poor state of our freshwater, our marine environment, our grasslands, peatlands, forestry, hedgerows and wildlife."
Dr Ní Shúilleabháin said however that there was a "sea change" in how people in Ireland were "valuing and looking after the environment around them" and that the outcomes of this Assembly speak to this.
"While we hear much rhetoric on the 'urban/rural' divide in terms of care of the environment, no such divide was apparent in the room. This mirrors research findings from the ESRI, which has previously been presented to this Committee, that people both young and old and from rural and urban areas are worried about our environment and want more to be done."
The Oireachtas Joint Committee on Environment and Climate Action was further told that climate and biodiversity were "two sides of the same coin" and that enacting biodiversity legislation would protect against climate change.
"Where areas are biodiverse, they are strengthened against climate action, and vice versa… Climate change is one of the five main drivers of biodiversity loss, and tackling it will be part of solving the biodiversity crisis," added Dr Ní Shúilleabháin.
UCD Vice-President for Sustainability Professor Tasman Crowe also addressed the Committee, and emphasised how biodiversity intersected with climate change.
"We hear quite a lot about the important role of nature in climate mitigation in terms of forests, the oceans and other habitats absorbing carbon and taking it out of the atmosphere. That is an important space," he said.
"The narrative needs to move strongly towards the adaptation space as well. The changes are coming. No matter what we do on mitigation, we are going to see changes. We are feeling them now. Nature has a very important role to play on our behalf in slowing down floodwaters, protecting the coast from storm surges and so on.
Adding: "[Climate] change is affecting nature and exacerbating many of the other pressures we put on the system. We have to recognise that, if we want nature to help us, we are going to have to help nature. We need climate adaptation that will benefit nature. That will also benefit us, in turn."
By: David Kearns, Digital Journalist / Media Officer, UCD University Relations
To contact the UCD News & Content Team, email: newsdesk@ucd.ie