UCD President Professor Orla Feely: 'We, as Ireland's largest university, can offer unparalleled transformation on a global scale'
Posted 26 September, 2023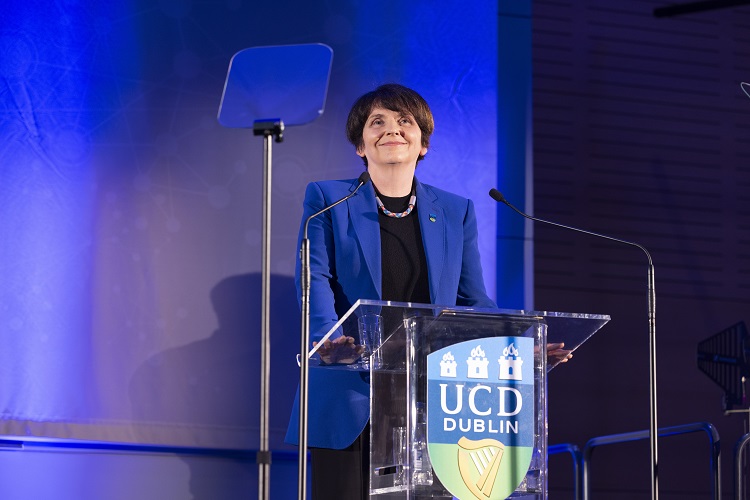 As University College Dublin shaped the modern Irish state, Ireland's largest university has the ambition, the scale, and substance to offer the same unparalleled transformation on a global scale.

In her inaugural lecture UCD President Professor Orla Feely said UCD is and has always been a place "that makes a difference" and reflecting on her own journey over the past 40 years, she drew on the enormous economic and social progress of Ireland to illustrate her hope for the University to leave a permanent mark on the challenges facing humanity.
"I am somebody who values stories… [and] I saw how this country went from being an economic backwater to a country that, even with all of the problems that we recognize today, has accrued success, capability, reputation and wealth that would have been unfathomable to me back in Merrion Street.
"And I know how much of this story was delivered by UCD, a university that in its scale and its substance has made an unparalleled difference to the transformation of Ireland as I have experienced it.

"UCD is and has always been a university that makes a difference – to the lives of our students, to Dublin, to Ireland and, very importantly now, to the wider world. We make things happen. We leave our mark."
Addressing more than 700 faculty, staff, and guests in O'Reilly Hall, Professor Feely said at a time when many, including those who were students at UCD, were feeling powerless at the scale of the challenges facing the world, that the University had "the ambition, the scale, the substance and many distinctive advantages" that would allow it to make a difference in areas that matter.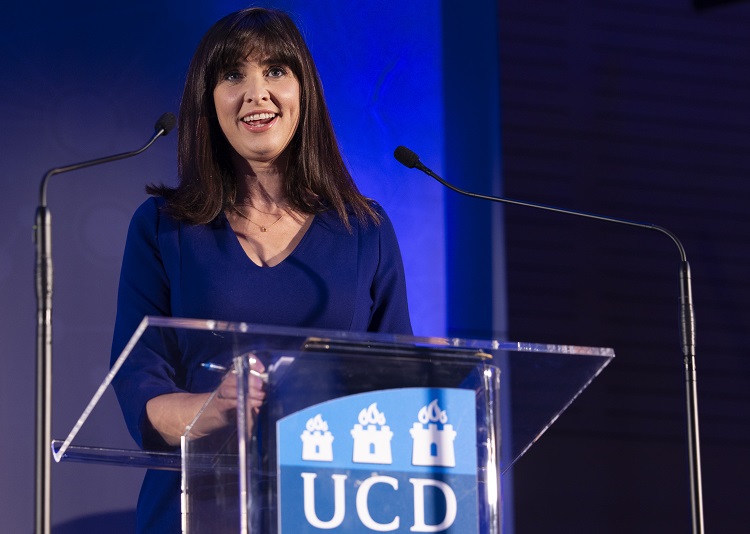 Associate Professor Aoibhinn Ni Shuilleabhain, UCD School of Mathematics and Statistics, acted as the master of ceremonies for the Inaugural Lecture Credit: Jason Clarke
"What I see in UCD today, what I have seen of UCD in its impact on my own life and the life of Ireland, and what I want to see into the future is a university that can and does land real positive change in the world.

"I want us to lift our ambition around the scale of what we can contribute to the big global concerns; to engage at a new level with Ireland and with the wider world; to understand and advance our strategic positioning; and to get our story and our stories out there with conviction and purpose."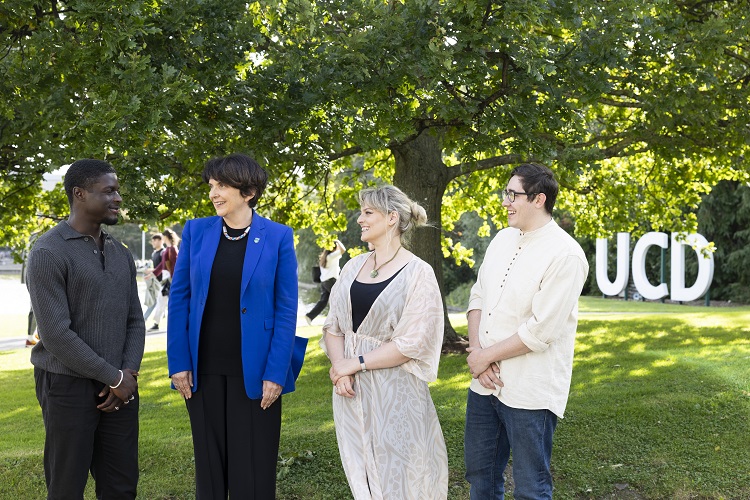 Israel Olatunde, UCD Sportsperson of the Year 2023; Kerri Rowen, UCD Medicine Student of the Year 2023; and Stiofán Ó Briain, Poet and PhD student in Modern Irish at UCD, along with UCD President Professor Orla Feely. The trio were invited to speak as guests speakers during the Inaugural Lecture. Credit: Jason Clarke
Among the "many distinctive advantages" UCD has to achieve this goal Professor Feely told those in O'Reilly Hall was the University's greatest asset of all, its community.

Across every part of UCD, from students, faculty, staff, and alumni, she said there was "a shared commitment to scholarship, to service, to academic freedom, to values that must endure at this time of fracturing societies in many parts of the world".

"And if you ask those who work here or who interact with us in any way what makes our environment so special, they will say that it is the students.

"To be part of the journey of our students, as they explore the world and their place within it, is the most enormous privilege," she added.
UCD President Professor Orla Feely, and Marie O'Connor, Chair of UCD Governing Authority, who spoke at the event Credit: Jason Clarke
Underfunding of higher education in Ireland however was putting a limit on what UCD and the country could achieve, noted Professor Feely.

"The Government… has assessed the funding gap at €307 million per annum, and stated their commitment to closing this over successive budgets. There is a €1.5 billion surplus in the National Training Fund. The underfunding of higher education, acknowledged time and time again in international benchmarking, will without question limit what this country can achieve for itself and how we can contribute to addressing global challenges."
The new president of Ireland's biggest university urged the Government to address this shortfall describing the funding gap as "the single biggest threat to our university's ability to deliver on our ambitions over the coming years".
She said UCD was "doing the very best we can in an underfunded system" but could do so much more if the funding gap, even to the international average, were closed.
The 2023 Inaugural Lecture included performances from the UCD Choral Scholars, and the Irish folk musician and producer, Dónal Lunny who is musician-in-residence at the UCD Creative Futures Academy. Credit: Jason Clarke
Adding: "The student-to-faculty ratio in UCD when I was a student in the 1980s, that time of economic deprivation for the country, was around 13 to 1.

"Now, in a vastly wealthier Ireland, it is over 20 to 1… As a country whose main natural resource is talent and whose success has depended so fundamentally on the talent developed in higher education institutions, how can we justify this?

"Do we really think that with all the changes and competitive forces headed our way, we should be constraining our ability to reflect these with agility and ambition within Irish higher education?"
By: David Kearns, Digital Journalist / Media Officer, UCD University Relations
To contact the UCD News & Content Team, email: newsdesk@ucd.ie