Professor Orla Feely
President, University College Dublin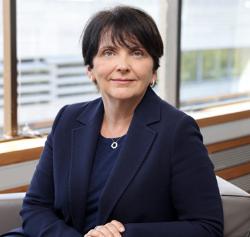 Professor Orla Feely was appointed as President of University College Dublin on 1 May 2023. Prior to this, she was UCD Vice-President for Research, Innovation and Impact from 2014 to 2023.
A professor of Electronic Engineering, she holds a BE degree from UCD and MS and PhD degrees from the University of California, Berkeley, where her PhD thesis won the DJ Sakrison Memorial Prize for outstanding and innovative research. While at UC Berkeley, she also won the Outstanding Graduate Student Instructor Award. Her research is in the area of nonlinear circuits and systems, and she has been awarded research grants and prizes from a number of national, international and industry sources.
Professor Feely is a Member of the Royal Irish Academy and a Fellow of the Institute of Electrical and Electronics Engineers, Engineers Ireland and the Irish Academy of Engineering.
She has served as President of Engineers Ireland and as Chair of the Irish Research Council, the EU Advisory Group on Marie Skłodowska Curie Actions and the IEEE Technical Committee on Nonlinear Circuits and Systems. She has also served as Board Member and Deputy Chair of the Higher Education Authority in Ireland, as Vice-President for Resources and Treasurer of CESAER (the Conference of European Schools of Advanced Engineering Education and Research), and as a member of a number of Editorial Boards.
Professor Feely is a member of the judging panels for the BT Young Scientist and Technology Exhibition, one of the largest and most successful school science fairs in the world, and the Queen Elizabeth Prize for Engineering.
UCD President's Office
University College Dublin, Belfield, Dublin 4, Ireland.