Logentries acquired by Rapid7 for $68 Million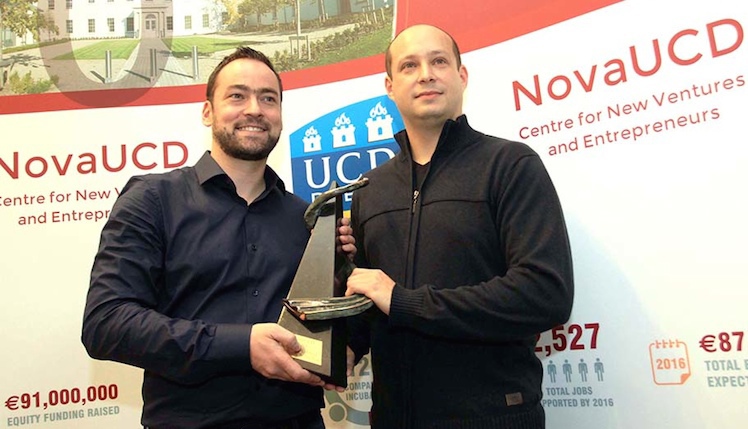 Posted 15 October 2015
Rapid7, a leading provider of security data and analytics solutions, has bought Logentries for approximately $68 million. The deal with Nasdaq-listed Rapid7 consists of $36m in cash and $32m of Rapid7 shares.
Logentries was co-founded in 2010 by Dr Trevor Parsons and Dr Viliam Holub as a spin-out from University College Dublin's Performance Engineering Laboratory in the UCD School of Computer Science.
With the addition of Logentries' world class, cloud-based log management and search, Rapid7 will enable information security teams to solve a full range of security challenges, deeply investigate incidents, and more efficiently achieve their compliance requirements.
Pictured top: Dr Trevor Parsons and Dr Viliam Holub
"The disruptive combination of Rapid7's industry-leading data collection and security analytics and Logentries' compelling machine data search technology, enables customers to better understand and quickly respond to risk in their IT environment," said Corey Thomas, president and chief executive officer of Rapid7.
"This is a natural progression of our security data and analytics platform, complementing our value proposition and accelerating our time to market."
Logentries was established as a UCD spin-out company in 2010. Initially located at NovaUCD, the university's centre for new ventures and entrepreneurs, the company is now headquartered in Boston, Massachusetts, with a research and development team based in Dublin, Ireland.
The company has some 70 employees, nearly all of whom joined Rapid7, including all of the engineering and development professionals in Dublin. Rapid7 will continue to build this team and invest in its presence in Ireland.
"Rapid7's leading position in the security data and analytics market gives us the opportunity to reach an evolving and expanding market that is looking for lower cost access to machine data, along with advanced security data collection and analytics," said Andrew Burton, chief executive officer of Logentries.
"Logentries, which emerged from UCD's research focus on 'big data' and the fostering of partnerships by the university with industry, is an excellent example of the quality of the companies emerging from University College Dublin," said Professor Orla Feely, vice-president for research, innovation and impact at University College Dublin
"The company, originally based and supported at NovaUCD, has grown over just five years into a global company delivering significant impact for its thousands of customers around the world."
"I now look forward to seeking opportunities to develop mutually beneficial partnerships between Rapid7 and UCD in areas of research, innovation and providing access to our pool of talented graduates," added Professor Feely.
In 2012 Logentries secured $1 million in seed funding from Polaris Venture Partners, Floodgate, Frontline Ventures, RRE Ventures and Enterprise Ireland. In October 2013 the company closed an additional $10 million funding round led by Polaris Partners.
It serves more than 3,000 customers in over 65 countries across a diverse set of industries. Rapid7 will continue to build this team and invest in its presence in Ireland.