Young Irish woman's bid to follow in the footsteps of Shackleton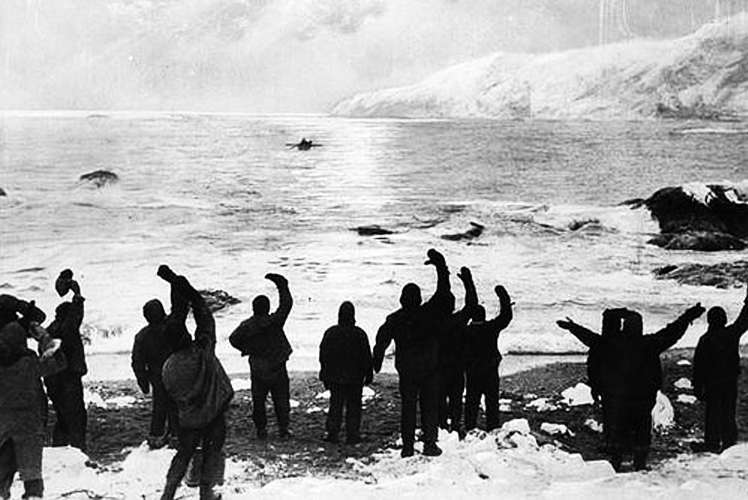 ‌Posted 29 September 2015
UCD alumna and Irish Army tank commander Lieutenant Sinead Hunt is about to retrace the epic journey undertaken by Irish explorers Sir Ernest Shackleton and Tom Crean across the sub-Antarctic island of South Georgia in 1915.
Following two weeks of training, 28-year-old Sinead flew to Port Stanley in the Falkland Islands and will travel by ship to King Haakon Bay, South Georgia, where she and the expedition team will disembark to cross the island to Stromness.
Pictured top: Ernest Shackleton leaves Elephant Island on the James Caird with five other members of the expedition, setting out to reach South Georgia Island 800 miles away
The journey is expected to take between two and five days skiing and mountaineering across glaciated and mountain terrain.‌
"I am really looking forward to being in a part of the world and the environment unlike anything I have ever seen, and I hope then, in doing so, to inspire other people to explore," said Sinead, speaking to RTE Radio 1 News at One.
"The weather will be one of the most hazardous conditions that we will face, with unpredictable conditions in the south Atlantic. It might throw at us blizzards or other hazardous conditions, which hopefully we will be able to complete the crossing in, but it is something we might have to consider on the ground."‌
Sinead studied mechanical engineering at University College Dublin, where she was a member of the UCD mountaineering club.
Temperatures in South Georgia in October are similar to winter conditions in Scotland, with average temperatures of between -5 and -10 degrees Celsius with the potential for blizzards.
In 1915, Ernest Shackleton's dream of becoming the first explorer to cross Antarctica was shattered when his ship, Endurance, became trapped with limited supplies in the winter ice.
The crew eventually had to abandon the sunken ship and were left with just lifeboats. Shackleton took Tom Crean, from Annascaul in Co Kerry, and four others in one improvised lifeboat across the infamously treacherous south Atlantic Ocean to South Georgia in a life-or-death bid to get help.
On the island of South Georgia, Shackleton, Crean and New Zealand explorer Frank Worsley hiked for days in sub-zero temperatures through blizzards, around deep and deadly crevasses, and across frozen mountains in an attempt to save all 28 expedition members.
Sineád left Ireland for New Zealand on Monday, September 28, 2015.
A new purpose-built space in the University College Dublin O'Brien Centre for science was named in honour of Shackleton in 2014.