Sustainable Food Systems in Nutrition and Dietetics Education
This is an in-person networking and learning event that aims to share innovation and best practice in education, build relationships for international collaborations, explore big questions about sustainable food systems, the role of education and the scope of nutrition and dietetic professionals' work. If you are a nutrition and dietetics educator, a leader in dietetics education and practice, and have an interest in how sustainable food systems will progress on nutrition and dietetics curricula and training, then this event is for you!
About
How do we train the nutrition and dietetics workforce to be ready for food systems sustainability challenges that deeply affect human nutritional health? Dietitians and Nutritionists are more frequently integrating Sustainable Food Systems (SFS) into their roles in healthcare, community, research, education, agriculture, businesses, policies, and more. How do educators prepare dietitians and nutritionists for this important role? How can we support dietitians and nutritionists to upskill and train in SFS concepts?
The global networking and learning event is designed to broadly support teaching excellence, opportunities for research, and promotion of current best practices in sustainable food systems for nutrition and dietetics professionals. The programme will encourage relationship building, co-creation of education standards, and identifying opportunities for future global networking and collaborations.
The programme includes a combination of learning seminars and interactive workshops, including:
Seminars to set the scene, to define core concepts.
Seminars to share innovative policies and teaching and learning practices.
Student contributions and insights on experiences and recommendations for teaching and learning.
Facilitated world café style breakout discussions on challenges and enablers to integrating SFS in nutrition and dietetics education programmes.
Networking sessions to build relationships and make plans for future research and practice.
Field trip to an educational, urban farm using regenerative farming methods.
This event aims to:
Build partnerships and foster international collaboration among dietetics educators and their institutions on integrating SFS within nutrition and dietetics education programmes.
Provide a snapshot of the state of SFS in dietetics education internationally.
Inspire participants with examples of excellence and innovations in SFS teaching and learning.
Critically exploring big questions about SFS and the role of education and the scope of nutrition and dietetic professionals' work.
Agree together on strategic future directions for education and training standards and research.
Who is this for?
The target audience includes:
University educators from institutions that offer accredited nutrition and dietetics programmes across the globe, in particular those that wish to develop and progress pedagogical research and practice in sustainable food systems.
Policy makers concerned with training that adequately prepare graduates to contribute to sustainable food systems as part of their role.
Nutrition and dietetics association leadership working to progress professional practice competencies.
Nutrition and dietetics educators and leadership working in practical training settings (e.g. hospitals, community settings, agriculture, environmental sustainability centres, technology industries, food industries).
Network organisations or NGOs concerned with sustainable food systems and professional practice training needs on the ground.
Please note all our plenary and workshop sessions will take place in the English Language.
Programme
This is an in-person event and we recommend attendance in Dublin to maximize opportunities for networking, building relationships and collaboration.
The maximum number we can accomodate, including speakers, students and facilitators, is 90 and the final date for registration is 1st June 2023.
Some learning sessions will be recorded and made available online after the event. If you are interested in receiving details of the recorded sessions after the event, please email the organisers atsfsnutrition.dietetics@ucd.ie Please note that breakout sessions and workshops will not be recorded. All plenary sessions and workshops will take place in the English language.

Programme: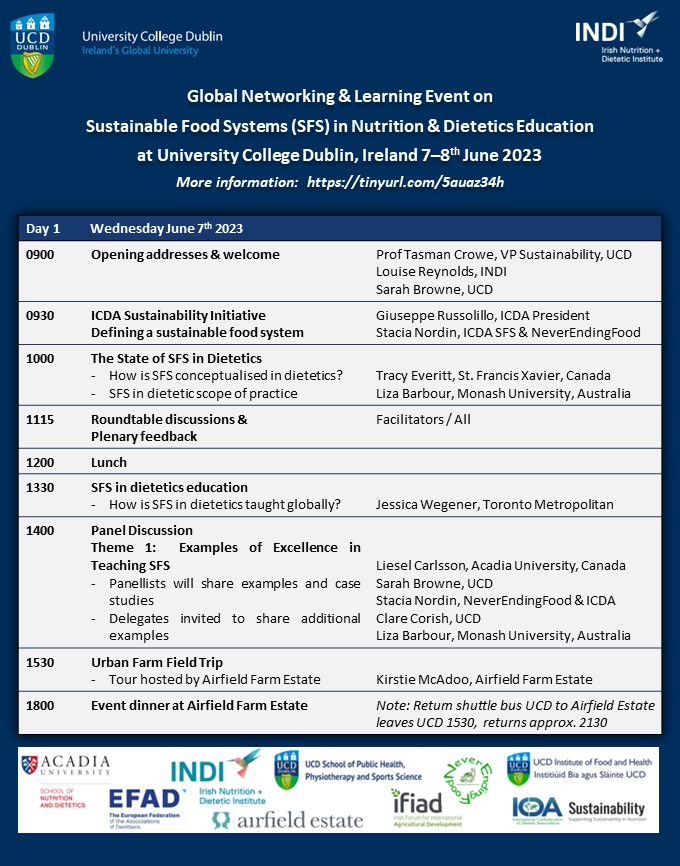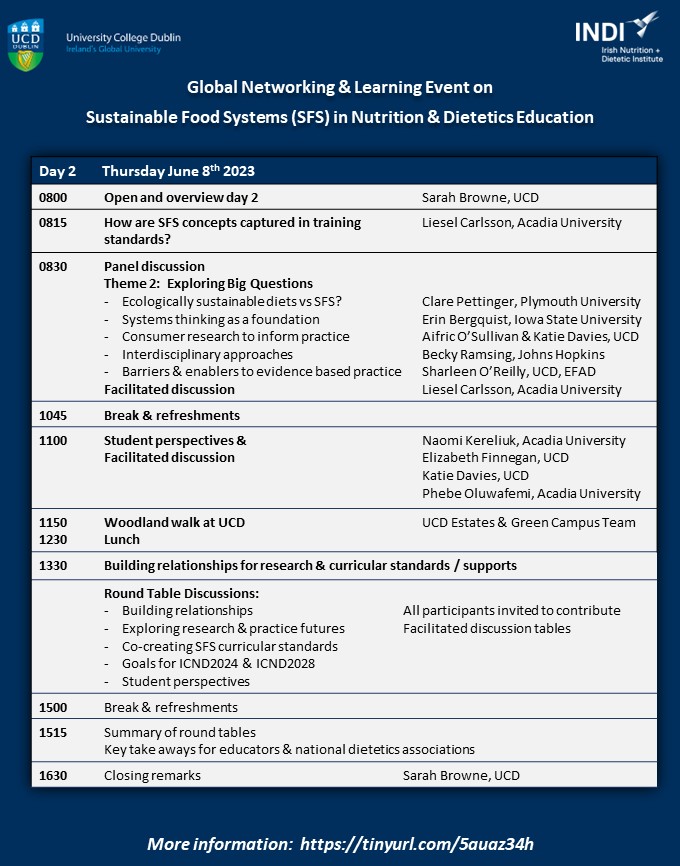 Booking
Given the networking focus of the event, places are limited. We advise those interested in attending in-person to book early at the UCD Booking Centre online. After booking, you will receive a confirmation email and the organising team will keep in touch by email with event details and updates to the programme.
Registration is still open. If you booked at an earlier date and subsequently need to cancel your booking for any reason, the final date to request a refund was 17th May 2023.
Cost of Attending
The cost of attending the event is €160 per delegate, which includes:
The 2-day programme at UCD
Refreshments and lunch
Participation in the field trip at Airfield Farm Estate
The event dinner at the Overends Kitchen on the Airfield Estate on evening of Wednesday 7th
Owing to limited funding for this networking event, we cannot offer a discounted rate at this time. We acknowledge students as important stakeholders in conversations about higher education and we will ensure adequate representation of students through the organisation team networks.
Confirmed Speakers and Contributors
Sarah Browne, RD PhD is leading the event. She is a lecturer on the MSc in Clinical Nutrition and Dietetics at University College Dublin. Sarah has a background in community dietetics, health promotion, and local food system projects. Her research focuses on food environments, adolescent nutrition, malnutrition, and participatory approaches. The programme at UCD currently partners with Airfield Estate in Dundrum to teach farming, food systems and consumer behaviour to dietetic students.
Giuseppe Russolillo, RD PhD is the current chair of the International Confederation of Dietetic Associations (ICDA). He is a strong supporter of integrating SFS in nutrition and dietetics education and practice. He will provide opening remarks for the event.
Stacia Nordin, RD is a coordinator with the ICDA SFS initiative, managing a broad range of activities including the online ICDA SFS toolkit which is widely accessed and utilised globally (https://icdasustainability.org/). She is co-founder of NeverEndingFood Permaculture in Malawi, an organisation that integrates community nutrition development with sustainable living and environmental protection. Stacia is a collaborator on a food waste study at UCD that will be presented at the event.
Liesel Carlsson, RD is an Associate Professor in the School of Nutrition and Dietetics at Acadia University, Canada and sits on the ICDA SFS Initiative research team. With an amazing team of colleagues, Liesel has undertaken global research to understand how SFS is conceptualized in dietetics, included in dietetic training standards, and taught in nutrition and dietetics programmes. Her research and community work focuses community-level engagement with sustainable food systems and diets, and the strategic role of dietitians in SFS.
Tracy Everitt, PhD, RD is an Assistant Professor in the Department of Human Nutrition at St. Francis University, Nova Scotia, Canada. Her professional and scholarly work supports sustainable and healthy systems and people and expands the role of sustainability in dietetic education, practice, and research.
Jessica Wegener, PhD, RD is an Associate Professor in the School of Nutrition at Toronto Metropolitan University (Ontario, Canada). Jessica works closely with colleagues to explore sustainable food systems in dietetics. Jessica teaches courses in public health nutrition and nutrition communication. Her research focuses on creating healthy and sustainable food and nutrition environments through policy and community-tailored interventions. She has been looking at ways to expand the role of dietitians and other public health practitioners in sustainable food systems.
Liza Barbour is an Advanced Accredited Practising Dietitian in Australia, with two decades of practical and academic experience in various areas of practice; community health, international aid, community development, the non-profit charitable food sector and clinical dietetics. Liza is currently a Lecturer in Monash University's Department of Food, Nutrition and Dietetics, and teaches public health nutrition and food sustainability systems for students enrolled in the Bachelor of Nutrition Science and Masters of Nutrition and Dietetics degrees. Liza currently holds an education fellowship with the Faculty of Medicine, Nursing and Health Sciences where she is working with educators and students from various health professions to co-design planetary health learning and teaching activities. Liza's PhD explored the role of local government authorities in promoting a population-wide uptake of healthy and environmentally sustainable diets.
Sharleen O'Reilly is a Registered Dietitian and Associate Professor at University College Dublin, Ireland. Her research centres on improving maternal and child nutrition. In 2019 she was awarded Irish Nutrition and Dietetic Institute 'Research Dietitian of the Year'. Sharleen is an investigator on over €6.5M of active research funding, has almost 80 peer-reviewed publications and currently leads a €4.4M EU Horizon2020-NHMRC implementation project in pregnancy and the first year after birth. Sharleen sits on the Executive Committee of the European Federation of Associations of Dietitians (EFAD) and the Federation of International Gynaecology and Obstetrics (FIGO) Committee on Impact of Pregnancy on Long-term Health.
Clare Pettinger is a Registered Dietitian, Public Health Nutritionist and educator at the University of Plymouth, who is actively engaged in community-focussed research around food systems, poverty and social justice. Her pedagogic research involves promoting 'collaborative leadership for sustainability' for nutrition professionals and Allied Health Professionals (AHP). She sits on the UK Centre for Allied Health Professions Office (CAHPO) 'AHP pre-registration curriculum guidance advisory group for environmental sustainability' (part of Greener AHP hub). She is advisor to the BDA Sustainable Diets specialist group and delivered the prestigious BDA Elsie Widdowson Lecture in Sept 2022 'How Dietitians can protect the planet'.
Erin Bergquist, MPH, RD, is a Clinical Professor at Iowa State University (ISU) teaching in the Master of Professional Practice in Dietetics program. She has participated in two workgroups within the Academy of Nutrition and Dietetics (U.S.) to develop Standards of Professional Performance and a Dietetics Curriculum in Sustainable, Resilient, and Healthy Food and Water Systems. She is also a doctoral candidate at ISU researching the professional development needs of dietetic educators in relation to using systems thinking to teach concepts related to sustainable food and water systems.
Becky Ramsing, MPH, RDN is a senior program officer at the Johns Hopkins Center for a Livable Future (CLF), where she oversees research, communication, and programming to facilitate a shift toward sustainable, healthy diets globally. She also manages the Center's science advisory role to the Meatless Monday Campaign. Prior, Becky worked as a Technical Advisor for Nutrition and Food Security in Afghanistan and Ethiopia Women in Agriculture projects and developed and implemented nutrition programs for local community, worksite, and school-based sites.
Venues
The event will take place on the grounds of University College Dublin.
We will record selected learning sessions over the two days and make them available after the event. Please get in touch if you would like to be notified about these recordings and follow-up actions. Unfortunately we are unable to facilitate live online streaming or participation in workshops and roundtable discussions.
Field Trip and Event Dinner at Airfield Estate
On the first day of the event we will visit nearby Airfield Farm Estate, an urban farm using regenerative methods in South County Dublin. The Airfield team will take the group on a tour of the working farm and describe their approach to community education, learning and research. After the tour we will make our way to the restaurant on the Estate grounds for an evening meal of delicious locally produced foods.
* Please note, as part of the programme on Wednesday 7th June we will travel directly by shuttle bus from our event at UCD to Airfield Farm Estate. There will be no opportunity or time to return to your accommodation before the farm walk or the Event Dinner. Therefore, please wear/bring suitable attire and footwear for walking when you arrive on Wednesday. *
Funding and organising team
Funding for this event:
The Global Engagement Seed Fund at University College Dublin, Ireland
The Irish Nutrition and Dietetic Institute
The School of Public Health, Physiotherapy & Sports Science at University College Dublin, Ireland
Partners working together to develop the programme include:
Event Lead: Sarah Browne, RD PhD, Assistant Professor, School of Public Health, Physiotherapy & Sports Science, University College Dublin, Ireland.
Event Support: Stacia Nordin, RD, ICDA SFS Initiative Coordinator and NeverEndingFood Permaculture, Malawi.
Programme Support: Liesel Carlsson, RD PhD, Associate Professor, School of Nutrition and Dietetics, Acadia University, Nova Scotia, Canada and sits on the ICDA SFS Initiative research team.
Clare Corish, RD PhD, Programme Director, MSc Clinical Nutrition & Dietetics, School of Public Health, Physiotherapy & Sports Science, University College Dublin, Ireland.
Kirstie McAdoo, PhD, Head Research & Education, Airfield Estate, Dundrum, Dublin, Ireland.
Jennifer Feighan is the CEO of the Irish Nutrition and Dietetics Institute, the professional association for registered dietitians in Ireland.
Louise Reynolds, RD is the Communications Lead with the Irish Nutrition and Dietetics Institute, the professional association for registered dietitians in Ireland.
Wineke Remijnse, RD, Executive Director, European Federation for the Associations of Dietitians.
Katarzyna Janiszewska, Project Manager, European Federation for the Associations of Dietitians.
Healthy and Sustainable Event
The organisers endeavour to plan an event that will allow our delegates to make healthy and sustainable choices where possible. Some of the actions we are taking include:
Incorporating regular breaks for movement.
Ensuring fruit and vegetables are offered at each break / snack / meal.
Ensuring water, teas, herbal teas, and coffee are the main beverages offered.
Minimising the provision of foods and beverages high in trans and saturated fats, salt, and sugar.
Minimising waste by planning delegates catering needs carefully in advance and making plans for redistribution of any food waste.
Ensuring reusable dinnerware and avoiding disposable plastics and other pollutants.
Travel
The team acknowledge that we are inviting delegates, some from far away, to an in-person event, when global travel is contributing to carbon and other harmful emissions. Our rationale for doing so is to establish meaningful and trusting relationships and collaborations to influence long-term change in how dietitians work. The organisers recognise that strategic integration of sustainable food systems in pedagogical practices at higher education has the potential to reach a very wide audience of student dietitians, and therefore the future workforce. Our programme aims to develop and foster these relationships and consider how we can move forward with the integration of research into practice.
We encourage delegates to take public transport where possible around Dublin City. University College Dublin is accessible by Bus (ceartig.ie), train (Sydney Parade station, followed by 20-minute walk or shuttle bus: https://www.irishrail.ie/en-ie/about-us/iarnrod-eireann-services/dart-commuter) and is within walking distance of several hotels listed under accommodation.
There will be a shared, return shuttle bus to transport the group from University College Dublin to Airfield Estate for our fieldtrip and event dinner on 7th June 2023.
Contact
If you have additional questions or needs about registration, please get in touch with the organising team at email sfsnutrition.dietetics@ucd.ie.
Accommodation
UCD on-campus accommodation option
Please note in relation to booking UCD on campus accommodation:
We kindly request that you REFRAIN from making a booking unless you are certain that you wish to proceed, as booking and payment occur concurrently and cannot be cancelled, refunded, or amended. Full payment is required at booking and cannot be cancelled or amended. Unfortunately, room allocation requests cannot be accommodated.
There is a 3-night minimum stay and the cost is €89 per person per night.
Conference guests will have a private bedroom with a bathroom and provided bed linen and towel, weekly light cleaning provided.
Check-in is available from 3pm at the Reception Desk in UCD Village Reception, available 24/7. Email: Residences@UCD.IE.

Ea

rly check-ins subject to availability. Check-out is at 11am. Luggage storage facilities are available.
Link for conference attendees to book accommodation will follow soon.
Below are some accommodation options nearby to University College Dublin. We recommend booking accommodation early as it can be limited at this time of year in Dublin.
Hotels within 3km of the venue include:
Talbot Hotel Stillorgan
Radisson Blu St. Helen's Hotel
Maldron Hotel, Merrion Road
Gleesons of Booterstown
Clayton Hotel Ballsbridge
Herbert Park Hotel
Clayton Hotel Burlington Road
Roxford Lodge Hotel
Pembroke Townhouse Dublin
Nearby self-catering:
To Do in Dublin
If you plan to stay longer and see some sights in Dublin and Ireland, you may find the Visitdublin.com, Dublin's official tourism information website, useful. It provides comprehensive, up-to-date information and trip planning advice for visitors to Ireland's capital city.
We would like to acknowledge our funders, partners and collaborators listed below.We appreciate the efforts of all our speakers, panellists, facilitators and note-takers and their respective institutions and organisations for supporting in-person participation.