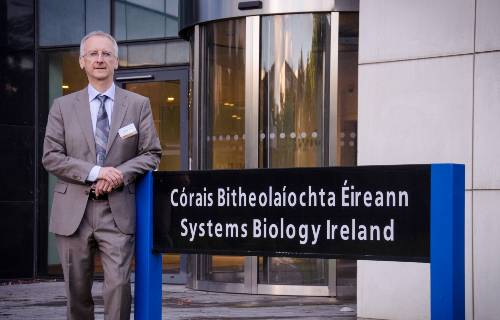 The HSE today launched the National Strategy for Accelerating Genetic and Genomic Medicine in Ireland. The strategy outlines the planned development of an enhanced patient and family-centred genetic and genomic service that will be coordinated nationally.
The strategy was developed in collaboration with the Department of Health and healthcare professionals, international experts, academics, patient representatives and advocates. Director of Systems Biology Ireland at UCD, Prof. Walter Kolch, led the Strategy's Data and Infrastructure working group.
He said: "Work on the genomics strategy started in May 2022, and it was actually a Herculean effort to push this through so quickly. The work was done including a broad stakeholder consultation, including clinicians and patients. Each workstream had patient advocates involved. This strategy is a very significant step towards establishing an infrastructure for modern genomics that will benefit Irish patients and also greatly stimulate research in diseases of unmet clinical need."
Prof. Brendan Loftus, UCD School of Medicine, was a key contributor on the Strategy's Workforce and Collaboration working group.
Provided for under this strategy is:
the creation of a new national office for genetics and genomics

the transition of genetics and genomics into routine care delivery

targeted workforce planning and development

ensuring Public and Patient Involvement (PPI) and partnership

the strengthening of Ireland's infrastructure to drive advances in this area.
Speaking at the launch, Dr Colm Henry, HSE Chief Clinical Officer said: "Advancing Ireland's genetics and genomics service means improving healthcare for everyone in Ireland, because it will allow for increased disease prevention, better diagnostics, more targeted treatments, and better patient and family outcomes. Through this new expert-informed strategy, we can work toward a future where genetic and genomic medicine will be part of routine care delivery that can be accessed equitably across the country, from visits to the GP to extended care for rare disease or cancer."
Dr Mark Bale, former Genomics Advisor to the UK Department of Health and Chair of the National Genetics and Genomics Strategy Steering Group, said: "In the development of this strategy, we've noted examples of excellence in genetics and genomics evident throughout the country. However, because of the collective, invaluable contributions of over 100 experts, healthcare professionals, advocates and patient representatives, Ireland now has a comprehensive strategy. This provides a way forward for progressing this exciting field of medicine to improve citizen health and wellbeing whilst advancing research, innovation, and discovery. I have every confidence that Ireland will rise to this occasion, beginning with implementation in early 2023."
Patient and public involvement was a key feature throughout the development of the strategy, and the HSE is committed to continuing to centre patient voices throughout its implementation. Deirdre McNamara, Director of the HSE's Strategic Programmes Office, said: "It was a pleasure and a privilege to have the input of so many patient representatives and advocates in this process, and their contributions certainly shaped the content of the strategy in many ways. It is essential that the needs of patients and their families continue to be at the heart of the design and development of any new genetic and genomic services or initiatives in Ireland."
Patient representative Karen Morgan, and mother to James (9), explains why she got involved on the Strategy Steering Group: "My son James was born in December 2013 with a rare genetic disease that could not be identified until six years later, when a new gene mutation was discovered. Having a rare disease is a bit like driving a car in the dark with no headlights; we have no idea what's coming next. Thankfully the future of genetics looks really bright in Ireland. My hope is that this strategy will improve access to genetic services for families in Ireland, create better fertility services and reduce the wait in testing times and receiving a diagnosis."
Welcoming the strategy, Minister for Health, Stephen Donnelly TD, said: "To ensure this service is developed according to best-practice, I was aware that urgent investment was needed. That is why on budget day I committed €2.7m in funding to support the start of implementation of this strategy in 2023, including addressing gaps in the frontline workforce and the establishment of the new national office. These first steps will begin to pave the way to a new era of a modern, nationally led genetic and genomic service in Ireland."
Genomics is the study of the body's genes, their functions and their influence on the growth, development and working of the body. A genome is an organism's complete set of DNA, including all of its genes. Genetic testing can be used to examine particular individual genes within the genome, and whether a person is carrying a specific inherited altered gene that causes a particular medical condition. Genomic medicine uses information about a person's genetic makeup in devising innovative and effective new treatments and care pathways for patients.
For more information and the full strategy overview, visit the HSE website.