Harmonisation towards the establishment of Person-centred, Robotics-aided Care System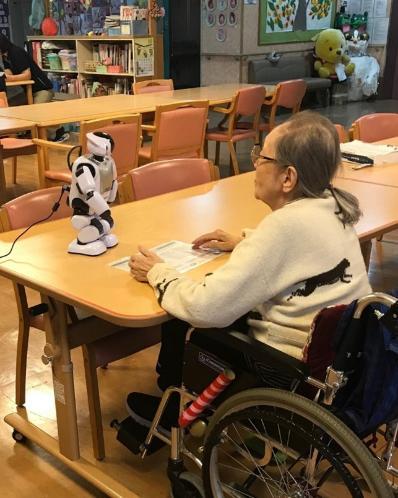 Principal Investigator
Assoc. Prof. Nao Kodate, UCD School of Social Policy, Social Work and Social Justice, UCD, Dublin, Ireland
Other Investigators:
Kazuko Obayashi, Nihon Fukushi University, Japan
Shigeru Masuyama, Tokyo Medical University, Japan
Sayuri Suwa, Chiba University, Chiba, Japan
Sarah, Donnelly, UCD School of Social Policy, Social Work and Social Justice
Hasheem Mannan, UCD School of Nursing, Midwifery and Health Systems
Yurie Maeda, UCD Centre for Japanese Studies / TU Dublin, Ireland
Boris Hauray, French National Institute of Health and Medical Research (INSERM), Paris, France
Wallace Chi-ho Chan, The Chinese University of Hong Kong
Mei-chun Cheung, The Chinese University of Hong Kong
Sébastien Dalgalarrondo, French National Centre for Scientific Research (CNRS), Paris, France
Akiyo Yumoto, Chiba University, Japan
Wenwei Yu, Chiba University, Japan
Nobuhiro Sakata, Dokkyo Medical University, Japan
Mayuko Tsujimura, Shiga University of Medical Science, Japan
Diarmuid O'Shea, St Vincent's University Hospital, Dublin, Ireland
Project Profile
With the goal of realising "Society 5.0" and becoming its world pioneer, Japan has been advancing robotics technology in cooperation with industry, government and academia. The country's rapidly aging society has also served as a driving force for further development of assistive technologies (ATs) and high expectations for a robotics-aided care system. Due to a shortage of care workers and a changing family structure, there is no doubt that these technologies will be more widely used in health and social care domains in the future. Against such a background, this project will consider and explore factors that affect the realisation of a "social implementation" model where humans and care robots can coexist in harmony. The study countries for this comparative research include Ireland, Japan, Hong Kong and France.
The international and interdisciplinary research team, primarily based in Ireland and Japan, first examine cultural and policy differences among two Asian (Japan & Hong Kong) and two European jurisdictions (Ireland & France) around the current use of ATs, with a particular focus on robots. This first phase includes semi-structured interviews with policymakers and health and social care professionals.
In the second phase, the Irish and Japanese team introduce a biosensor-based monitoring system and a variety of therapeutic robots (a combination of low- and high-fidelity animal dolls) to one residential nursing home in each of the jurisdictions for 3 months. The impacts on service users, care professionals and family carers are assessed, using a standardised assessment method (e.g. InterRAI).
Although the use of ATs is essential for realising person-centred care under limited healthcare resources, the policy context, cultural norms, laws and regulations, education & training, and ethics are taken into account. Therefore, the project aims to create a roadmap for coexistence of care robots and humans in a home environment, while creating a network of researchers across disciplines, ages, and nationalities and also attracting future talent in this research domain.
Outputs and Publications
Documentary Film: Circuits of Care: Ageing and Japan's Robot Revolution https://filmfreeway.com/CircuitsofCare
Podcast: https://japaninnorwich.org/2021/05/20/beyond-japan-ep-36-robotics-in-elder-care-with-dr-naonori-kodate/
Webinar: https://www.youtube.com/watch?v=xRcP8waFy2o (2:11-2:20, 10-min interview)
Several Journal articles & conference papers
JOURNAL ARTICLE Obayashi K, Kodate N, Kondo H, et al. (2021) The COVID-19 pandemic and organizational resilience as unanticipated outcome of introducing socially assistive robots in nursing homes. Geriatr. Gerontol. Int. 2021;21:752–754. https://doi.org/10.1111/ggi.14222
JOURNAL ARTICLE Kazuko Obayashi K,· Kodate N, Masuyama S. (2021) Assessing the Impact of an Original Soft Communicative Robot in a Nursing Home in Japan: Will Softness or Conversations Bring more Smiles to Older People? International Journal of Social Robotics https://doi.org/10.1007/s12369-021-00815-4
JOURNAL ARTICLE Obayashi K, Kodate N, Masuyama S (2020) Can connected technologies improve sleep quality and safety of older adults and care-givers? An evaluation study of sleep monitors and communicative robots at a residential care home in Japan. Technol Soc. https://doi.org/10.1016/j.techsoc.2020.101318
JOURNAL ARTICLE Obayashi K, Kodate N, Masuyama S (2020) Measuring the impact of age, gender and dementia on communication-robot interventions in residential care homes. Geriatr Gerontol Int 24(4):373–378. https://doi.org/10.1111/ggi.13890
JOURNAL ARTICLE Obayashi K, Kodate N, Masuyama S (2018) Socially assistive robots and their potential in enhancing older people's activity and social participation. J Am Med Dir Assoc 19(5):462–463. https://doi.org/10.1093/geront/gnx180
JOURNAL ARTICLE Obayashi K, Kodate N, Masuyama S (2018) Enhancing older people'sactivity and participation with socially assistive robots: a multicentre quasi-experimental study using the ICF framework. Adv Robot 3(22):1207–1216
Contact the UCD School of Social Policy, Social Work and Social Justice
Hanna Sheehy-Skeffington Building, University College Dublin, Belfield, Dublin 4, Ireland. T:
+353 1 716 8198
| E:
sp-sw-sj@ucd.ie
|
Location Map