Age & Opportunity Touchstone Course 2019
Age & Opportunity Touchstone Course 2019
UCD in the Community were delighted to once again partner with Age & Opportunity for their Touchstone course, which took place from 14 March to 2 May in UCD. Read below to find out more about the course. Please note, this course has now concluded.
What is Touchstone?
Touchstone is a new short course which aims to develop the skills and knowledge of people who wish to play a part in helping to make their communities more age friendly. People attending the free course will develop new skills, explore a range of interesting and topical issues, carry out practical projects, try new experiences, have some fun and, hopefully, make new friends. No previous experience or qualifications are required. All we ask is that participants have experience of everyday life, an open mind and a willingness to try out new things!
How long is the course?
This course is funded by Dún Laoghaire Rathdown County Council and is being delivered in partnership with UCD. It runs over 8 weeks, with each weekly session lasting around two and a half hours on Thursday mornings from 14 March to 2 May.
Touchstone is attractive to people:
wishing to bring about change particularly in the local community;
wishing to give something back
wanting to improve the community for future generations;
with personal experience which has heightened an awareness of what needs to change;
attempting to become more integrated as a newcomer into the community; and,
feeling a sense of achievement and belonging from involvement in Civic Engagement activities.
For groups such as Older People's Councils, local leadership groups in NGOs, participants in Public Policy Networks (PPNs) and other forums for consultation, Touchstone offers an ideal opportunity to become more aware of how to bring about change and to work effectively with partners in the statutory agencies and the private sector for the good of the community.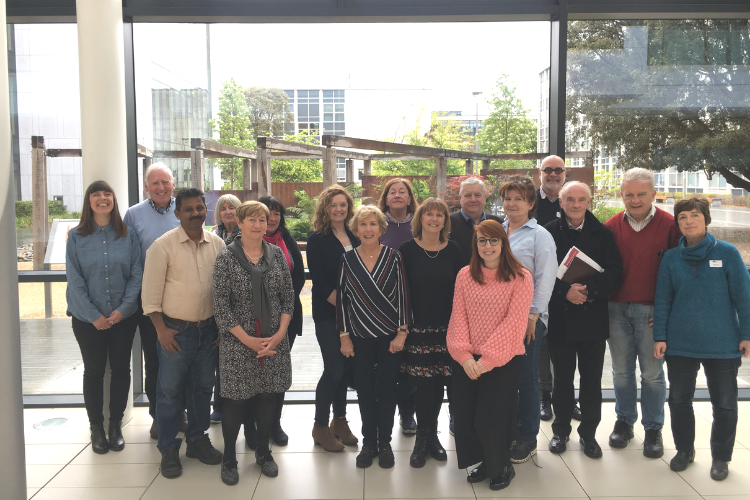 Who developed Touchstone?
The Active Ageing Partnership (AAP) is collaboration between Age & Opportunity, Active Retirement Ireland and Third Age. AAP commissioned NUI Galway to develop Touchstone, which is a programme that aims to develop and facilitate the skills of older people in taking part in and contributing to local and national policies.
Please note, this course has now concluded.
UCD in the Community wishes to thank all the participants of Touchstone 2019 and Ciaran and Fiona from Age & Opportunity for partnering with us to run this course.
Contact UCD in the Community
Room E0.56, UCD O' Brien Centre for Science (East), University College Dublin, Belfield, Dublin 4, Ireland. T:
+353 1 716 2268
| E:
ucdic@ucd.ie