Archaeology & the Public Module: Student Lead Public Exhibition 2017
"Remembering and forgetting newcomers in a changing city: an archaeology of New Dubliners and their materialised identities through time"
The evening of Tuesday 4th April 2017 saw the opening of a public exhibition completely designed and created by UCD Archaeology students undertaking a module entitled Archaeology and the Public (ARCH30520). The module is coordinated by Dr Neil Carlin, UCD School of Archaeology, and it introduces students to key communication skills, team work and team building. It was an excellent evening, especially for our students, their families and friends as well as Archaeological colleagues from Dublin. The event was opened by the Lord Mayor of Dublin (Councillor Brendan Carr). There attendees were also addressed by Professor Colin Scott, Principal of the College of Social Sciences and Law, Associate Professor Graeme Warren, Head of UCD School of Archaeology and Dr Neil Carlin, UCD School of Archaeology. We gratefully acknowledge the strong support of UCD College of Social Sciences and Dublin City Council: Margaret Mooney (DDC), Dr Ruth Johnson (DCC) and Owen Keegan (CEO, DCC).
Many thanks, in particular, to all of our students for their work on this project, they are the cornerstone of the event. It is also important to acknowledge Neil's role in coordinating the module and exhibition. This is an unusual and challenging module for the students - and for the coordinator!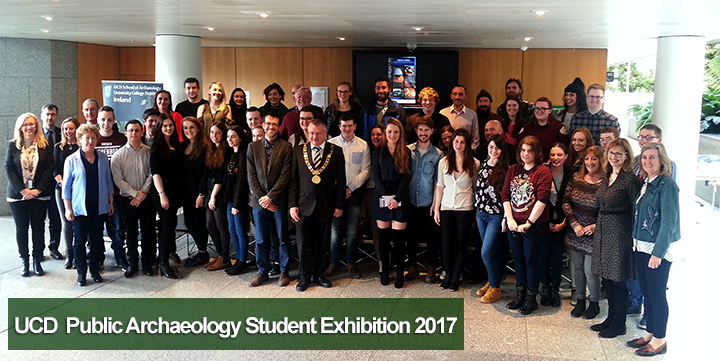 This year's exhibition, entitled "Remembering and forgetting newcomers in a changing city: an archaeology of New Dubliners and their materialised identities through time", is an exhibition that focuses on the archaeology of migrants in Dublin city and their objects, materials, spaces and places (from the first people to arrive here up until the present) to explore how new Dubliners have made their home through things and in doing so, changed the fabric and material culture of the city over time. It also examines how we (society) remember the heritage of various past newcomers to Dublin or forget them (intentionally or otherwise) through the removal of their past traces (e.g. the destruction or repurposing of buildings).