Recent Awards & Achievements
Claire Loughran, Clinical Veterinary Anaesthetist, is now a European Board of Veterinary Specialists (EBVS) European Specialist in Veterinary Anaesthesia and Analgesia. Associate Professor Lynne Hughes, President of the European College of Veterinary Anaesthesia and Analgesia (ECVAA), presented Claire with her Diploma at the recent Association of Veterinary Anaesthetists (AVA) meeting in Bristol.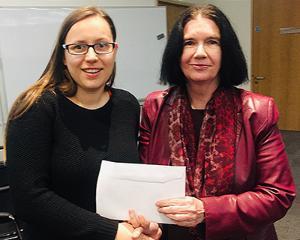 Congratulations to PhD in Infection Biology student Dagmara Niedziela who won first prize for her talk at the College of Health and Agricultural Sciences Graduate Research Student Symposium on 14 March. (pictured receiving her prize from Professor Cecily Kelleher, College Principal) Dagmara's talk was entitled 'Immune response to bovine-adapted Staphylococcus aureus is dependent on bacterial genotype,' and it focused on the outcomes of the in vivo trial her project group conducted with two different S. aureus strains.
Congratulations to everyone involved in 'Bittersweet - The Rise of Diabetes,' particularly Marc Farrelly and Professor David Brayden from our Veterinary Biosciences section, on winning Best Educational Media at the Raw Science Film Festival 2019. Watch it here: https://www.rte.ie/player/movie/bittersweet/83918888259 …
MVB Grad Entry student Emma Shalvey had her paper 'Exploring the understanding of best practice approaches to common dog behaviour problems by veterinary professionals in Ireland' published in the Irish Veterinary Journal.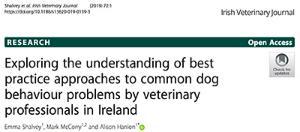 The paper is a result of Emma's Student Summer Research project in 2018, which she worked on with Mark McCorry and Associate Professor Alison Hanlon. The paper can be accessed here: https://irishvetjournal.biomedcentral.com/articles/10.1186/s13620-019-0139-3
Dr Sourav Bhattacharjee, Assistant Professor in our Veterinary Biosciences Section, has been nominated for the UNESCO endorsed USERN Prize which recognizes the top 1% of scientists <40 years of age throughout the spectrum of global research for making significant contributions in their own fields. The winners will be announced on 10 November and we wish Sourav the best of luck!
Congratulations to Professors David Brayden and Alan Baird from our Veterinary Biosciences Section on the publication of their article 'Stomaching Drug Delivery' in the prestigious New England Journal of Medicine. The article can be accessed here: https://www.nejm.org/doi/full/10.1056/NEJMcibr1901766